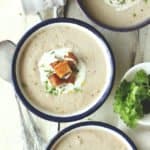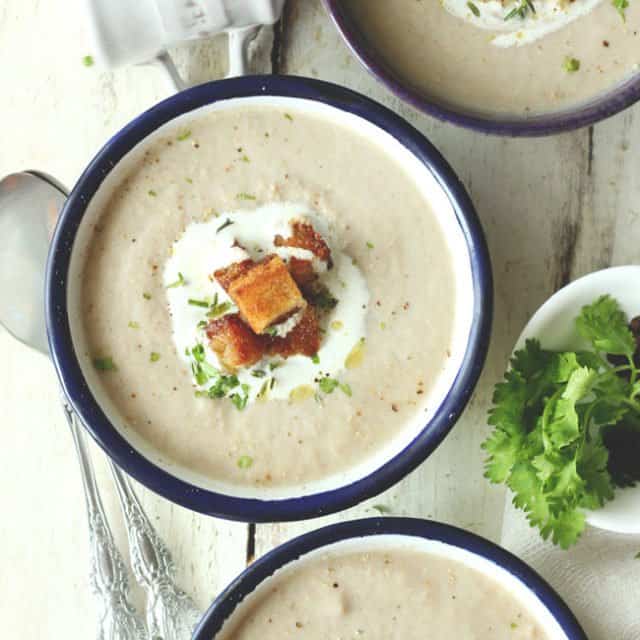 Print Recipe
Healthy Mushroom Soup Recipe
This mushroom soup is healthy delicious and super creamy. Find how to make healthy mushroom soup recipe in few simple steps.
500-

gram

button mushrooms roughly chopped

1

medium-size onion chopped

4

cloves

of garlic chopped

1

teaspoon

of fresh/dry thyme

2

tablespoon

olive oil

Salt and black pepper to taste

1

Cup

milk

1

tablespoon

red wine vinegar
Wash, clean and roughly chop the mushrooms. Heat olive oil in a saucepan. Add the chopped onion, thyme and garlic. Saute for a minute or till the aroma of herbs is released. Glaze the pan with the red wine vinegar. Stir to scrape the pan. Now add the chopped mushroom and saute for 5 minutes. Season with salt to taste. Cover the pan with the lid and cook the mushrooms till softened a bit. This takes 5 – 6 minutes. Add the milk, bring the soup to a boil and then reduce the heat. Allow the soup to simmer for 5 minutes over low heat. Taste and adjust the seasoning accordingly. Allow the soup to cool down a bit before blending. Or you can use a heat resistant immersion blender to blend the soup. Spoon the soup into bowls, garnish with the chopped coriander and toasted bread croutons. Serve Mushroom Soup warm.