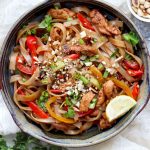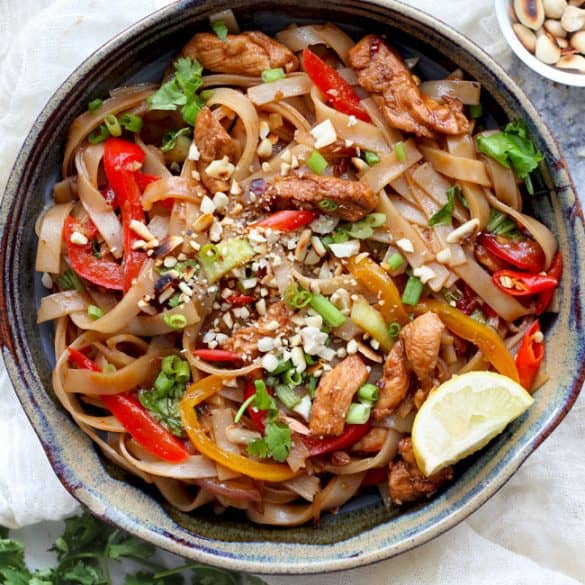 Print Recipe
Chicken Pad Thai Recipe
Chicken Pad Thai - one of the best way to eat rice noodles with tons of vegetables and chicken. Learn how to make pad thai noodles in a few simple steps.

200

gram

dry pad Thai noodles/sticks

100

gram

boneless chicken, cut into thin strips

1

red bell pepper cut into thin strips

1

yellow pepper cut into thin strips

1

medium-size

onion

thinly sliced

4

garlic cloves fine chopped

Salt to taste

2

tablespoon

cooking oil
Ingredients For Pad Thai Sauce:
1

tablespoon

tamarind pulp/paste

1

tablespoon

hoisin sauce

2

tablespoon

brown sugar

1/2

teaspoon

soy sauce

1/2

teaspoon

fish sauce

1

teaspoon

red chilli sauce
Ingredients For Garnishing Pad Thai:
2

tablespoon

roasted and crushed peanuts

Juice of one whole lemon

1

tablespoon

chopped spring onion greens

1

tablespoon

mung (moong) bean sprouts
How To Prepare Rice Noodles:
Place rice noodles in a large flat bowl. Pour boiling water over the noodles. Cover the bowl with a lid. After 5 minutes, open the lid and gently soak the noodles in water and cover the bowl once again. Open the lid exactly after 5 minutes.

Transfer the softened noodles into a colander. Drain all the liquid. Quickly rinse with cold/running water.
How To Make Pad Thai Sauce:
How To Make Chicken Pad Thai:
Toss chicken strips in 2 tablespoons of pad thai sauce and mix nicely. Set aside.

Heat oil in a wok or stir-fry pan. Add chopped garlic. Stir-fry for a minute.

Add sliced onion and fry them for a minute or so. Keep the gas flame from medium-high.

Next, add the marinated chicken strips. And stir-fry till the chicken is tender and cooked. This does not take more than 5 - 10 minutes.

Add remaining vegetable and stir-fry for another 2 – 3 minutes. Add rice noodles, remaining pad thai sauce, half of the roasted peanuts and gently combine the ingredients.
How To Serve Chicken Pad Thai:
Transfer chicken pad thai to a serving bowl. Sprinkle remaining roasted peanuts, spring onion greens, mung bean sprouts and lemon juice.

Serve Chicken Pad Thai warm immediately.
Do not leave the rice stocks/noodles in the warm water for a very long time. Approximately 10 - 15 minutes is the good enough time or keep on checking them for doneness.
Do not toss the noodles vigorously else they will break apart.
For a more intense flavour, chicken can be marinated 1 - 2 hour before and kept in the fridge.
Chicken Pad Thai is best enjoyed fresh and warm. It may not taste the same after a few hours.
Always, taste the pad thai sauce and add more sugar/sauces/salt accordingly.
★ Did you make this recipe? Don't forget to give it a star rating below!