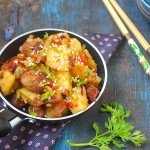 Print Recipe
Potato and Red Beans Chinese Stir Fry
Potato and Red Beans Chinese Stir Fry is an easy to make oriental inspired stir-fried appetizer, addition of red kidney beans provide a healthy dimension to this dish.
To make Potato and Red Beans Chinese Stir Fry Recipe, first boil the potatoes and beans until they are tender and yet firm in a large saucepan. Since we are making a stir fry, potatoes should not be mushy and too soft that it will crumble.

Potatoes and beans can be boiled in the pressure cooker as well

Drain the excess water from the beans and potatoes. Peel the skin of boiled potatoes and cut them into big chunks. Keep aside until required.

In a large wok heat sesame oil over medium-high heat; add in the spring onion whites, the red chili, and stir-fry for about 1 minute. Next add the garlic and saute for a few more seconds.

Add potato chunks and red beans along with soya sauce, tomato sauce, salt and the pepper.

Stir-fry for 2 – 3 minutes more until beans and potatoes coated well with sauces and seasoning. Turn off the heat and the Potato and Red Beans Chinese Stir Fry is ready.

Sprinkle sesame seeds before serving over the stir fry. Drizzle lemon juice and serve hot.