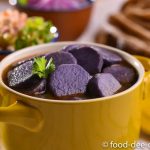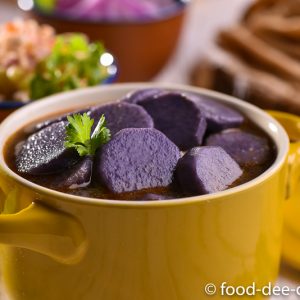 Print Recipe
Multani Kali Arbi Recipe
Multani Kaali Arbi Recipe is a Multani family recipe.
500

gram

arbi

colocasia

1

tbsp

cooking oil

Salt

to taste

1/4

tsp

red chilli powder

Chopped coriander

to garnish
Wash and peel the arbi. Wash it again to make sure all the dirt has been removed.

Slice the arbi into rounds of 1/4" thickness. This step should be undertaken little carefully because peeled arbi can be a little slippery and you can cut yourself.

Heat oil in a traditional Indian iron kadhai. Add the arbi and fry on high heat until lightly browned.

Add the salt, red chilli powder and toss for a few more seconds until well coated. Add 4 cup or so of water, stir to combine and bring to a boil.

Once it comes to a boil, lower the heat to medium low and cook (without a lid) until the arbi is tender, approximately 20 minutes. By now the arbi and the curry will be light grey in color and half the water would have evaporated by now.

If you want a little more curry, then add some boiling hot water at this stage and bring the whole curry back to a boil on high heat.

Taste and adjust the salt, if required, and turn off the stove. Let the curry rest in the kadhai for 15-20 minutes before serving. The colour of the arbi will change to the shades of purple.

Garnish with coriander leaves.

Serve Multani Kali Arbi with hot Phulkas for dinner.