The time of the year has come when with a heavy heart I have to bid adieu to summer, my favorite time of the year. Though being in the Southern part of the country I should not complain about the coming winters, which are so pleasant, unlike Northern region. Even after living in the foothill of Himalayas for almost 25 years I could not embrace winters with much love, the time of the year when I find my solace in cozy and warm beds along with lots of food made with minimal efforts by me technically made by my mother and served hot. Here in Bangalore with morning breeze turning slightly chilling our food cravings are also switching from sorbets and frappes to pies and soups. Here is the best salted caramel ice-cream made without using any ice cream maker.
Last week on my birthday he asked if I want ice cream maker as a birthday gift, which is on my list for quite some time now, but after doing lot of research and discussion with existing users I came to the conclusion that you need a large capacity refrigerator as well to use the ice cream maker, currently which is not feasible for me so dropped the idea of buying ice cream maker for a while. But that could not hamper my urge to churn ice cream at home, while I was discussing the same with my friend she suggested why not try out the method our mothers use to follow years back, churn the ice cream every 2 – 3 hours to break the ice crystal formation.
Now another challenge was whether to use GMS and CMC powder or not, these are recommended to get more stabilized and good texture ice cream but that does not mean you cannot make ice cream without it. But in the supermarket near my home, I found both of these powders laying next to gelatin, citric acid and I decided to use them in my ice cream. When making ice cream at home without ice cream maker, make sure to use full cream milk and full fat/heavy cream because that helps in giving ice cream that sought after creamy texture which otherwise becomes difficult if not using ice cream maker.
Salted Caramel Ice Cream tastes even better when served with chocolate syrup, dark chocolate chips, and butterscotch chunks, chocolate, and caramel are a match made in heaven and for unusual flavor lovers like me this was the best ice cream flavor I have tasted after Mint and Chocolate, and yes after finishing off this giant tub of ice cream we had itchy and coughing throats which were the signal it is time to say goodbye to frozen desserts for now and one last thing before I sign off for the week MoMo loved this flavor and was totally crazy about it.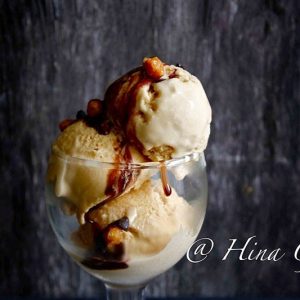 Salted Caramel Ice-Cream Recipe
Salted Caramel Ice Cream is one of my favourite homemade ice cream recipes. Learn how to make super delicious caramel ice cream without an ice-cream maker.
Print
Pin
Rate
Ingredients
2

cup

full cream milk

divided

1

Cup

sugar

4

tbsp

60g salted butter

1

tsp

salt

1

cups

heavy whipping cream

5

egg yolks

1

tsp

vanilla extract

¼

tsp

G.M.S Powder

Optional

¼

tsp

C.M.C Powder

Optional
To serve
Chocolate sauce

Butterscotch chips
Instructions
To make the ice cream, make an ice bath by filling a large bowl about a third full with ice cubes and cold water. Nest a small metal bowl over the ice, pour 1 cup of the milk into the inner bowl, and rest a strainer on top of it. Set aside.

Whisk the yolks in a small bowl and keep aside until required.

If you are using GMS and CMC powder, in ¼ Cup of hot milk dissolve both the powders and set aside.

To make the caramel, spread sugar in an even layer in a medium-sized, heavy bottomed flat pan over low heat.

Heat the sugar over low heat until the edges begin to melt. Use a heatproof brush to gently stir the liquefied sugar from the edges. Keep on stirring the pan occasionally.

Continue to cook stirring infrequently until the caramel starts smoking and begins to smell like it's just about to burn.

Without hesitation, add the salt, butter and whisk until butter is melted, then gradually whisk in the cream, stirring briskly. Keep the flame low.

The caramel may harden and seize, continue to stir over low heat until any hard caramel is melted. Stir in remaining milk.

Pour spoonful of the warm caramel mixture over the yolks, stirring constantly. Now add one more spoonful of caramel into the yolks and whisk nicely.

Scrape the warmed yolks and add back into the caramel saucepan and cook the custard, stirring constantly (scraping the bottom as you stir) until the mixture thickens.

Add in GMC and CMC powder dissolved in milk and cook custard for another 2 – 3 minutes.

Pour the custard through the strainer into the milk set over the ice bath, add the vanilla, then stir frequently until the mixture is cooled down.

Once the mixture cools down completely. Pour into the metal container with a lid to freeze.

Freeze ice cream for 2 – 3 hours or until ice crystals start forming in the edges.

After 2 – 3 hours blend the ice cream with electric beater or in food processor to break the ice crystals. Pour into container and freeze.

Repeat the same process 3 times in the interval of every 2 – 3 hours.

Serve ice cream with chocolate syrup and butterscotch chips.
Love this? Pin it for Later!
Follow @hinagujral on Pinterest!