After living in South from past few years one thing in me has definitely changed, my breakfast habits, I have become a huge fan of South Indian breakfast and I think I have tasted breakfast of almost each and every kind of South Indian breakfast joint in Bangalore as well as Chennai. There is something very succulent and satisfying about sweet and spicy sambhar, humble chutney and dosa/idli, which with every bite make me crave for more. So rava idli squares recipe is my ode to South Indian breakfast memoirs.
When I got newly married and shifted to Chennai I use to buy freshly churned dosa/idli batter….don't give me that look, I was not a food blogger that time and also I had never cooked South Indian food items at my mother's place, she use to make dosa once in a blue moon to treat us but never bothered to ask her how it is being made. Then slowly I started with Rava Idlis, then Rice Idlis, Masala Dosa but I later discovered my favorite of all is Rava Dosa, with more research and cooking trials at home I realized it requires a lot of patience to cook Rava Dosa at home, actually being an impatient cook I felt so.
Sometimes at home in morning I wanted to prepare South Indian breakfast but forgot to prepare the batter in advance or short of one or two crucial ingredients then came into picture Soulful, which is a packaged food brand under the under the Kottaram Agro Foods have come up with innovative and interesting range of South Indian breakfast mixes, though market is already flooded with packaged breakfast mixes, then how Soulfull stands out in the crowd??? To know the answer I tried
Soulfull Rava Idli
mix and to my surprise it was similar in taste and texture as my homemade Rava Idlis, it motivated me enough to try out their
Rava Dosa
mix, you must be thinking that I am bragging but the result was outstanding, Dosa was crisp, flavorful, no artificial coloring, almost like any good South Indian tiffin center selling, and the best part was the batter stayed good in the fridge even until next day.
If you read my previous blogs you can make out that I am not a huge fan of packaged ready to use mixes and I always avoid using them in my daily routine but Soulfull Breakfast mixes has changed my whole opinion about the ready to use food, if the packaged mixes comes with such good quality and taste then I don't mind including them in my menu. Also, I feel for busy mothers, working ladies or bachelor's these breakfast mixes are great option to expand their cooking repertoire.
The instructions in the back of the product were simple and easy to understand. Recently one of my friend was traveling to the United States for three months, he is vegetarian and does not much of cooking so I suggested him to carry with himself some Soulfull breakfast mixes, after one month he called me up and shared with me how Soulful breakfast mixes make him feel home every morning.
This is not a paid review. I am sharing my honest opinion with you all after buying, cooking and tasting Soulfull breakfast mixes. Soulfull products are currently available in Bangalore and Chennai; you can buy them
online
as well.
\If you try this recipe and love it, please leave a comment and a rating. This helps us grow and reach many other food lovers like you, who are looking for a perfect tried and tested recipe.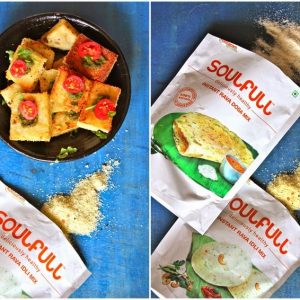 Rava Idli Squares
Rava Idli Squares Recipe is an easy to follow breakfast recipe. Find how to make rava idli squares recipe in few simple steps
Print
Pin
Rate
Ingredients
2

Cup

Soulfull Instant Rava Idli Mix

2

Cup

Curd

¼

Cup

water

Olive oil for shallow frying

1/4

Cup

processed cheese

grated

½

Cup

bread crumbs
To serve
Green chutney

Cherry tomato

cut into half

A fistful of chopped coriander

Juice of half a lemon
Instructions
Prepare your dhokla steamer and set aside. Grease the steaming plate with little oil.

To prepare rava idli batter follow the instructions given in the package. Add water and grated cheese to the batter and mix nicely with spatula so that no lumps remain at the bottom.

Batter should be of pouring consistency.

Pour batter into the greased plate and put it in the steamer. Close the lid and steam for 10 minutes. I did this in microwave so it took me exactly 8 minutes.

Do not open the steamer immediately, let it stand for 5 minutes.

Open the steamer insert toothpick and check if idli is cooked.

Turn into a clean plate and let it cool for 15 minutes.

Cut into squares and coat each piece in bread crumb on both sides, this is totally optional.

Heat oil in a heavy bottomed frying pan, oil should be well heated else cutlets will absorb too much oil.

Shallow fry each piece until golden brown on both sides. Remove on a clean kitchen towel.

To serve, add a teaspoon of chutney on each piece along with a slice of cherry tomato.

Sprinkle chopped coriander leaves and drizzle juice of lemon. Serve immediately.