In my hometown, I have grown up eating all kind of stone fruits – plums, peaches, apricots, cherries during summers. Throughout that time I never use to relish them and instead, detested them like any other rebellious teenager. Later, after shifting to South changed my whole perspective about the stone fruits, not only stone fruits but most of the ingredients around, now I try my best to get each ingredient into best use, which I am quite happy about. And I definitely miss the best of local produce available at the hills. This plum kulfi is one of those recipes you create when loads of fresh plums brought by your mom from the native, sitting in the fridge.
Talking about stone fruits in South India you will not find very good quality stone fruits, I compare them with those available in Nainital which has soft exterior, sweet taste, rich color, which grows in the best of climatic conditions without any use of pesticides, hand-picked by the natives and reaches the local market very next morning, here the stone fruits are smaller in size, not very aromatic and taste is also quite sour so the idea of snacking on it just like that is out of question, and yea I forgot to mention sometimes it is bit challenging also to find stone fruits in Bangalore, plums and cherries still you can find but searching other stone fruits like peaches/apricots is like hunting golden goose until and unless you are ready to pay bomb like prices for it.
When I started making it I was very much skeptical about the taste with confused thoughts and fingers crossed I waited until it was frozen, me and "he" had first our bite of Plum Kulfi together, both of us loved it from the very first bite, the tartness of plums complemented the sweetness of khova perfectly, the coarse puree gave great texture to the kulfi and to forget that beautiful color.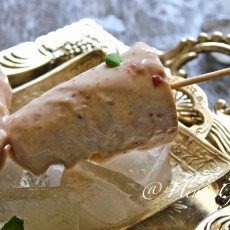 Plum Kulfi Recipe
Plum Kulfi has the tartness of plums complemented by the sweetness of khova perfectly, the coarse puree gave great texture to the kulfi and to forget that beautiful color.
Print
Pin
Rate
Ingredients
1

litre full cream milk

2

– 3 cardamom pods

200

g

khoya/mawa

grated

1

tbsp

cornflour

¼

Cup

water

¼

Cup

sugar or as per taste
For the plum puree
250

g

plums stoned and chopped

2

tbsp

sugar

1/3

Cup

water
Instructions
To make plum puree, put chopped plums in a pan with sugar and water, then bring to the boil. Reduce the heat, cover, then cook for 10 mins until the plums are very soft and mushy.

Tip into a food processor and blend until smooth. If the puree is little coarse don't worry it gives great texture to kulfi. Pour into a jug and set aside to cool.

In a heavy bottomed pan bring milk to boil over low heat, keep on stirring it frequently.

Boil the milk until considerably reduced in quantity or almost half.

Dissolve cornflour in water, mix until no lumps remain.

Add grated khova to milk and stir nicely to combine well. Stir in dissolved cornflour also and bring to boil once.

Switch off the flame and strain the mixture to a clean bowl. Keep aside to cool down.

Once milk is completely cool mix in plum puree, combine well until no streaks remain.

Pour the liquid into the kulfi moulds and keep in the freezer for at least 6 hours or best overnight.

To serve, dip each mould briefly into hot water, then invert them onto small plates. Pour a little plum purée around each kulfi and sprinkle fresh mint leaves.