Right now we are in the early March and yet the time has come to brew perfect iced coffee at home. The winter this year was gentle, not too many cold days and that means a harsh summer is waiting ahead. And to sail through the midsummer, I need homemade iced coffee. As much during winters, hot cup of cappuccino warm up my senses, similarly iced coffee keep me sane throughout summers. Whether piping hot or iced cold, we are sipping this dark, aromatic, energizing liquid year around. Many ambush the idea of serving coffee brew ice-cold. For them, cold coffee always has to be thick, sugar laced, creamy summer thirst quencher. There is nothing wrong in that cold coffee. Most places out of India, milk is not an additive to coffee, or for that matter even tea. Coffee with ice-cream and milk is often classified as a milkshake. We like to adore and appreciate coffee in it's purest form. The aroma of fresh beans filling the morning air, that gurgling sound of the coffee filter in the quiet kitchen and finally you proudly drinking homemade brewed coffee with the breakfast. Nothing like it!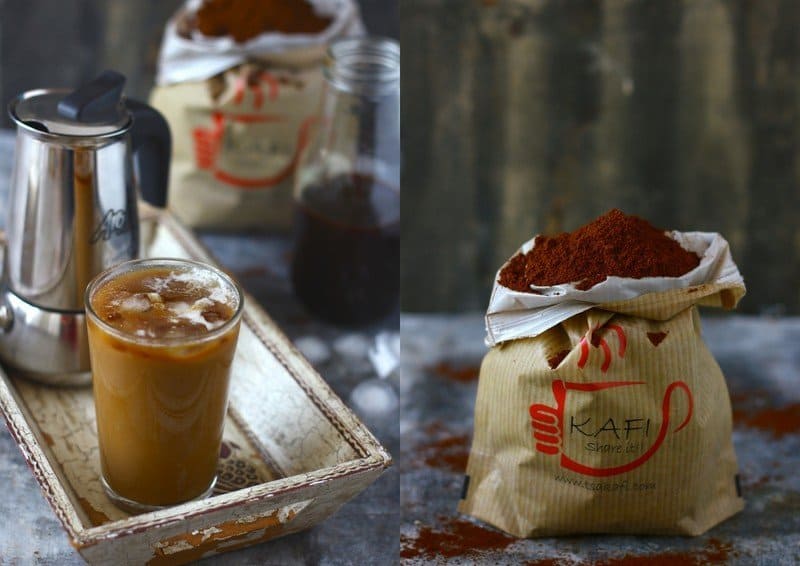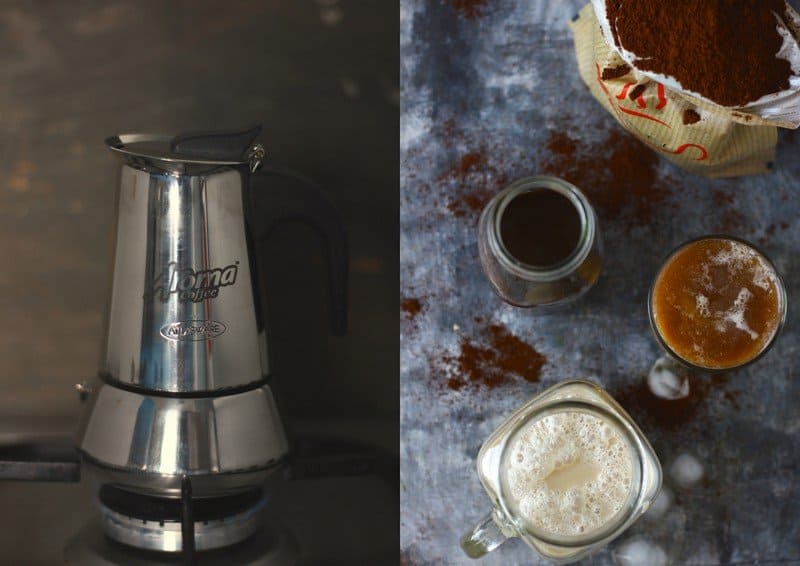 The years of compulsion for a filter coffee cuppa has instilled in me a love for good quality coffee powders. The instant coffee powders are the stories of the past in our house. When Tsakafi approached me to try out their Kafi products, to be honest, I was a bit skeptical about the quality. For a person, who never rely on online portals for coffee shopping, jumping to the idea of reviewing a coffee brand without experiencing it before was way too much. But somehow the Tsakafi team convinced me to give their Kafi Products a try. And I am happy that they did convinced the coffee lover in me. The brand is not promoting itself as a purist or exclusive tea-maker. They believe in creating new equations out of the same beans. The brand has four range in the Kafi section –Aficionado, Filter Coffee, KiTB, and Organic Coffee. The one we have used to make iced coffee was filter coffee powder. The filter coffee is a 70:30 mix of coffee and chicory. First Class Peaberry is used for this. And that can surely be figured out from the heavenly aroma and strong taste of the brew.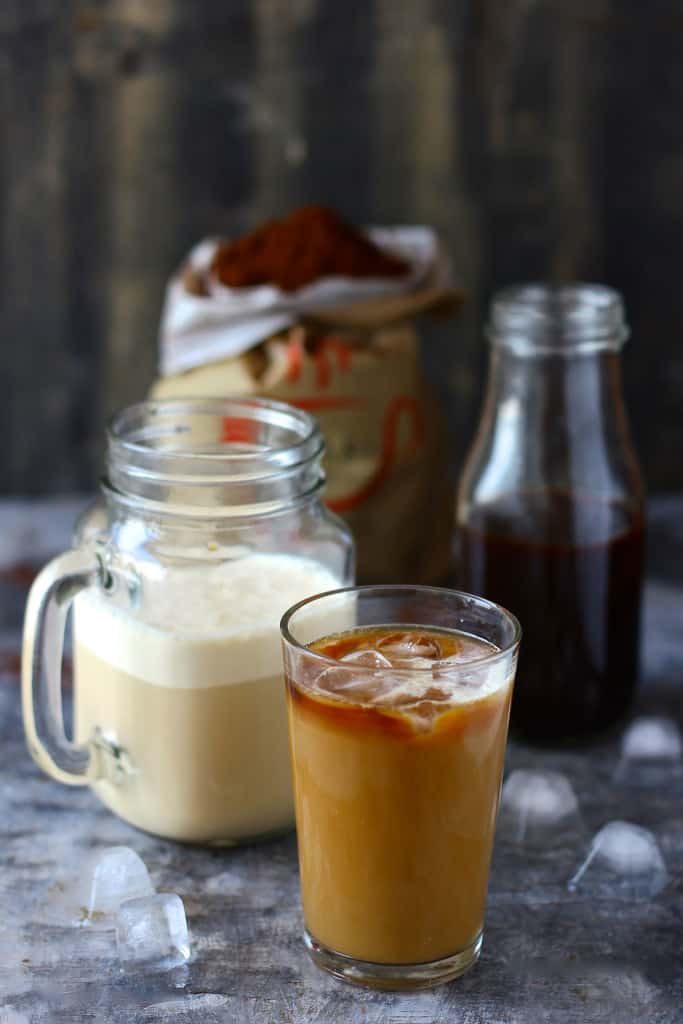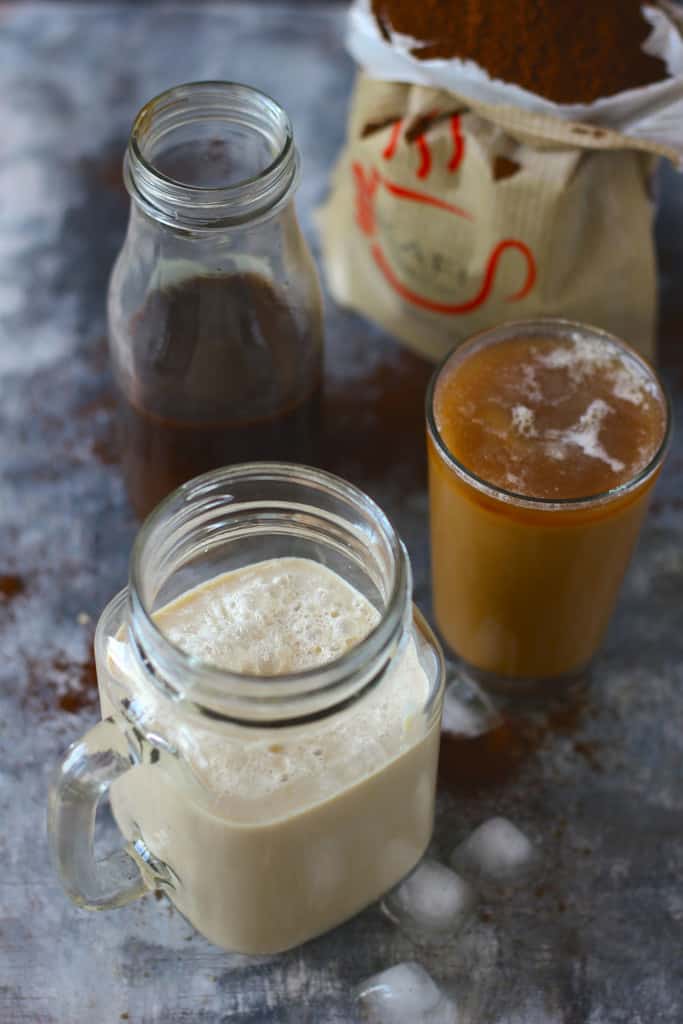 To make iced coffee, all you need is Tskafi filter coffee powder and stove top filter. And then like a pro, brew your own customized cuppa. Add some ice cubes, dairy sweetener or caramel and sip it sitting in your garden while watching the evening sun passerby. Trust me on this, once you are hooked to brewed coffee you are never going to give instant coffee powders a chance.
Learn how to make perfect homemade iced coffee in few simple steps with Tsakafi Products: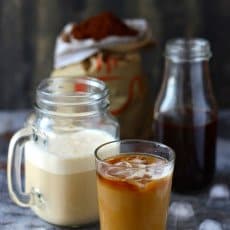 Perfect Homemade Iced Coffee
Cold-brewed coffee poured prepared from scratch at home makes the best-iced coffee. Find perfect homemade iced coffee recipe
Print
Pin
Rate
Ingredients
2 1/2

tbsp

of Tsakafi filter coffee powder

buy it here

1/4

Cup

of water

2 - 3

tbsp

full cream milk or condensed milk

chilled

Sugar to taste

few ice cubes to serve
Instructions
In a Tsakafi stove top filter, fill the bottom part of the filter with the drinking water till just below the safety/pressure valve.

Fill the filter basket with the coffee powder using a spoon and level it using the back of the spoon.

Don't overly fill or compress the coffee as the water will struggle to penetrate it properly.

Arrange the filter basket over the bottom chamber. Assemble the pot.

Place the filter on the stove top over medium heat for few minutes. The Stove Top Coffee Maker does not work over an induction stove.

Once the steam starts releasing from the pot and there is a gurgling sound, remove the pot from the stove top.

Coffee brew or coffee decoction will be collected in the uppermost chamber.

Let the coffee brew cool down at room temperature.

To make iced coffee, pack a glass full of ice cubes.

Fill glass 2/3 full with coffee brew/decoction.

Add 2-3 tablespoons of sweetened condensed milk or regular milk and stir to nicely.

Taste and adjust the sugar accordingly.

Serve Iced Coffee immediately chilled.

Alternatively, you can whizz coffee brew, 1 Cup chilled milk, and sugar in the blender.