Multani Kali Arbi Recipe is the family recipe of renowned Delhi based professional food photographer and stylist Praerna Kartha. She says, 'I have never seen or tasted Multani Kali Arbi anywhere else except in the homes of my extended Multani family, which hails from the Dera Ghazi Khan district in West Punjab'. Both, in terms of language and cuisine, there is a lot of similarity in between Multani, Sindhi, and Punjabi. The most popular Multani preparation is probably the sweet Sohan Halwa – a halwa made of milk, sugar, ghee and cornflour. Praerna is a true Multani from the heart and when I approached her for a guest post on the blog she immediately suggested the idea of Multani Arbi Recipe.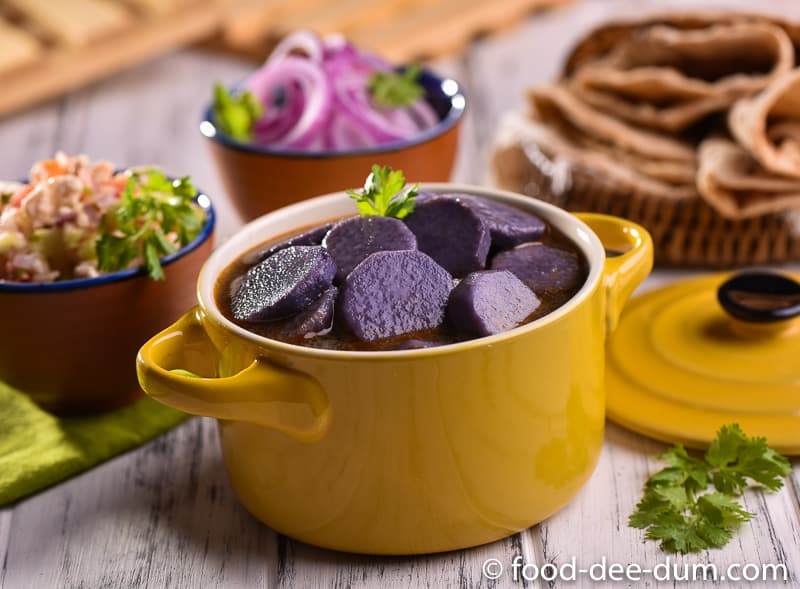 Praerna is a food-blogger, photographer and food-stylist based out of New Delhi. She is an ex-advertising and communication professional with an all-compelling obsession with all things to do with food. We met sometime last year in Bangalore at one of the food blogger's meet. Since then we are well connected virtually. There is always a kind of mutual appreciation and affection between us for each other's work. Her deep and irrevocable love affair with food began at the tender age of 9, when she baked her very first cake – she has been hooked on to baking, food, cookbooks and kitchen gadgets since then. Her blog, Food-Dee-Dum, is a chronicle of her adventures in the kitchen, step-by-step recipes, restaurant reviews, and travel stories. Though I never asked her the story behind the name Food-Dee-Dum.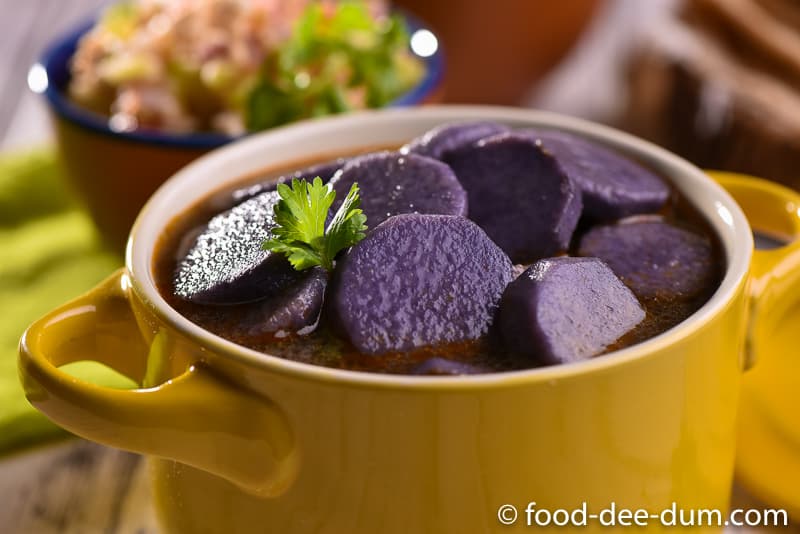 Unlike most Punjabi/Multani recipes, Multani Arbi preparation is actually a very simple one and uses few basic everyday ingredients. It even lacks the usual suspects like onion, tomato and generous addition of Indian spices or tadka. Instead, it is a light, watery vegetable curry. The hero is the arbi, or colocasia as it is called in English. If you've never seen this before, then the first sight of the purplish-grey colour can be bit alarming and intimidating. But such regional dishes grows on you and slowly your palate start developing a note of acceptance for such flavors.
In Multani household, Multani Arbi is the savior when dinner has to be something light, without spending hours in the kitchen. The Kaali Arbi is best enjoyed with hot phulkas and fresh paneer-onion-tomato-kachumbar-salad or with Paneer Bhurji (see recipe here). To make Multani Arbi, it is essential to use a traditional Indian iron kadhai (skillet). That is what gives the dish, beautiful colour and adds to the flavor profile of Multani Arbi as well.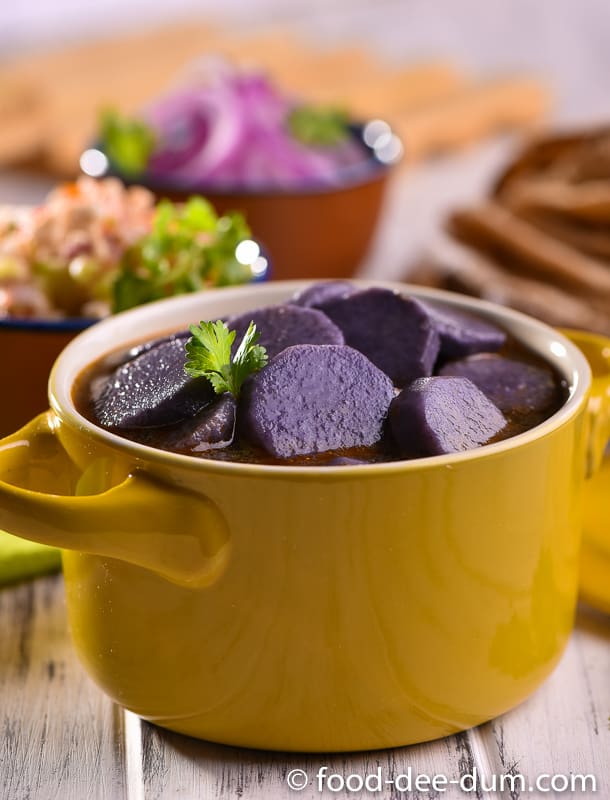 Here is the recipe of how to make Multani Arbi: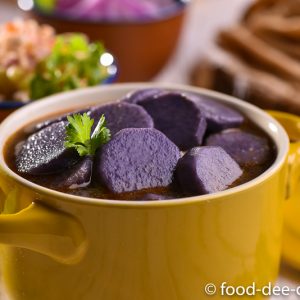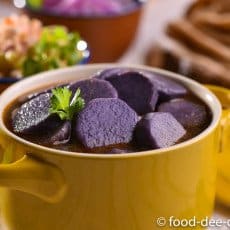 Multani Kali Arbi Recipe
Multani Kaali Arbi Recipe is a Multani family recipe.
Print
Pin
Rate
Ingredients
500

gram

arbi

colocasia

1

tbsp

cooking oil

Salt

to taste

1/4

tsp

red chilli powder

Chopped coriander

to garnish
Instructions
Wash and peel the arbi. Wash it again to make sure all the dirt has been removed.

Slice the arbi into rounds of 1/4" thickness. This step should be undertaken little carefully because peeled arbi can be a little slippery and you can cut yourself.

Heat oil in a traditional Indian iron kadhai. Add the arbi and fry on high heat until lightly browned.

Add the salt, red chilli powder and toss for a few more seconds until well coated. Add 4 cup or so of water, stir to combine and bring to a boil.

Once it comes to a boil, lower the heat to medium low and cook (without a lid) until the arbi is tender, approximately 20 minutes. By now the arbi and the curry will be light grey in color and half the water would have evaporated by now.

If you want a little more curry, then add some boiling hot water at this stage and bring the whole curry back to a boil on high heat.

Taste and adjust the salt, if required, and turn off the stove. Let the curry rest in the kadhai for 15-20 minutes before serving. The colour of the arbi will change to the shades of purple.

Garnish with coriander leaves.

Serve Multani Kali Arbi with hot Phulkas for dinner.
Love this? Pin it for Later!
Follow @hinagujral on Pinterest!