Healthy Kala Chana Salad is a protein-packed salad that happens to be gluten-free and delicious too. It is quick and easy to prepare loaded with a refreshing green dressing. You will surely fall in love with this wholesome salad. And it will soon become part of your healthy eating regime.
What makes this kala chana salad even more pleasant is luscious, green and refreshing dressing. The dressing is the star of the show. It is bursting with spring/summer flavors pairing perfectly with the texture of the salad. The freshness of mint and coriander add the classic taste to the dressing. This green dressing and the chana salad are made for each other. Just perfect together!
If you want to try any other dressing recipes with this salad, here are – 6 BEST SALAD DRESSING RECIPES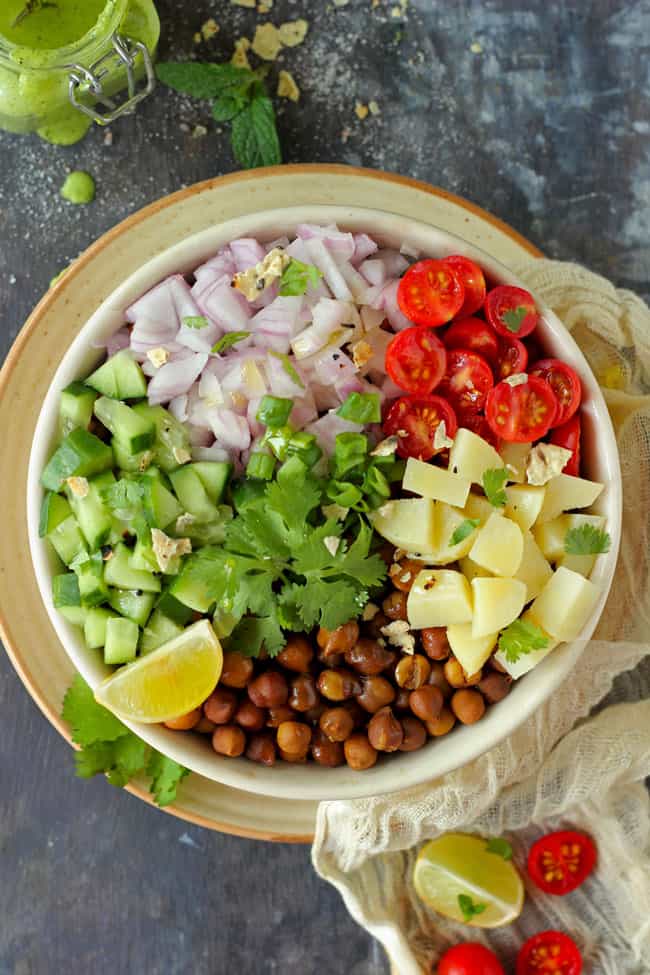 For lunch, I always stick to something that is healthy, fulfilling and can literally be a one-bowl meal. Because I hate leaving my desk while working. So salads like this one are my favorite weekday lunch. All the preparation work for the salad is done during the morning time. Even the dressing is made and kept in the fridge. When the hunger pang strikes simply dress the salad and eat. How satisfying it is to eat a clean and nourishing homemade salad cum meal every day!
How To Build A Healthy Salad?
Don't stop at one or two vegetables. Try to make it as colorful as possible with the best available seasonal greens and veggies.
A combination of fruits and vegetables can also be used in a salad to keep it rich in fiber and Vitamins.
Avoid adding any fried or calorie loaded toppings for the crunch. That would just kill the purpose of a healthy salad.
Pick your protein for the salad wisely. The meats laced with too much of fat are a big no for any healthy salad. Roasted chicken, boiled beans or pan-fried tofu make a delicious protein packed salad.
Keep the dressing light and simple. Too much of cream, mayo, and cheese are not going to make a right dressing for the healthy salad.

We hope you all LOVE Kala Chana Salad! Because it's:
Healthy and Nutritious
Totally Tasty
Quick and Easy
Gluten-Free
Protein Packed
and a one-pot fulfilling meal
Healthy Chana Salad would make the perfect meal or side when you need something healthful on the table fast. It would also pack up nicely for the office lunchbox also just pack the dressing separately. It's easy to whip up for lunch or dinner, and elements of it can be prepped ahead of time so you can make it as an easy side or main throughout the week.
For more such fun recipes in your life, follow along on Facebook, Instagram, or subscribe to our Youtube Channel.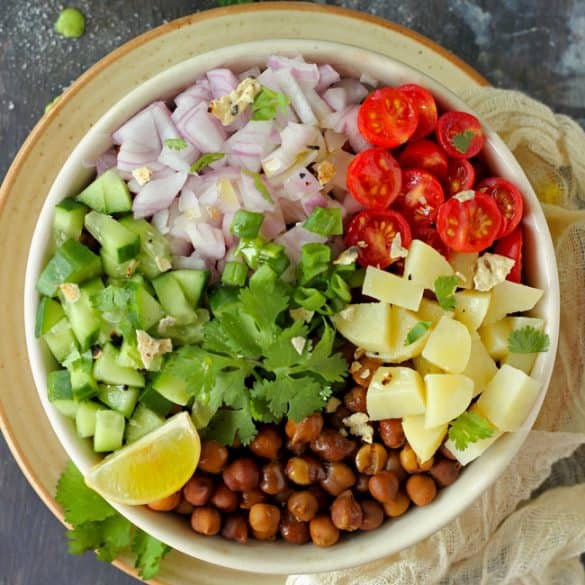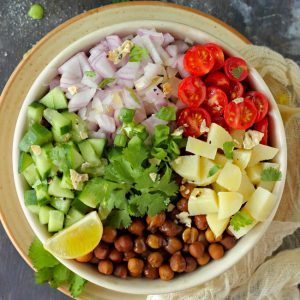 Healthy Kala Chana Salad
Healthy Kala Chana Salad is a protein-packed salad that happens to be gluten-free and delicious too. Find how to make kala chana salad.
Print
Pin
Rate
Ingredients
1

Cup

brown chickpeas

kala chana

1/2

Cup

chopped onion

1/2

Cup

chopped cucumber

1/2

Cup

chopped tomato

2

boiled potato peeled and diced

Few leaves of fresh coriander

Juice of one lemon
Ingredients For Dressing
1/4

Cup

mint leaves

1/4

Cup

fresh coriander leaves

1/2

Cup

yogurt

curd

1

clove

of garlic

Salt to taste

1/2

teaspoon

whole peppercorns

2

tablespoon

olive oil
Instructions
Soak chickpeas (chana) overnight or for atleast 4 - 5 hours.

After the soaking time, drain all the water from the chana.

Boil chana in a pressure cooker with a dash of salt and approximately 1 1/2 Cups of water.

Do not overcook the chana till the time it turns mushy.

Transfer the boiled chana to a colander. This step will drain the excess liquid and allow chanato cool before adding to the salad.

Combine all the chopped vegetables in a bowl.

Add the boiled chana to the chopped vegetables and mix nicely.

To prepare the dressing, add all the ingredients in a mixer and blend to a smooth consistency.

Pour the dressing over the salad. Squeeze lemon juice over the salad.

Sprinkle fresh coriander leaves and if you prefer, add crushed roasted papad.

Serve healthy kala chana salad immediately.
Recipe Notes:
To cook chana perfectly, 3 - 4 whistles over low heat are good enough.
Do not add too much water while boiling the chana.
To keep the salad crunchy avoid adding warm chana to the salad.
If you do not want to serve this salad immediately keep it in the fridge and the dressing just before serving.