Fruit Cream is the delightful pudding of fresh fruits enveloped in the sweet blend of yogurt, cream, and milk. Fruit Cream is a very western kind of pudding the way dessert is arranged in layers and the whipping of yogurt, it all reminds me of trifle pudding. I have this strong inkling that like many other Anglo – Indian dishes fruit cream was also introduced by Englishmen to the Indian palate during their century-long stay in the sub-continent.
Over the years fruit cream has gained the status of most commercial and well-liked dessert, which has a modest appearance of chilled cream loaded with roughly chopped seasonal fruits which are sweetened with tons of white sugar and served during the scorching hot summer season to satiate the taste buds longing for ice-cold desserts. As a kid I always yearned for special occasions when my mother would whip up a large bowl full of fruit cream that would sit in the fridge for hours before being served, every-time I open fridge my curious eyes full of greed would peep into the bowl and then there was waiting for dinner to get over to relish the bowl full of fruit cream.
Eventually after marriage somehow I forgot about this humble dessert and took pride in making fancy complicated desserts until recently when one of husband's aunt shared the recipe of making fruit cream from her recipe diary. At first I dismissed the idea of taking notes of something as simple as fruit cream but then her creative narration of the dessert fascinated me towards the idea of layered pudding. With ongoing Asus Zenfone 5 project this is the last post in the series and hence ending it on a sweeter note with Fruit Cream.
Review of Asus Zenfone 5 #MyAsusZenfone…..
In addition to other exciting features, Zenfone 5 sports a Power Saver app offering users three options: an ultra-saving mode that disconnects the network connection when the device is asleep; optimised mode, which doesn't switch off data, and a custom mode which can be tweaked by the user, which could be used to increase battery life while traveling and save energy.
The ZenFone 5 sports an 8-megapixel autofocus rear camera with an f/2.0 aperture lens and LED flash. There is also a 2-megapixel front camera. The camera app offers 18 modes – there's Auto, HDR, Panorama, Night, Low-light, Selfie (detects faces within the frame automatically), Miniature, Depth of Field (background blur), Smart Remove (removes unwanted moving objects) are some I used out of 18 modes.
The ZenFone 5's camera application also offers settings for shutter, focus, brightness, image size, ISO, white balance, colour effects, timer, geo-tagging, shutter sound, and storage, which as a food photographer I thoroughly admire. Zoom can be adjusted by pinching in and out, and the volume buttons also double as shutter keys when you're in the app though there is an onscreen button as well. We tested the camera of the ZenFone 5 outdoor on a bright sunny day and indoors in the sufficient natural light. The photos were crisp and had good amounts of detail.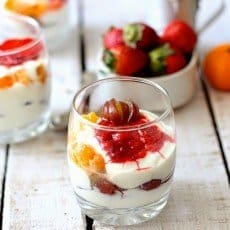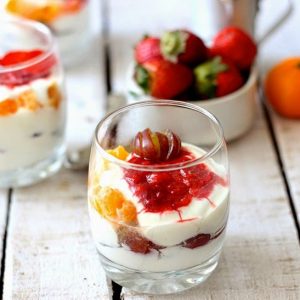 Fruit Cream Recipe
Fruit Cream is the delightful pudding of fresh fruits enveloped in the sweet blend of yoghurt, cream and milk.
Print
Pin
Rate
Ingredients
½

litre thick curd

1

Cup

light cream

4

tbsp

powdered sugar or as per taste

¼

Cup

milk

if required

2

tbsp

pistachio slivers

2

tbsp

granulated white sugar

2

tbsp

water
Fruits required
8 to 10

fresh strawberries

6 to 8

red globe grapes

Other fruits

mango/kiwi/litchi/orange/raspberry etc
Instructions
To prepare cream for the fruit cream, first line metal strainer with muslin cloth or any other kitchen linen. Pour curd over the muslin cloth and let water drain out from the curd.

After few minutes tie muslin cloth into a knot shape and hang over the kitchen sink or any other high point in kitchen. And let the curd stand this way for 3 to 4 hours.

The end result from this process will be thick soft cheese like hung curd. Open the muslin cloth next day and transfer thick ball of curd to a bowl.

Add sugar, cream and using electric hand blender (in this case I used KitchenAid 7 speed blender) whip the mixture to get smooth pouring consistency liquid. If the liquid is still thick add little milk and then whip again for 5 minutes. There should not be any lumps in the liquid mixture. Taste for sweetness and adjust the sugar amount accordingly.

Keep the cream mixture in fridge while you prepare the fruits.

Clean, wash and pat dry all the fruits with kitchen towel. Remove the green stem of strawberries and finely chop them. Transfer berries to a pan sprinkle granulated sugar and water. Simmer over medium heat until berries turn soft and ooze out their juices. We are looking for fruit compote like consistency. Turn off the heat, transfer berry compote to a bowl and let it cool down to room temperature.

Meanwhile slice the remaining fruits (grapes/mango/kiwi). I have used combination of strawberry, red globe grapes and mini oranges along with pistachios.

To assemble fruit cream, in serving bowl or glasses line the bottom with layer of chilled cream mixture then on top arrange layer of sliced fruits. Third layer will be again of cream and then strawberry compote.

Once layering is done on top garnish with pistachio slivers and fruit slices. Keep in fridge for chilling before serving. Serve chilled.