Friday dinner is an elaborate affair in our house. After a deadly busy weekday, he usually comes home early on Friday night. We enjoy our meal with a glass of wine, plan for the weekend and then go for a long walk with Momo. But planning Friday menu is a bit mind-boggling task for me, dishes which need last-minute preparations and confinement to the kitchen are a big no for the sit-down Friday night dinner. So we usually stick to the menu of Thai curries, stews or baked dishes, which does not demand my last minute attention and with a relaxed mood we can enjoy the meal.
This week the menu was Eggless Macaroni Cheese Pie served with grilled vegetables. Actually, first the plan was for Mac and Cheese, then I searched my pantry for required ingredients but unfortunately, I had no good cheese on hand so dropped the idea. But then found some shortcrust pastry stored in the refrigerator, immediately flipped pages of the Cookbooks and zeroed down on this Eggless Macaroni Cheese Pie Recipe.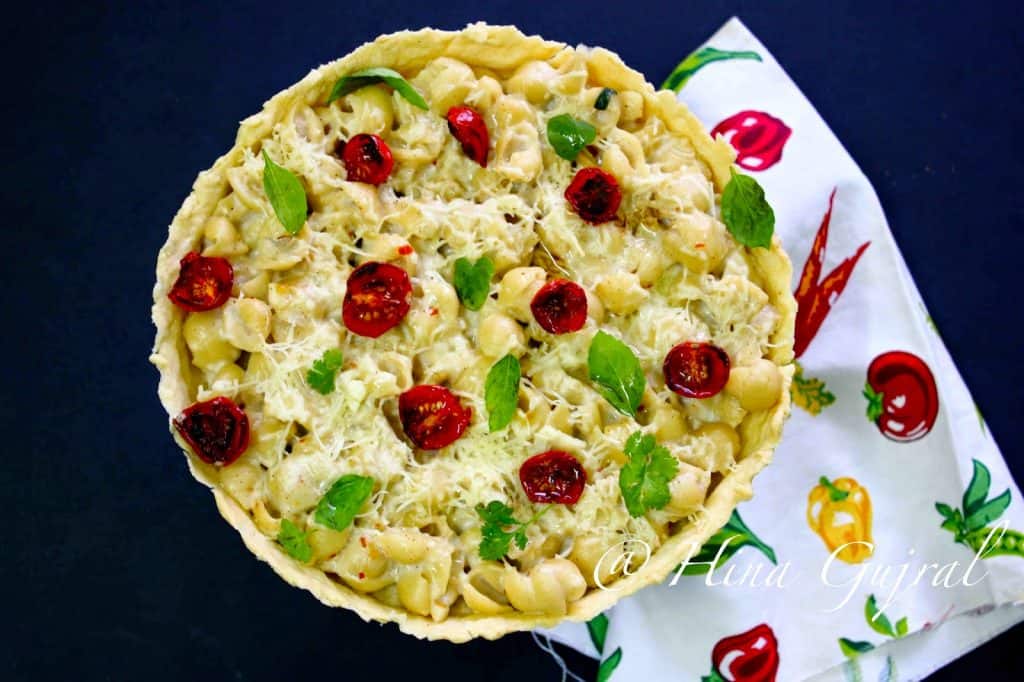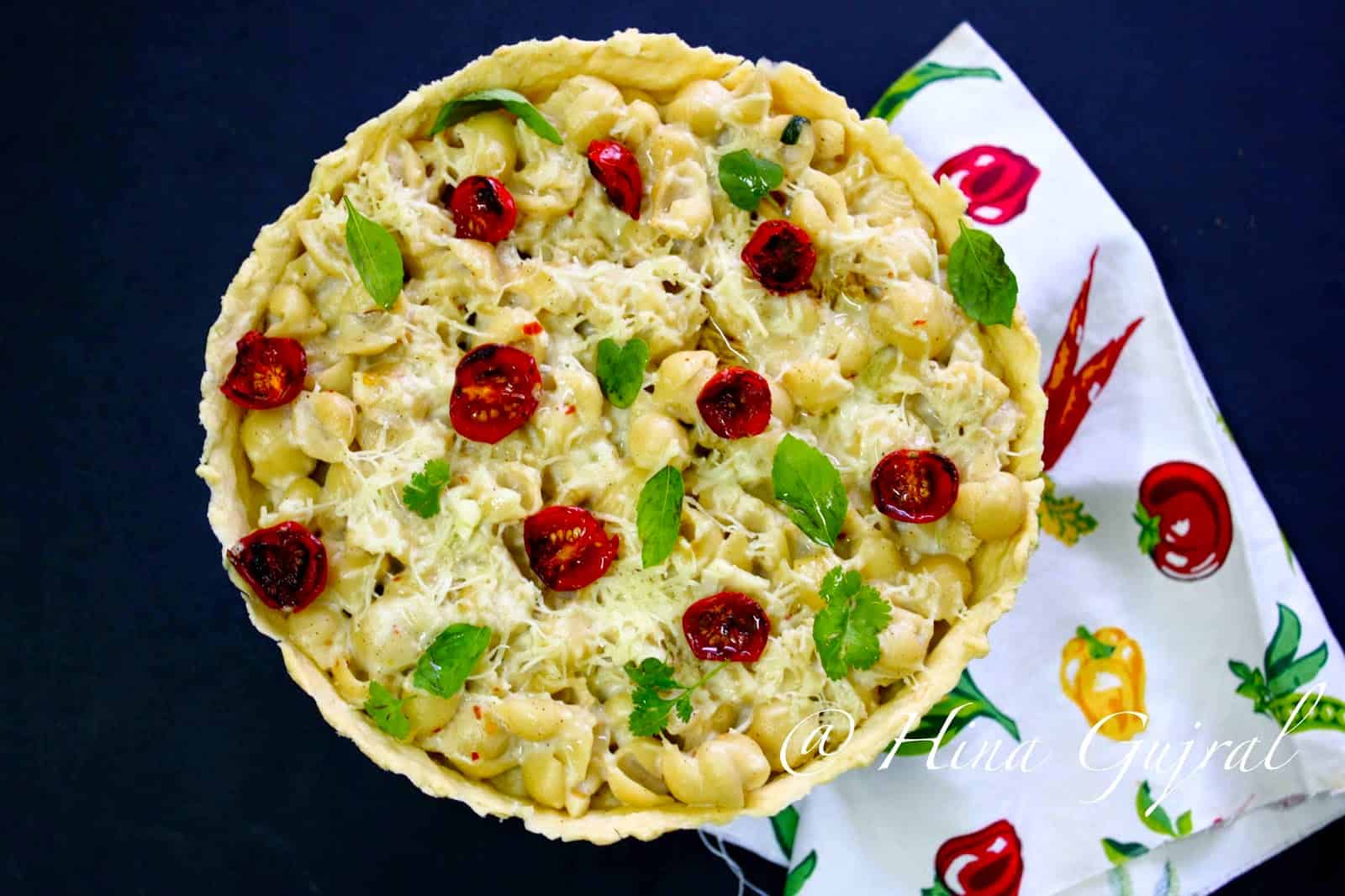 By the time
Macaroni Pie
was out of the oven, the weather turned dark and cloudy. Within a few seconds, it started pouring heavily. Now you must be thinking why I am talking about weather report in the midst of the pie story because once it turned dark and cloudy I lost my opportunity to use natural light for the photo-shoot, which made me panic. With pie dish in one hand and camera on the other, I was running around the house, in search of that perfect spot to click the images. Yes not to forget little Momo was trailing behind me, justifying the famous mobile network advertisement "wherever you go our network follows."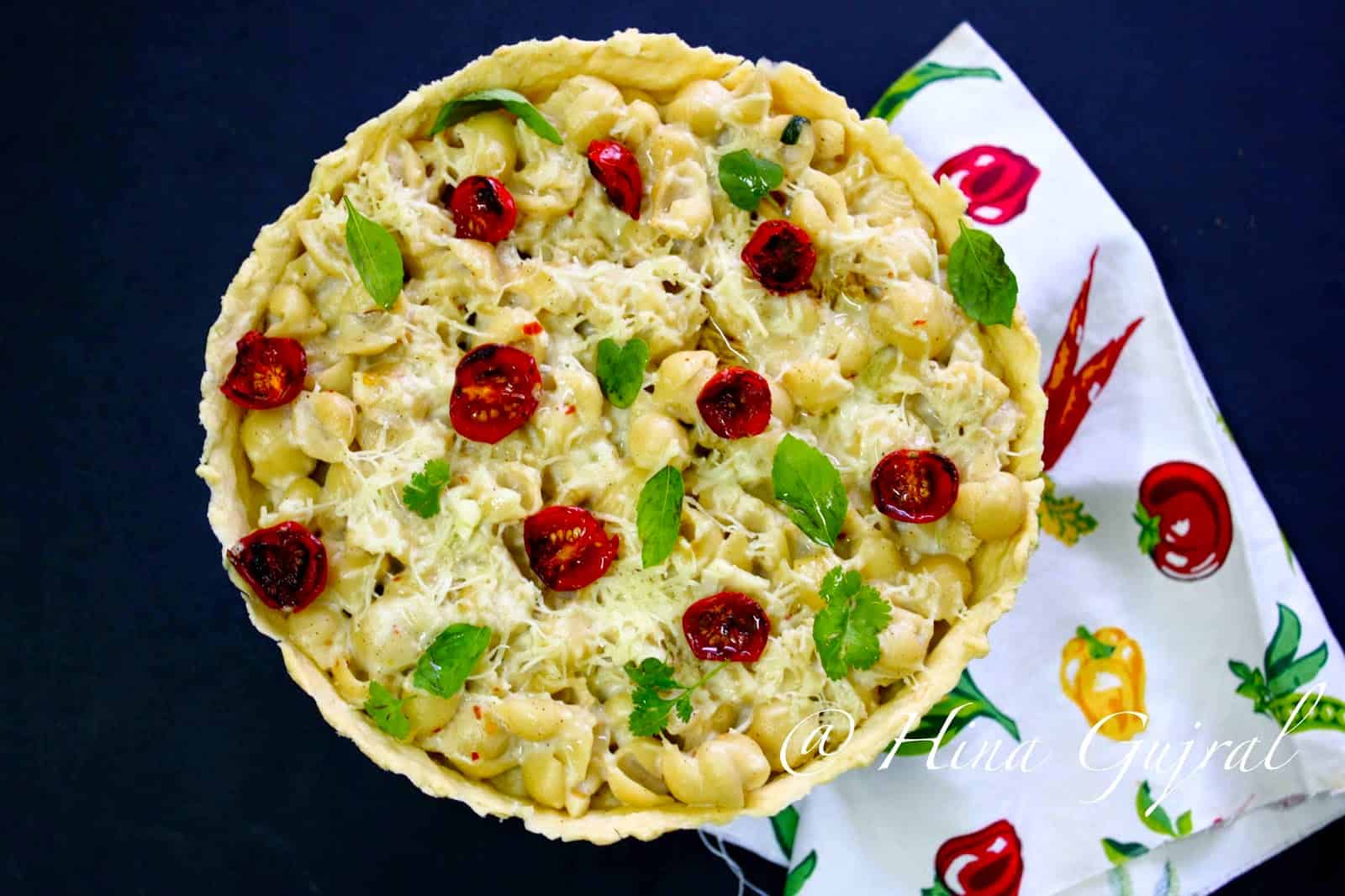 Finally, after shooting at different corners of the house I somehow managed to get the images of the pie, but it drenched all energy out of me so helped myself with a glass of wine and a bowl of salad. But now when I see the images I imagine how they would have looked if shot in natural light or on a bright sunny day. Maybe next time I make the pie will see how images look in bright sunlight, no matter how images look he loved the pie and we had a great start to the weekend.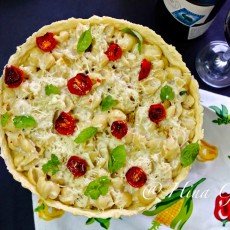 Eggless Macaroni Pie Recipe
Learn how to make Eggless Macaroni Cheese Pie with shortcrust pastry. It is so easy to make and tastes absolutely delicious
Print
Pin
Rate
Ingredients
For the crust
1

Cup

all purpose flour

maida

60

g

unsalted butter

chilled and cubed

¼

Cup

ice cold water

1

tsp

salt
For the filling
1

Cup

macaroni

boiled

1

onion

finely chopped

2

– 3 garlic cloves

chopped

2

Cup

milk

2

tbsp

wheat flour

salt and black pepper

as per taste

1

Cup

grated cheese

Olive oil

2

tsp

mixed herbs

oregano, chili flakes, thyme
For serving
Few basil leaves

Grilled cherry tomatoes flavored with salt

pepper and Balsamic vinegar
Instructions
Sift flour and salt in a bowl. Rub in chilled butter with your fingertips until it resembles coarse breadcrumbs. This can be done in food processor as well.

Now adding a tsp of water at a time bind the dough together. Do not add all the water at a time, this might make dough soft. We need firm, smooth dough.

Once dough comes together do not knead it too much, else butter will start melting.

Wrap the dough with cling foil and refrigerate for at least 30 minutes before rolling, this can be done one or two days before as well.

While preparing filling, keep the dough at room temperature.

To prepare the filling, dissolve flour in ¼ cup milk and set aside.

Heat olive oil in a pan, saute onion and garlic until translucent. Add the flour mixture and saute for another 5 minutes.

Add the boiled macaroni, salt, pepper, mixed herbs and flour mixture along with remaining milk. Let it simmer over low flame until sauce is thick and creamy for about 5 – 10 minutes. Switch off the gas and let the filling cool.

Preheat the oven at 180 degree celsius. Grease a 9 inch pie dish with oil or butter.

Roll out the crust dough into a ½ inch thick and 10 inch round on a lightly dusted floured surface.

Line your pie dish with the pastry, trim of the excess dough from the edges, prick the centre with a fork and put in fridge for 10 – 15 minutes.

After 15 minutes blind bake (see here) the pastry for 15 minutes.

Once pastry is cooked, spoon the macaroni filling into the pastry crust, sprinkle with grated cheese and bake for 30 minutes or until top turns golden brown.

Once done, sprinkle basil leaves and grilled tomatoes on top, drizzle few lugs of olive oil and serve hot.