"Order what you love. There is no judgement here.

I just want you to walk away happy." – Anonymous
After my first successful experimentation with a cocktail recipe (
Hot Apple Toddy
) I am in a high spirit to style and shoot more and more drinks, sometimes when the first trial comes out well it in a way gives you so much confidence to explore new horizons of possibilities and opportunities. Likewise, I always confined my blog's beverage section to non-alcoholic beverage recipe I was not very sure how would be the response to an alcoholic recipe among my readers, but like always I was surprised to read the comments and feedback, everybody loved it and requested for more simple cocktail recipes.
A year ago "he" suggested me to join the bartending course in Bangalore. As in one of his recent visits to Singapore, he was very much fascinated by the idea of woman mixologist. Back home he tried his best to motivate me actually pestered me to go for it but I immediately rejected the idea, I had my obvious reasons. I was scared to explore untapped opportunities and also my risk taking appetite is limited so couldn't convince myself enough to take it as a career.
Through this post I raise a toast to all women mixologists and bartenders, who broke the rules, chosen the unusual and giving tough competition to their counterparts. So here is my entry Cucumber – Lemongrass Lemonade for
Sparkling Himalayan Contest
, one more contest at
IFBM2014
, I hope this the last one until next year.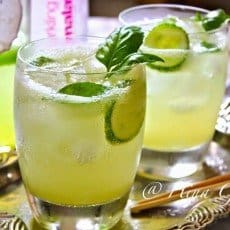 Cucumber Lemongrass Lemonade Recipe
Cucumber Lemongrass Lemonade is an absolutely refreshing drink for the summer. Find Cucumber and Lemongrass Lemonade Recipe
Print
Pin
Rate
Ingredients
1

medium cucumber

peeled and cut into chunks

1

stalk lemongrass

bottom part only, roughly chopped

6

– 8 fresh basil leaves

½

Cup

lime juice

⅓

Cup

sugar syrup

Salt

as per taste

Sparkling Himalayan Water

chilled
To serve
Ice cubes

Cucumber slices and basil leaves for garnish

Lemongrass sticks as natural cocktail stirrers
Instructions
Combine cucumber chunks, chopped lemongrass and sugar syrup in a blender. Blend until smooth puree is formed.

Strain through a fine mesh strainer into a pitcher. Discard solids.

In the pitcher add lime juice, salt and cucumber puree. Whisk to combine.

Fill in serving glasses with ice cubes, drop in few basil leaves in each glass. Equally divide the liquid mixture among 4 serving glasses.

Top each glass with chilled Sparkling Himalayan Water.

Garnish with cucumber slices and basil leaves. Serve Cucumber and Lemongrass Lemonade chilled.