These chocolate dipped shortbread cookies are loaded with all the indulgent goodness – butter, sugar, and flour. Once in a while, mostly towards the year end, I would like to treat myself to indulgent treats such as chocolate dipped shortbread cookies. They are seriously too good to be true. I wish I would have learned to bake them sooner! But never mind, let's enjoy these shortbread cookies dipped in the heaven of chocolate.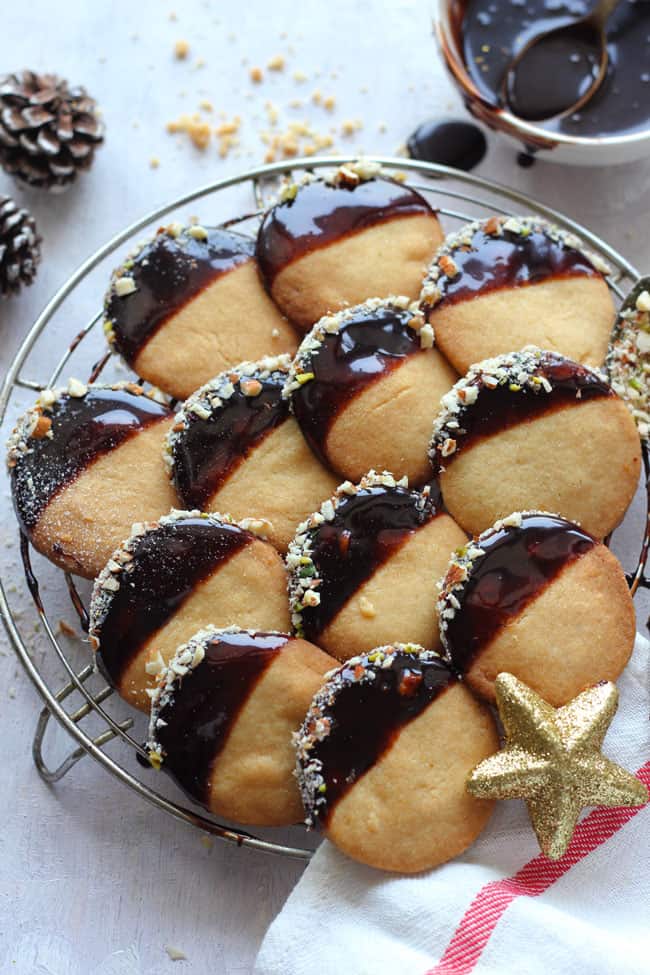 Nobody on this planet Earth can say no to these Chocolate-Dipped Shortbread cookies! If you ask me, I would love to have a lifetime supply of them. Which reminds me, that it's this time of the year again to bring out my baking gloves and bake these shortbread cookies. The holiday season gives me a free pass to dive into my favorite cookies, pies, cakes, and slices of bread and everything else which I had been fantasizing about the whole year!
What makes these shortbread cookies special? Well, for starters they taste like Christmas and do I need another reason! Shortbread cookies date back to 17th century and are made with just three simple ingredients – flour, sugar, and butter. And when I say butter, I mean loads of butter. Because butter gives these cookies the mouth-melting texture. I have given a happy twist to these shortbread cookies by dipping them in chocolate. And thus adding yet another reason for you to totally make these chocolate glazed shortbread cookies.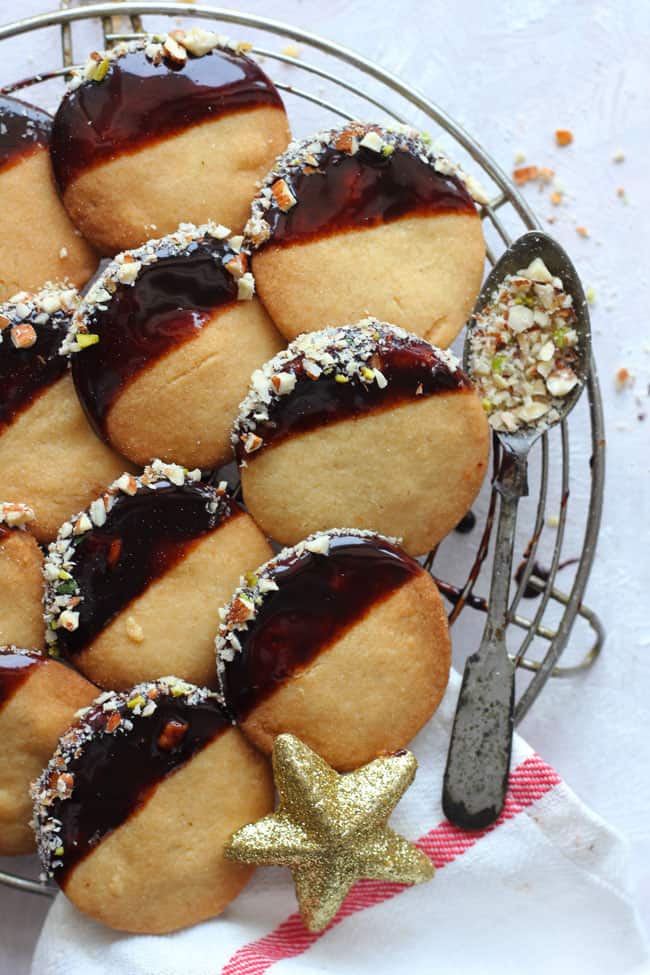 The best part of baking shortbread cookies is how the home is filled with this rich, tempting bakery like aroma. The other day, I saw a tweet which had asked what would my Christmas perfume smell like, and I immediately knew I wanted it to smell like these shortbread cookies. They even make a perfect companion for your hot cup of cappuccino.
For more such fun recipes in your life, follow along on Facebook, Instagram, or subscribe to our Youtube Channel.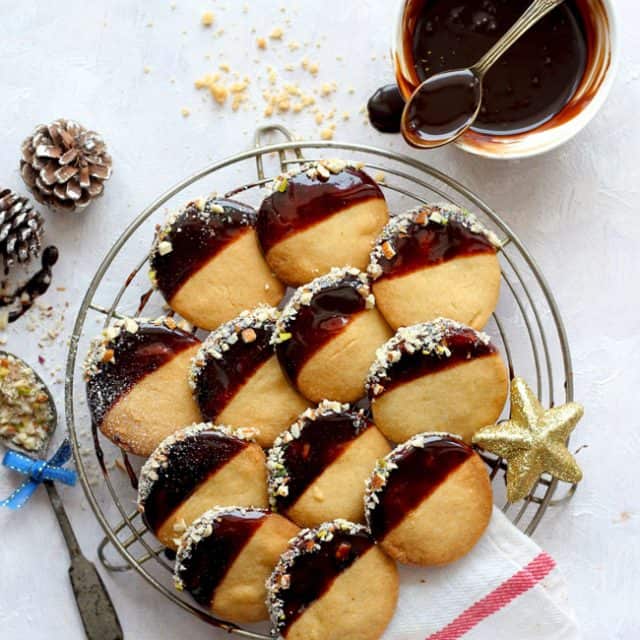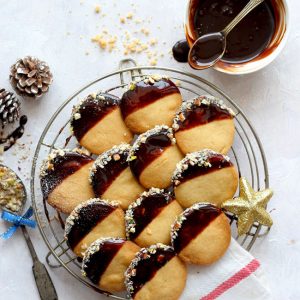 Chocolate Dipped Shortbread Cookies
Nobody on this planet Earth can say no to these Chocolate-Dipped Shortbread cookies!
Print
Pin
Rate
Ingredients
2

cups

all-purpose flour

maida

a pinch of salt

skip if you are using salted butter

1

cup

227 gram unsalted butter, softened

1/3

Cup

granulated white sugar

1

teaspoon

vanilla extract
Ingredients for the Chocolate Glaze
170

gram

dark chocolate

1

tablespoon

butter
Instructions
Cream the butter and sugar using a stand mixer or a hand blender. This might take 5 minutes or more.

Add the vanilla extract and once again whisk for 1 - 2 seconds.

Sift together the flour and salt in a bowl.

Add the flour mixture in small batches to the creamed butter. Gently combine using a spatula.

You will notice a dough is formed. Do not knead the dough or the cookies will be tough.

Form dough into a ball, then flatten slightly to form a disc.

Wrap the dough with a plastic wrap and keep in the fridge for 1- 2 hours, until firm enough to roll.

Take the dough out of the fridge and let it sit on the counter for a few minutes to soften slightly for easy rolling.

Dust the kitchen counter with the flour. Or you can use parchment paper to roll the dough.

Roll the dough to a ¼-inch thickness. Cut into rounds using a cookie cutter and place them on a baking sheet lined with parchment paper.

If at any point the dough becomes too soft, place it back into the fridge for a few minutes.

Bring together the remaining dough and similarly shape more cookies.

Preheat oven to 180 degree C. Bake cookies for 10 - 12 minutes, or until cookies appear golden brown at the edges.

Baking time will vary and may take longer depending on the size of your cookies. Allow cookies to cool in the pan for 10 minutes, then gently transfer to a wire rack to cool completely.

While the cookies are cooling prepare the chocolate glaze.

Microwave the chocolate and the butter for a minute. Whisk to form a smooth liquid.

Gently dip the cookie halfway in the glaze. And place it on a wire rack. Similarly, dip all the cookies in the chocolate glaze.

If you prefer the glazed cookies can be coated with chopped almonds and pistachio.

Place the cookies in the fridge for few minutes for the chocolate glaze to harden.

Enjoy Chocolate Dipped Shortbread Cookies!
Recipe Notes:
This recipe yields 2 - 3 dozen cookies. You can adjust the quantity of ingredients depending on the number of cookies required.
Adapted from Pretty.Simple.Sweet
Love this? Pin it for Later!
Follow @hinagujral on Pinterest!