While you are observing fast or celebrating any Indian festival food is the crucial part of the sacred ritual. For planning a fasting menu we need to prepare Indian food recipes without any onion or garlic. We have got for you 10 best Indian fasting recipes that are fulfilling, energizing and super simple to prepare. These Indian food recipes will make planning festive meal so much easier. The Indian fasting recipes are usually gluten-free, vegan and paleo friendly.
Fasting Recipes are prepared with wholesome ingredients without using any processed or artificial food flavorings. But that doesn't mean these dishes have to be dull. The Indian food recipes for fasting are totally tasty and far from boring. And they help to add great variety to the fasting feast platter.
Here are 10 Best Indian Food Recipes For Fasting:
1) Makhane Ki Sabzi – Makhane Ki Sabzi is a delicious no onion and garlic fasting recipe. It is prepared with the lotus seeds and requires few basic ingredients to get ready. The lotus seeds or the phool makhana are one of the popular fasting ingredients. And a curry prepared out of lotus seeds are a great dish for any festive celebration. Serve it with piping hot poori for a complete meal.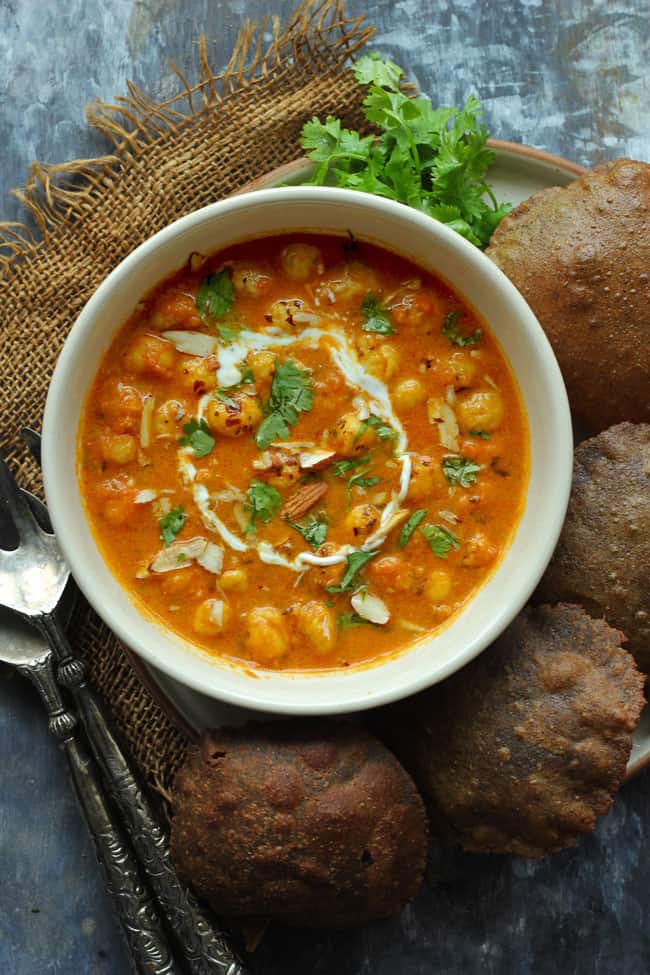 2) Sabudana Khichdi – Whether it is none days of Navratri celebration or Shivratri sabudana khichdi is an all-time fasting favorite. So easy to prepare sabudana khichdi is one fulfilling dish to enjoy while fasting. Sabudana Khichdi is naturally gluten-free too. The addition of potato and peas make sabudana khichdi even more delectable. Serve it with homemade green chutney.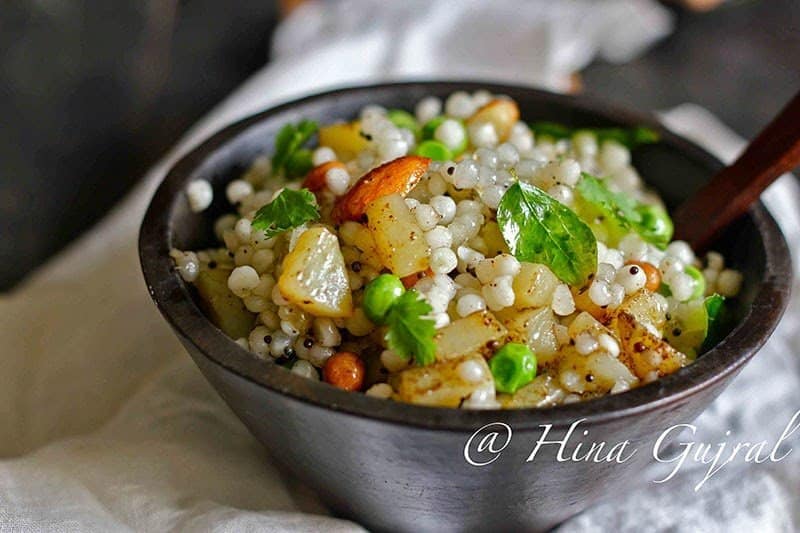 3) Khas Khas Doodh – Milk is considered highly pious ingredient to consume while observing any fast. Khas Khas milk is prepared with poppy seeds, saffron, and dry fruits. It is an instant source of energy that is totally delicious too. Khas Khas milk has a warming and comforting effect with a slight note of sweetness to it.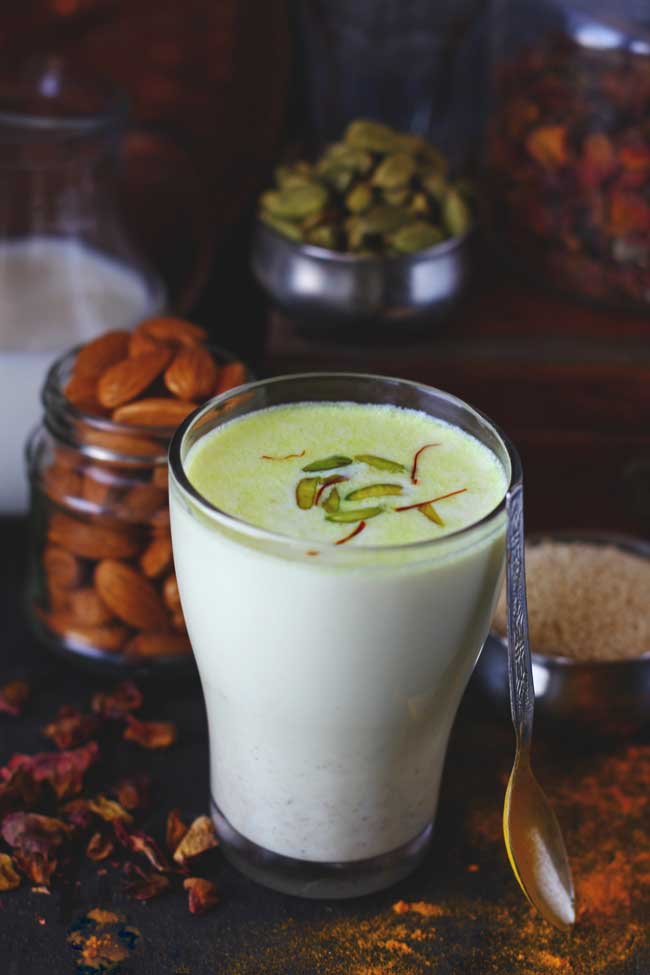 4) Khatta Meetha Kaddu – The sweet and savory pumpkin is served with aloo ki sabzi and poori for any festive occasion. Khatta Meetha Kaddu tastes very delicious with the piping hot poori. The combination of spiciness and sweetness is truly a delectable combination. The khatta meetha kaddu is quite a popular recipe across North India and mostly, prepared for a festive meal.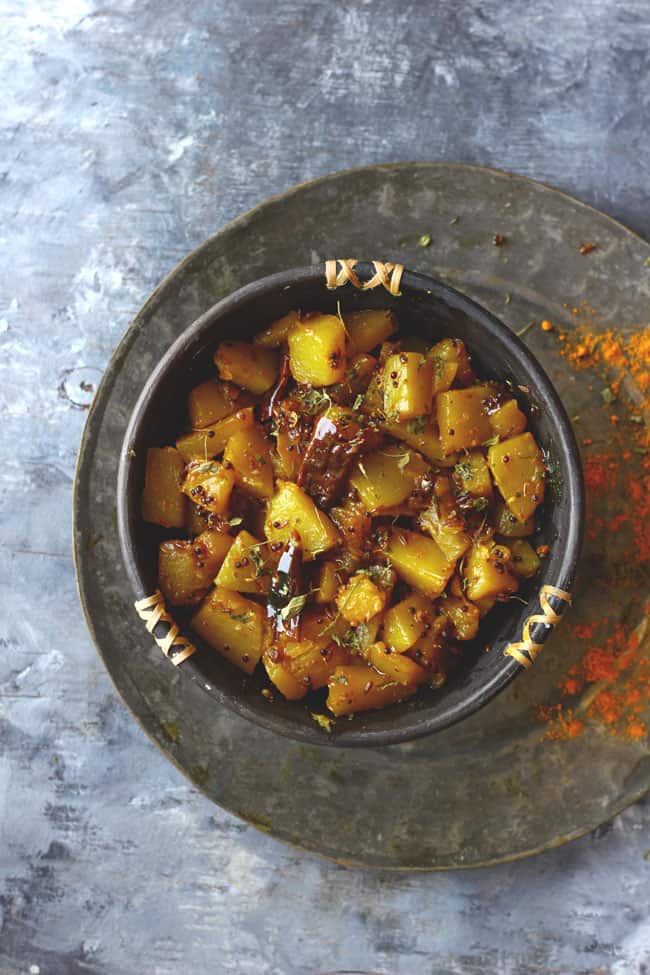 5) Meetha Gulula (Pua) – Nothing can add more joy to the festive table than few traditional dishes. Meetha Gulgula or pua is a popular Indian sweet dish prepared during the festive season. This pua recipe comes straight from the kitchen of my mother and to her, it was passed on by my grandmother. And till date, this pua recipe never fails to yield gratifying results.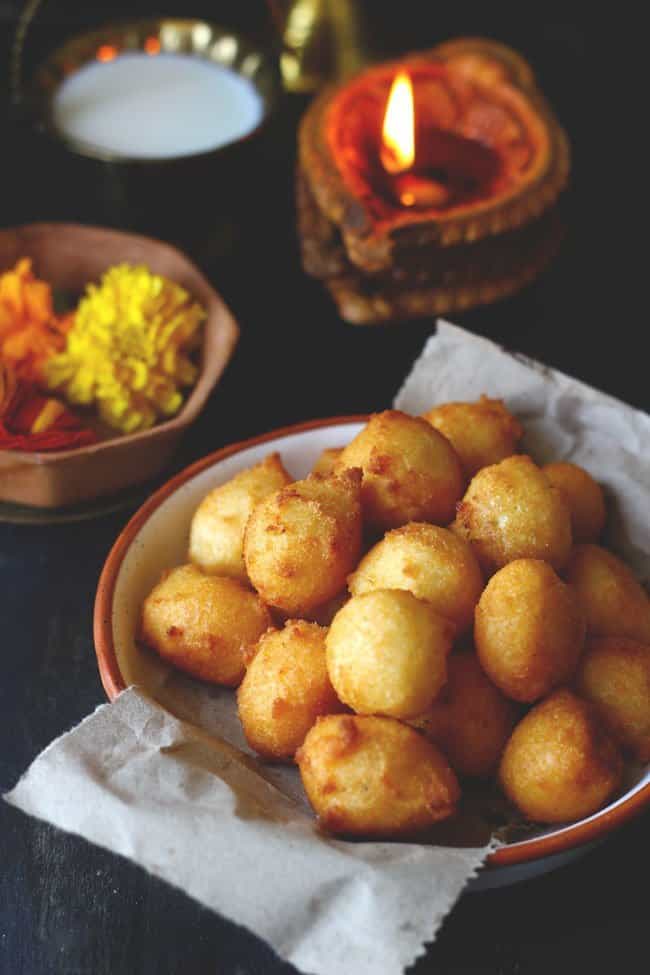 6) Pahadi Aloo Paani – Bored of jeera aloo? Try this pahadi aloo paani recipe. It is flavorsome, easy to prepare and totally delectable. Why is it called aloo paani? Because the curry is soupy, spicy and slurpy. Aloo Paani can be enjoyed with poori, paratha or steamed rice. It is one of the most popular Kumaoni dishes prepared on almost every festive occasion.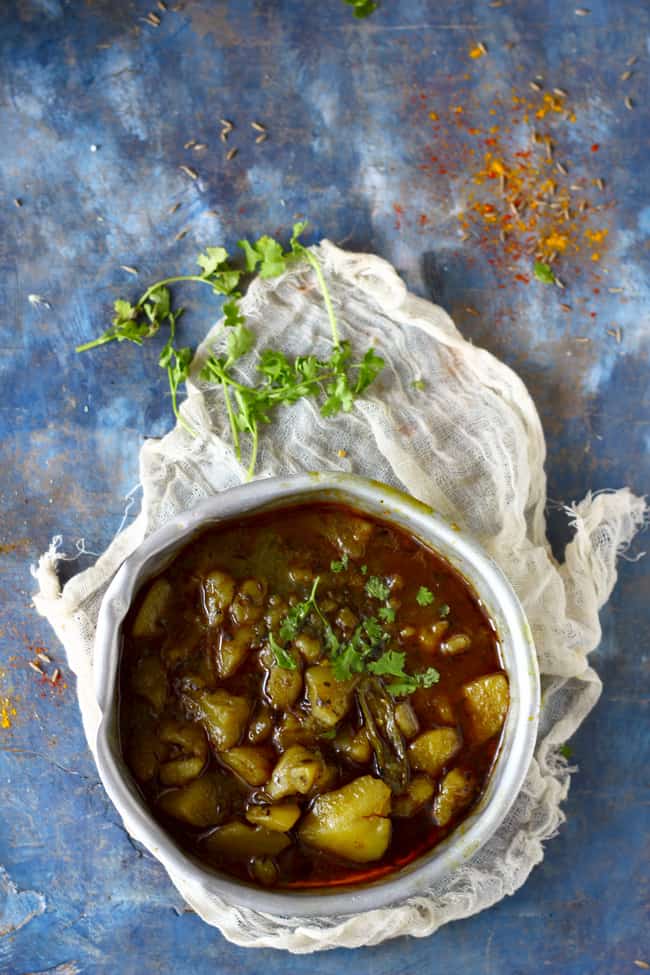 7) Pakodi Ki Sabzi – The crispy and fluffy moong dal pakodi can be turned into a delicious curry. This pakodi ki sabzi is a popular fasting recipe in our household. The tiny deep-fried fritters of moong dal are dunked in a simple and flavorsome ginger flavored curry. While observing fast sattvic recipes such as pakodi ki sabzi really come handy.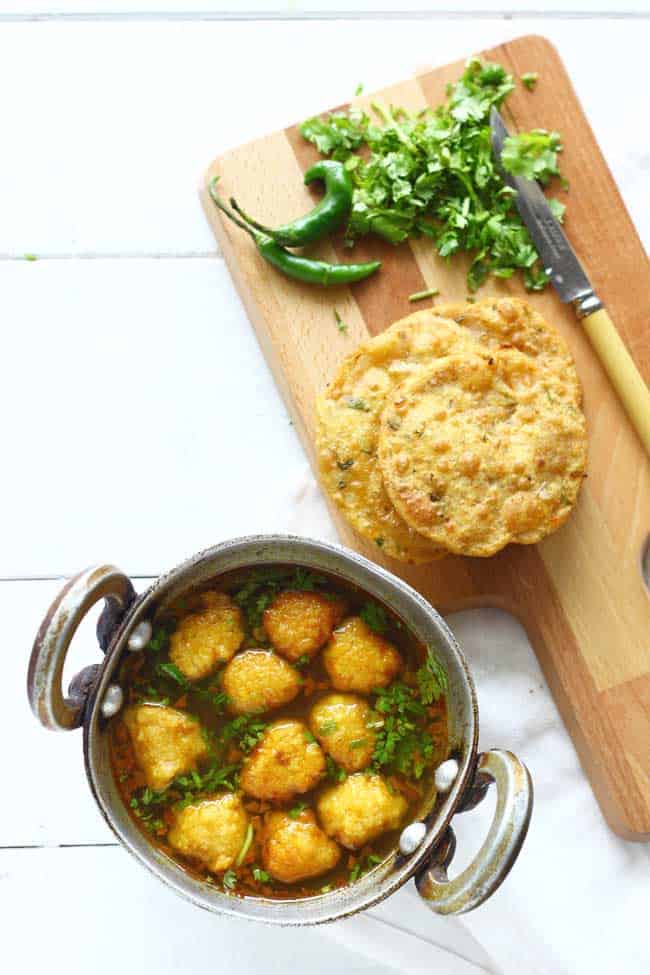 8) Fruit Salad – The consumption of seasonal fruits is a great source of energy while observing a fasting diet. And what could be a better way to easy tons of fruits than a fruit salad. It is healthy, wholesome and full of fresh flavors. So easy to prepare and delicious in taste, fruit salad is the best snack for the fasting days.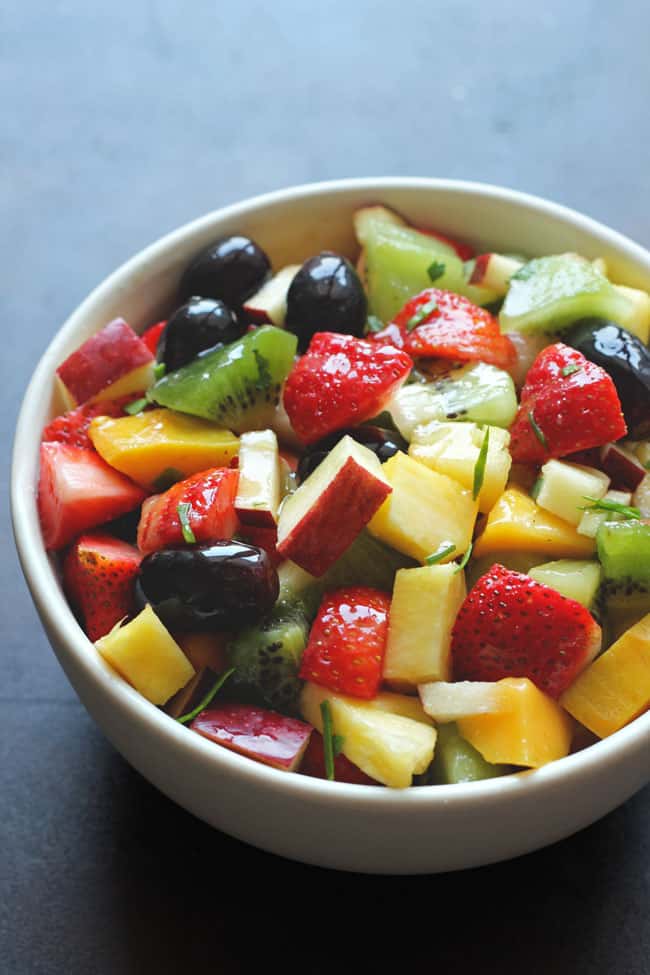 9) Cucumber Raita – This pahadi style cucumber raita is the best accompaniment for the festive feast. It is full of flavors and fulfilling. The fresh grated cucumber and loads of mustard seeds are the key to making a delicious kheere ka raita. The best way to enjoy a cucumber raita pahadi style is to serve it with poori and aloo paani.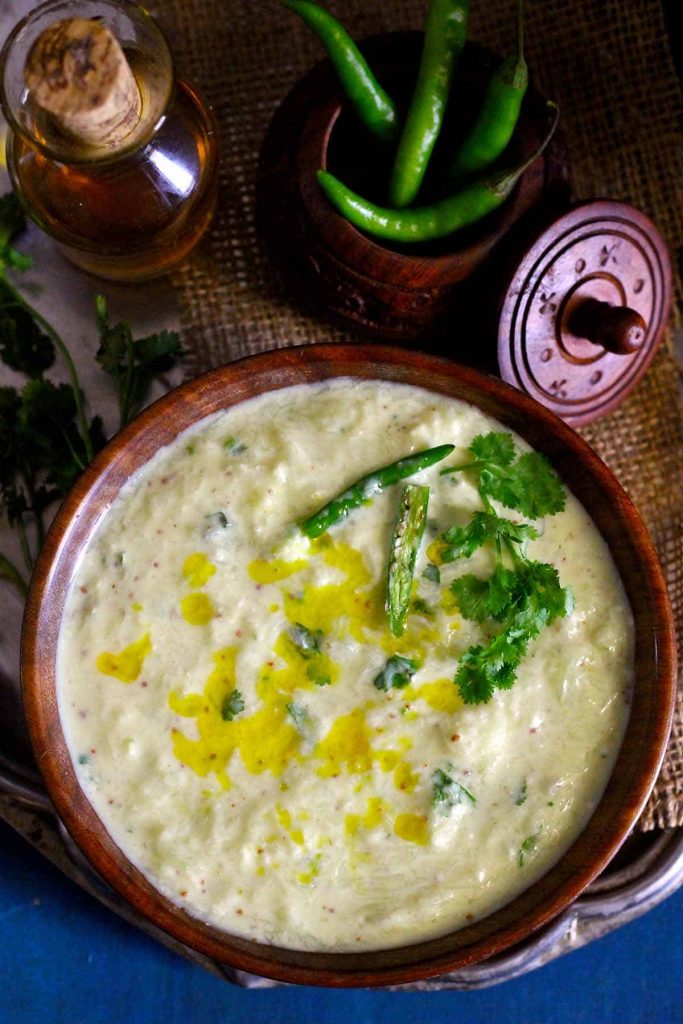 10) Date and Apple Kheer – Date and Apple Kheer is a naturally sweetened Indian dessert. Perfect for the fasting menu this kheer is loaded with the goodness of apples and the dates. Date and Apple Kheer is a great dessert for those who are looking for limited sugar intake while following a fasting diet. You can serve apple kheer chilled or piping heat. Either way it tastes delicious!