There are a variety of ways that we are available to a potential association with your brand. Please don't hesitate to contact us to discuss a partnership opportunity such as the options listed below, or to discuss any other ideas you might have. We would love to hear from you!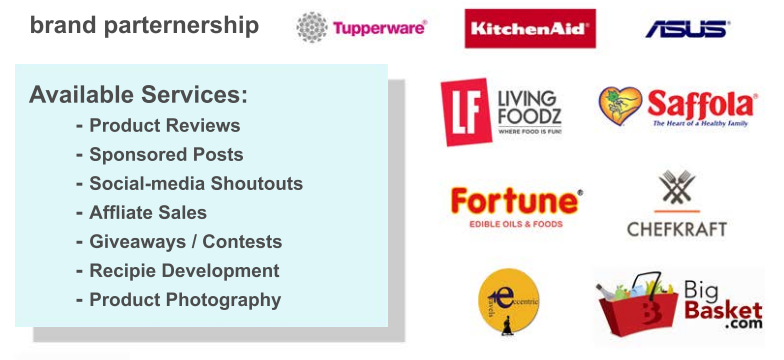 Freelance Writing and Editorials: We love working with brands to develop unique and specific content for your products/services/websites/blogs. Whether that includes freelance recipe development, editorial writing, guest posting, or other, we are available to discuss any ideas you may have.
Sponsored Posts: We are also open to discussing the opportunity for sharing sponsored posts on Fun, FOOD and Frolic. If you have ideas about content that you think would connect with our readers, let us know! We mainly focus on lifestyle, kitchen and home products. Click here to see sample sponsored posts.
Brand Ambassadorship: We would love to consider any opportunity to represent your brand, product and/or service over an extended time period as a brand ambassador. Partnership opportunities can include sharing your brand with our readers via blog posts, social media touting, ad spaces, and more.
Recipe Development: We love creating new recipes, and have worked with many brands to develop special recipes and entertaining ideas to feature specific products. These recipes can be developed for an external site or publication, or the opportunity can be discussed to publish the recipe on Fun, FOOD and Frolic. All the recipes published on the blog are curated, tested and edited by Hina Gujral.
Food Styling & Photography: Hina has many years of experience with professional food styling, and is available to style and photograph recipes upon request. She shoots in a home studio with a professional Canon equipment and edits in Photoshop or is also open to traveling and working with a team on location. All the images on the blog are styled and photographed by Hina Gujral.
Giveaways and Product Reviews: Giveaways and reviews are without a doubt some of the favorite posts on the blog! If you have a product or service that you feel would connect with our readers, please contact us. We would love do discuss hosting a review and/or giveaway on the site. (All giveaways are also promoted heavily over social media and email newsletters.) Please contact us for more information about the giveaway and review partnership opportunities and policies.
BRAND DISCLOSURES:
We will always disclose to our readers the nature of partnerships with brands. Readers have access to a full disclosure policy found on our website. We will also include a small disclaimer at the end of any post which is written on behalf of a company or partner, as per our Privacy Policy. We will make readers aware if money or product was exchanged for the post. Honesty and transparency are huge priorities as we work with brands, and our readers know that compensation will never "buy" a positive review. That said, we love the opportunity to promote brands, products, and services that are a good fit!
CONTACT:
Please contact us at [email protected] to discuss any potential partnership opportunities. Our media kit is available upon request. We look forward to connecting with you!
You can reach us via this comment form as well: