Mooli Ki Kadhi is one of the best summer curry recipes. It is light on the stomach, big on flavors and requires your minimal time near the stove. Yes, we are already thinking of gloomy summer days ahead. And started working on summer recipes such as Mooli Ki Kadhi. For a day, give a miss to your regular Kadhi and try this version. It has the unique pungent flavor of radish plus it is 100% gluten and onion/garlic free. In our Kumaoni dialect, we call it Mooli Ki Jholi. In our everyday conversation, we commonly use the term jholi for kadhi. And the consistency of Kumaoni jholi is on a thinner side like a shorba or jhol. Perfect to mop steamed rice with it using your fingers.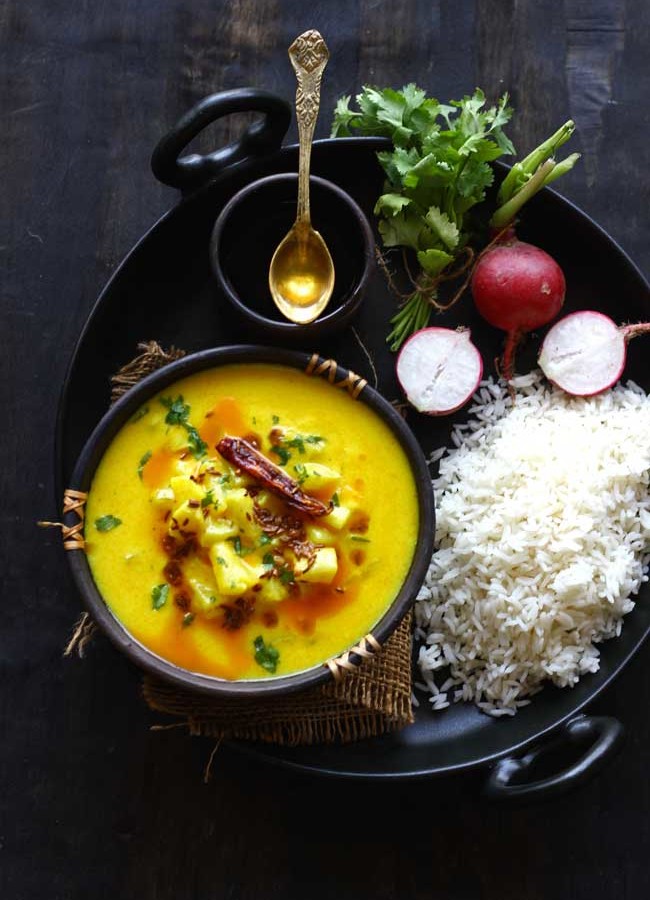 Pahadi Lai Ki Sabzi is the simple stir-fry of a local variety of mustard greens. This particular variety of mustard greens has a sharp, saline taste to it with the shades of red on the leaves. The color of leaves is not entirely red so I am afraid if we can categorize them as red mustard leaves. These leaves have a peculiar mustard oil like aroma to them. In the local Kumaoni dialect, we call this variety of mustard greens Lai. Its is usually available throughout the winter season. And we surely miss relishing it while the rest of the year. But few things taste best in a particular season like Sarson Ka Saag. Lai Ki Sabzi has an uncomplicated demeanor. So easy to prepare yet full of fresh flavors.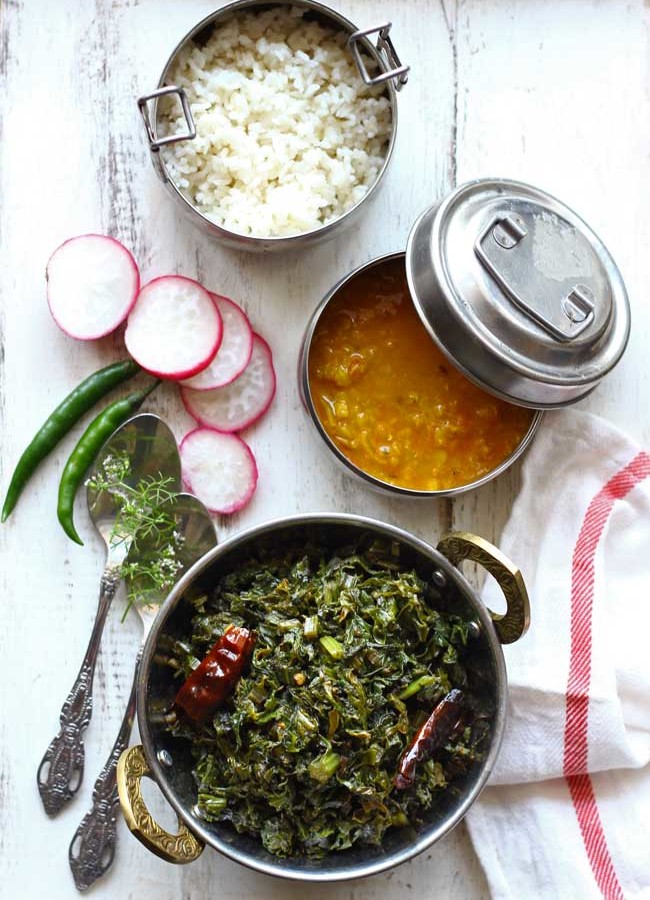 This year, it rained like never before. It poured cats and dogs. Waking up to the sound of water gushing down, no sunshine, is almost a routine for a month now. The rain in North India always seems more dramatic somehow than rain anywhere else I have been before. Largely, because when it rains for a while, the streets begin to flood with water in a most disgusting fashion; perhaps using boats and knee high boots seems like a sensible decision to reach your destination. Being house arrested due to rain for days we have ample time to read, cook, chatter and capture the mood of the season in digital frames. The sound of the rain, beating down heavily on the windowpanes – is enough to break the afternoon silence. I find myself oddly pleased in the midst of this raining chaos to continue the normal humdrum of life: cooking and writing. Hence, the weather is perfect to talk about this simple, unglamorous Pahadi Aloo Paani Recipe that makes me feel grounded, happy, contented and connected to my Kumaoni roots.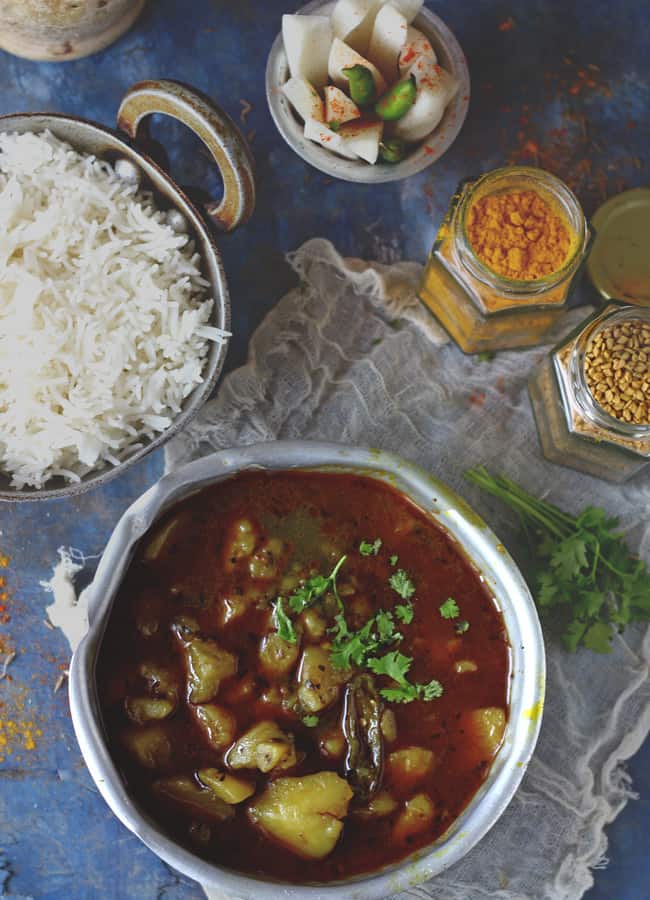 If you have ever visited the lush green hill stations of Kumaon to spend a quiet summer vacation, you might have tasted Pahadi Kheere Ka Raita aka Cucumber Raita. Nestled in the foothills of the Himalayas, Kumaon is bestowed with a maze of mountains, lush greenery, and breath-taking landscapes. The culture, cuisine and the rich heritage of the region are still an untold saga to the rest of the world. Many renowned food historians and novelists have captured the essence of the cuisine in their writings, though. From the ancient times, Kumaonis have been famous for their bravery, warrior skills, and enduring honour. Like the persona of the natives, their food is simple, subtle and comprises largely of locally grown greens, vegetables, herbs, and grains.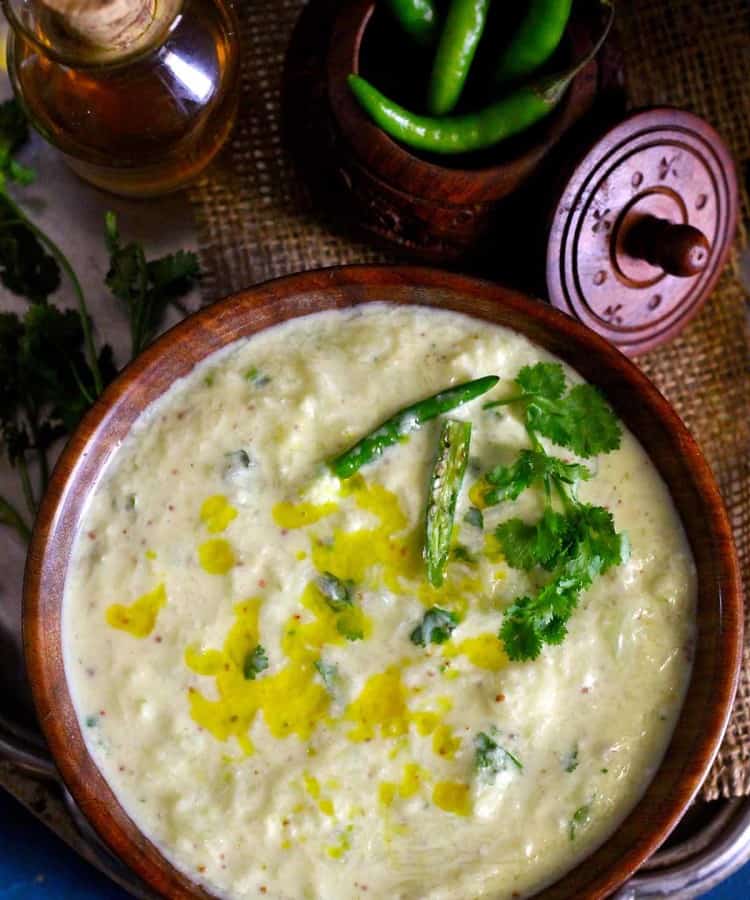 Kumaoni Bada, as we Kumaoni pronounce it, is a crispy, flavorsome, gluten free split black urad dal fritter. Traditionally, the soaked split urad dal is ground in a stone mortar and pestle to get the fine paste for the vada. Then whisked manually till it is light and airy, perfect to make vada. Seasoned with plenty of fresh coriander, green chili, turmeric, red chili and a generous amount of asafoetida to get the sought after taste of the vada. Many might argue that Kumaoni Bada Recipe is no different from Medu Vada or for saying any other Vada Recipe. And they are not totally wrong when comparing the two recipes, as the process of making is almost similar. Also, the medieval period saw an influx of high-caste migrants into the Himalayan foothills from Gujarat, Karnataka, Maharashtra, Rajasthan, Bengal and other parts of India. Each brought with them a treasure of food heritage from their native region. With time, all these distinctive food cultures blended with the local Kumaoni cuisine. Hence, you could find traces of other regional cuisines in the Kumaoni Cuisine.