Suji Ka Halwa
is simple, uncomplicated Indian style semolina pudding, made with basic ingredients – semolina, sugar, and ghee. Regardless of these humble ingredients, the pudding tastes simply divine and provides a kind of comfort to the one's culinary senses. The process of making Suji Ka Halwa is quite straightforward, elementary, undemanding but not effortless. The only secret mantra behind the triumphant bowl of Halwa is the slow roasting process of the semolina. The more semolina is slow roasted, better the flavor and color of the pudding. There aren't any cheat shortcuts to fast forward the roasting process of semolina, and the whole Halwa making exercise in itself is very calming and therapeutic.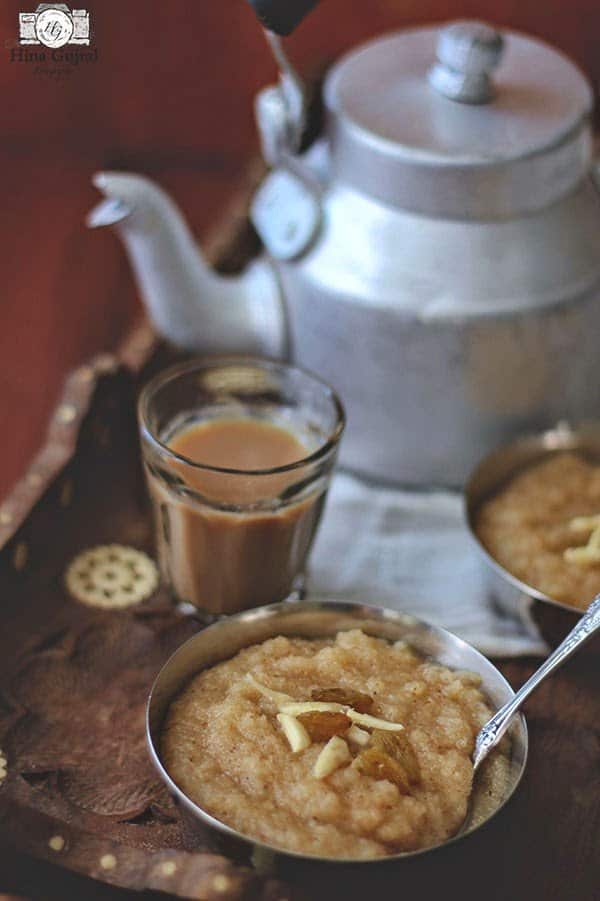 Halwa is a common variety of pudding widely made across the Indian sub-continent, it could be made with a divergent combination of day-to-day ingredients and then sweetened with natural sweeteners to taste. Suji Ka Halwa is no modern day fancy pudding, on the contrary, it is been made in every Indian kitchen since the time immemorial, yet every household has its own peculiar individual taste of this pudding. I have learned to make Suji ka Halwa from my mother but still, mine tastes so different from her preparation of the Halwa. My mother was never very familiar with the western baked desserts, she is a simple lady coming from a humble background but she always has this sweet tooth, which my brother and I have inherited from her. To satiate our sweet cravings every now and then, she would stir up some halwa during the cold winter nights and Kulfis for the hot summer holidays.
Suji ka Halwa was a staple dessert during my growing up years, no festive meals, birthdays celebrations, rainy days, gloomy days, were considered complete without the large bowl of Suji Ka Halwa on the table. But all this while I never considered this pudding something which requires a certain skill set, the reason being, my mother making it so frequently and with much ease that I assumed there is not much to learn behind the scene. When I first made Suji ka Halwa as a newly wedded bride, it was nowhere near to perfection. Since then every time I make Suji Ka Halwa it improves one step ahead, and I am still learning it hard way. Here is one simple, classic recipe of making Suji Ka Halwa.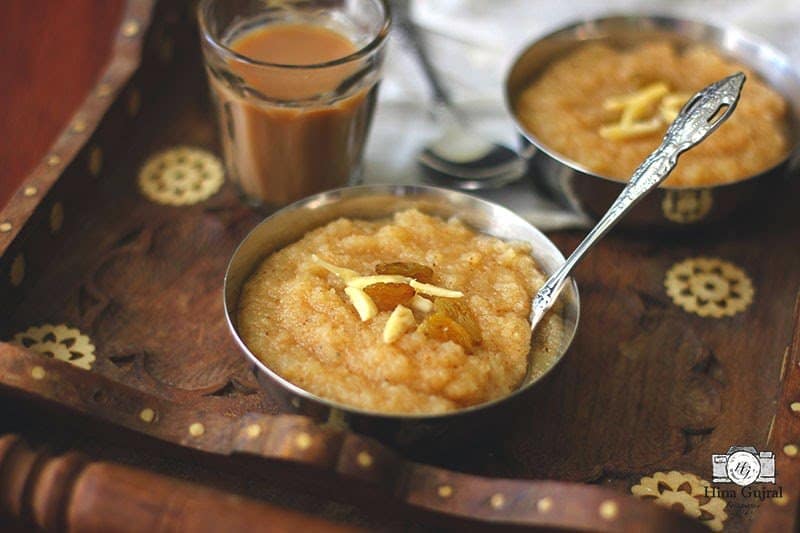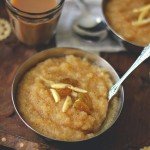 Suji (Sooji) Ka Halwa
2015-04-16 12:38:53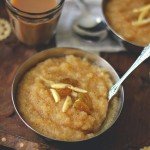 Serves 6
Suji (Sooji) Ka Halwa is simple, uncomplicated Indian style semolina pudding, made with basic ingredients – semolina, sugar, and ghee.
Ingredients
1 Cup semolina
¼ Cup ghee
1/2 Cup sugar or to taste
2 – 3 green cardamom pods, crushed
2 glasses of water, at room temperature
2 tbsp raisins
To Garnish
2 tbsp of sliced almonds
Instructions
In a heavy bottomed pan heat ghee over medium heat. Once ghee is heated add raisins and fry for few seconds, transfer to a bowl and keep aside.
In the same ghee add semolina and crushed cardamom pods. Reduce the heat to low and saute semolina over low heat till it turn deep brown in color, stirring continuously in between. Stirring is essential while roasting semolina so that it gets evenly roasted.
Roasting semolina over low heat is a time taking task, for more efficiency I usually keep myself engaged with other chores in the kitchen while semolina is getting roasted.
Some people like to add equal amount of ghee as semolina but the end result with less amount of ghee is delicious too. The secret to make spoon-licking Halwa is slow roasting the semolina till it changes the color to deep brown.
Once semolina is roasted add water and move away from the pan as there is lot of bubbling and splashing.
Once semolina calms down a bit after adding water stir once and then add sugar. Stir once again to combine the sugar. Keep the flame to low.
Cover the pan with the lid and let halwa cook for few minutes.
Remove the lid of the pan, stir, turn off the heat. Halwa is of dropping consistency, if it seems too liquid, let it simmer for few more minutes over low heat.
Transfer to serving bowls. Garnish with sliced almonds, fried raisins. Serve hot.
Fun FOOD and Frolic http://www.funfoodfrolic.com/