It is the New Year and the beginning of another whole new chapter from the work perspective. 2013 was one lucky year for me as a blogger, in the beginning of the year I finally decided to quit corporate career and pursue my passion as a full-time career, then during summers I gave my blog a whole new look which as per my friends much more professional than the previous look, then came the first invitation for a food event –
FourSeason's Wine Trail
followed by
Sundrop's Health Workshop
on Peanut Butter and
Bangalore Airport's Prelaunch of New Terminal
, at each event I met some fellow bloggers who are doing such great work in the blogging industry from past so many years.
The whole year I won few contests as well but one contest, which is close to my heart, is KitchenAid India Diwali Recipe Contest at Archana's Kitchen in which I won KitchenAid Proline Cordless Blender with 5 attachments and everyday when I use the blender I thank KicthenAid and Archana for such an useful prize.
From learning prospects also the year was quite interesting, I attended some great workshops at IBCA, Lavonne, Chef Demonstration at Toscano and Weber Barbecue Session, at each workshop I met people from different aspects of life and each one has a thing in common – love for food. I believe learning is a life long process and for this year I have already saved dates for new workshops and courses.
At personal front also lot happened, "He" changed his job and joined one of the leading investment banks and I quit my job from leading investment bank, what an irony!! On 14th February 2013 the little bundle of joy came into our lives, Momo – The Pug and since then you can see him now and then in my posts because he has become an integral part of our lives. This year he is turning one so I have some celebration plans in mind for his birthday and party – will share the same with you post his birthday.
I hope in 2014 also my work will be appreciated, this year my sole focus will be on nurturing my blog, planning to share some fantastic recipes and present them along with beautiful clicks also I am planning to explore new dimensions of food styling and photography.
With Strawberries in season and winter at it's peak nothing is more comforting than Crumble for desert. So this is the first desert I made in the new year, wish the year is also full of colors and freshness.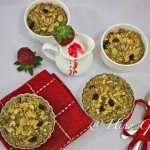 Strawberry and Apple Crumble Recipe
2015-09-16 06:32:19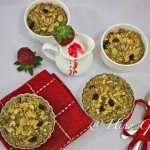 Serves 4
Ingredients
2 firm apples, peeled and chopped
½ Cup strawberries, chopped (or more if you like)
2-3 Tbsp lime juice
⅓ Cup castor sugar
For the crumble topping
2/3 cup all purpose flour
1/3 cup brown sugar
1/3 cup unsalted butter, chilled and cut into cubes
2 Tbsp almonds, slivered
Instructions
Toss the diced apples with the lime juice as soon as you chop them to prevent them from blackening.
Grease 4 individual ramekins or shallow pie dishes. Arrange chopped apples in the prepared ramekins.
Arrange chopped strawberries on top of apples and sprinkle castor sugar evenly.
To prepare crumble topping, in a large bowl, mix flour and cold butter using fingertips, do not press hard chunks of butter, the texture should be like chunky bread crumbs.
Mix in brown sugar and almond flakes.
Put this crumble topping over the fruit mixture, pressing down gently to cover the top & seal the fruit in.
Preheat the oven to 200 degree celsius. Bake for about 30 minutes or till top light brown and stewed fruit juice begins to appear on edges.
Serve Strawberry and Apple Crumble warm with vanilla ice cream.
Fun FOOD and Frolic http://www.funfoodfrolic.com/