Baking bread at home is no rocket science actually it is about common sense and chemistry while baking bread you cannot take chances to be intuitive about the measurements, recipe, and most importantly timing, everything has to be accurate and precise. But that does not mean baking bread at home is nearly impossible, once you master the art nothing can beat freshly baked bread, which has now become part of my weekly routine.
Initially, I also goofed up many times while baking bread and the result hard, tough or uncooked bread, but every failure taught me one foolproof trick about baking bread so don't be scared if your first loaf turns out to be a mass of flour. After practicing a lot with daily whole wheat bread now I have reached the stage where I can play with bread flavors and shapes. So for starting it is always best to start with simple bread recipes to learn the basics behind.
There are few stages in bread making where there is a high probability of messing up, one of them is killing yeast, never ever use hot water for activating the yeast, water should be lukewarm to touch and also yeast feeds on sugar so make sure sugar is dissolved in water. To avoid any risk I use best quality Active Dry yeast which takes less time to get activate and can be stored for a longer duration.
Bread gets it's texture from kneading so I always set a timer for 10 minutes while kneading bread if you have some kitchen tool which can do the task for you nothing like it but kneading bread is a good exercise for muscles as well and you know exactly when the dough is ready.
For
Indian Food Bloggers Meet
2014
Freedom Tree
challenged all the participants to bake something savory using fresh corns, which is quite a mind boggling task as there are many savory bake recipes using cornmeal but baking with fresh corns confines your options. I had no recipe in mind I was all set to bake my daily sandwich bread then I thought why not to add corn puree to it, I already had some sour cream in the fridge so I came out of my comfort zone and experimented, the result is in front of you.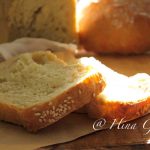 Sour Cream and Corn Savory Bread
2017-04-18 07:05:05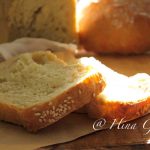 Ingredients
4 Cups all purpose flour + for dusting
1 tbsp active dry yeast
2 tbsp Castor Sugar
2 tsp salt
2/4 Cup corn puree (see directions below)
¼ Cup sour cream
1 tsp Dijon Mustard
1 tsp crushed black pepper
Olive oil, to brush the tin
⅓ Cup water
To finish
2 tbsp milk, to brush
1 tbsp sesame seeds, to sprinkle
Instructions
To make corn puree take ½ Cup fresh corn kernels and boil in water until soft. Drain in a strainer and keep in the strainer for 15 minutes until all the water is drained.
Blend to a smooth puree using one tablespoon of water at a time do not use too much water. Puree should be thick like vada batter.
Dissolve the sugar in lukewarm water and add the yeast. Keep for about 5 minutes till the yeast turns frothy. Make sure water is not hot else it will kill the yeast.
Meanwhile sift the flour, pepper and salt together in a bowl.
Make well in the centre of the flour and add the yeast mixture, mustard, corn puree, sour cream. Mix gently with spatula and let it stay like this for 2 – 3 minutes for the flour to absorb liquids.
I do this in the food processor and then do the final kneading by hand. Then tip out the dough onto a lightly floured work surface. Knead by hand, adding a tsp of lukewarm water at a time until the dough is smooth, firm and just beginning to feel a little sticky. I fix a timer for 10 minutes and knead the dough for 10 minutes.
Place the dough in an oiled bowl, cover with a cling foil and allow to double in volume in some dark and draught free place. I keep it inside microwave. This usually takes 1 1/2 hour.
After about 1 ½ hour or once dough has risen almost double in volume, turn it into lightly dusted surface and punch back to deflate it. Now shape the loaf.
Grease bread tin with oil and place the loaf in it. Again put it in dark and warm place for rising this usually takes 30 – 40 minutes.
Once the dough has risen once again. Preheat oven at 180 degree celcius.
Make a cut lengthwise on top. Brush the top with lukewarm milk. Sprinkle sesame seeds on top.
Bake for about 40 minutes. If tapped on the bottom the bread will sound hollow, once it is done. Cool on a rack for 2 – 3 hours before slicing. Store in airtight box in fridge.
Fun FOOD and Frolic http://www.funfoodfrolic.com/