Fresh roasted pepper is what makes this dip special; so don't substitute it with the canned ones. Roasting pepper is an easy job, if you've never tried it yet then this is the perfect opportunity, once you taste them, you'll wonder why you waited for so long.
Initially, I got confused between this dip and Harissa (
see recipe here
) though both had the red pepper base but when I tasted each, I could figure out they are in no manner similar, despite having almost similar color and texture. Roasted pepper dip has a strong smoky flavor while on the other hand
Harissa
is quite a hot dip.
Serve this simple dip with crisp toasted wedges of pita bread or even it goes well with lavash, but with whatever you serve it this colourful dip is always a hit and the best part is it can be made several days ahead and refrigerated.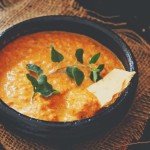 Roasted Red Pepper Dip
2016-05-30 01:23:09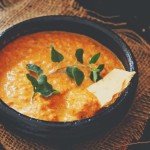 Serves 6
Ingredients
1 red bell pepper, roasted over the flames/oven
1 tsp cumin
¼ cup walnuts
1 slice firm bread, torn into pieces
2 – 3 cloves of garlic
1 tbsp balsamic vinegar
2 tbsp olive oil
salt, as per taste
¼ tsp ground cayenne pepper
Instructions
Roast the pepper either over the flames or in the oven.
Cut roasted pepper into large pieces. In a small skillet toast cumin over low heat, stirring constantly until very fragrant, 1 to 2 minutes.
In a food processor with knife blade attached, process walnuts until ground.
Add rest of the ingredients including pepper and puree until smooth.
Transfer to a bowl and serve with toasted pita bread wedges or lavash.
Fun FOOD and Frolic http://www.funfoodfrolic.com/