This roasted red pepper dip will perfectly complement your chips and crisps for the next house party. Although to be
completely honest here, anything from a breadstick to raw vegetables tastes good with a nice creamy delicious dip. At all my house parties, if there is one thing that is obvious on my menu is an assortment of dips. They are extremely easy to make and stand out as an awesome snack when served with the crispy finger food. Fresh roasted pepper is what makes this dip special; so don't substitute it with the canned ones.
Roasting pepper is an easy job, if you've never tried it yet then this is the perfect opportunity, once you taste them, you'll wonder why you waited for so long. Roasted pepper dip has a strong smoky flavor. Roasting provides a very distinct flavor to any recipe. It is the kind of flavor which cannot be replicated by skipping the roasting and using a ready-made substitute. In many of my recipes, I use the roasting technique to create a unique flavor profile.
If you look at the recipe, you will realize it is a child's play. For the festive season, (when the guests come over unannounced and you are not really sure what to serve in a frenzy) it can also be pre-prepared and stored in the refrigerator for days without affecting its taste.
Serve this simple dip with crisply toasted wedges of pita bread or lavash or with crispy bites of your choice. Whatever you serve this colorful dip with, it is always a smashing hit and never a miss.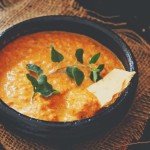 Roasted Red Pepper Dip
2016-05-30 01:23:09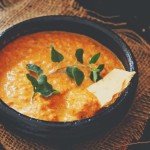 Serves 6
This roasted red pepper dip will perfectly complement your chips and crisps for the next house party.
Ingredients
1 red bell pepper, roasted over the flames/oven
1 tsp cumin
¼ cup walnuts
1 slice firm bread, torn into pieces
2 – 3 cloves of garlic
1 tbsp balsamic vinegar
2 tbsp olive oil
salt, as per taste
¼ tsp ground cayenne pepper
Instructions
Roast the pepper either over the flames or in the oven.
Cut roasted pepper into large pieces. In a small skillet toast cumin over low heat, stirring constantly until very fragrant, 1 to 2 minutes.
In a food processor with knife blade attached, process walnuts until ground.
Add rest of the ingredients including pepper and puree until smooth.
Transfer to a bowl and serve with toasted pita bread wedges or lavash.
Fun FOOD and Frolic http://www.funfoodfrolic.com/