Rice Flour and Carrot Paratha Recipe is inspired from the popular flatbread from Coorg Region, known as Akki Roti. In the local dialect, Akki-Rotti means rice-pancake. The traditional Akki Roti is prepared with rice flour, combined with salt and water make a soft dough. Though rice flour chapati is made in Northern states as well, very similar to aka Phulka. Somehow, rice flour is only available during winters in the Northern parts of the country. As the first breeze of spring knocks at the door, the rice flour starts vanishing from the supermarket shelves. I am glad that these online grocery stores have no such provision of seasonal availability of rice flour. And now we can relish Rice Flour and Carrot Paratha throughout the year.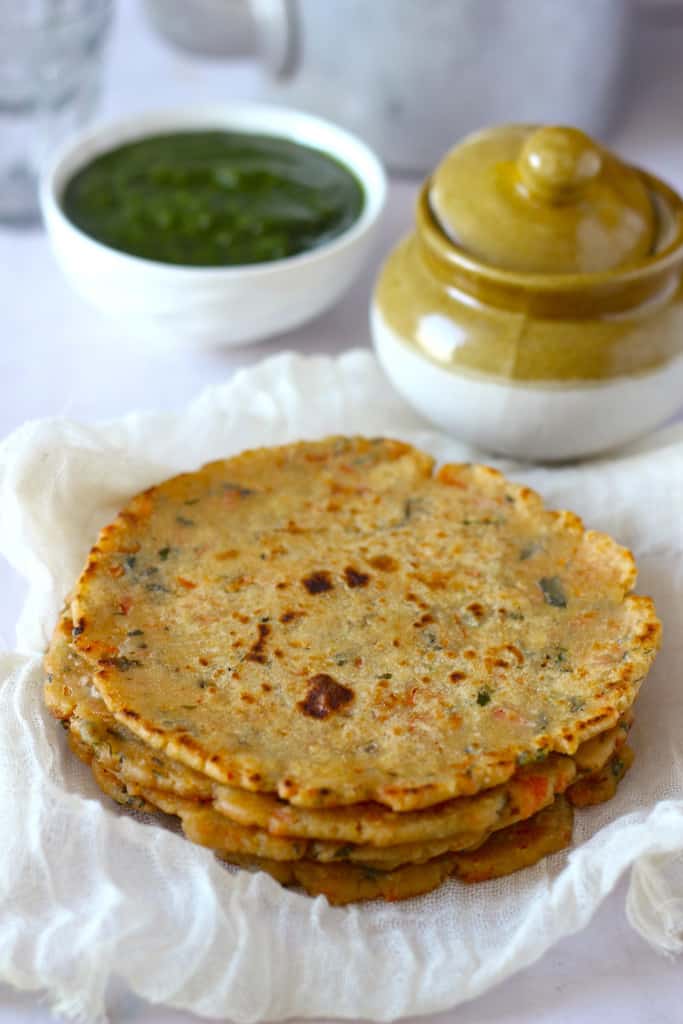 At
home,
Rice Flour and Carrot Paratha
is an occasional breakfast affair. Served with coriander chutney, sweet lime pickle, and tea or coffee
Rice Flour and Carrot Paratha are our morning meal favorite. This flatbread is fulfilling too. From spring onions, fenugreek leaves to boiled potato, you can mix a variety of ingredients in the dough to make the Rice Flour Paratha more delicious. The rolling and shaping part of Rice Flour Paratha is bit tricky. But if you have other Indian flatbreads like Makke Ki Roti (see recipe here), Bajra Roti then this one is similar to that.
Learn how to make Rice Flour and Carrot Paratha in few simple steps: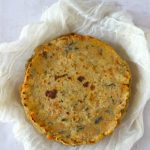 Rice Flour and Carrot Paratha
2016-02-10 02:37:53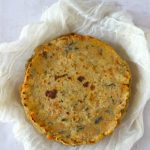 Ingredients
1 cup rice flour
1/4 Cup whole wheat flour
2 medium-size carrot peeled and grated
a small bunch of coriander fine chopped
1 small-size onion fine chopped
1/2 tsp cumin powder
Salt to taste
oil or ghee for cooking paratha
Instructions
To make the Rice Flour Paratha, we will first make the dough.
Sift both the flours together in a bowl.
Now add grated carrot and remaining ingredients.
Stir to evenly combine all the ingredients together.
Add a little water at a time and knead to make a firm yet smooth dough.
Knead well for about 5 minutes, this will make the parathas soft.
Drizzle a teaspoon of oil over the dough and knead for another couple of minutes. Cover and keep aside for 5 - 10 minutes.
Divide the dough into large lemon side balls.
Heat iron skillet (tawa) over medium heat.
Line kitchen counter surface with a clean dry plastic sheet. Grease it with 1 tsp of oil. Pinch a portion of dough and roll into a ball and then flatten the dough ball using fingers.
Place the flatten dough ball over the plastic sheet and with a rolling pin roll out to medium size disc of approximately 3-inch diameter. The thickness of Paratha is similar to that of a stuffed paratha.
Now slowly transfer the paratha from plastic sheet to your palm. Greasing plastic sheet beforehand makes this step easier.
Place the paratha from your palm to heated skillet and cook on both sides. Do not flip paratha more than once or twice as it is bit fragile.
At this stage, smear some oil or ghee to cook the paratha. Cook the paratha by flipping over a couple of times until you see golden brown spots on both sides.
Proceed the same way with the remaining dough portions and serve the Carrot Paratha with Raita and Sweet Lime Pickle
Fun FOOD and Frolic http://www.funfoodfrolic.com/