After two madly busy weeks I am back to kitchen and my routine of cooking, clicking and sharing but this time with much more enthusiasm, love and respect for my work – Food Blogging, something at
IFBM2014
once again changed my whole perspective about food blogging and made me realized that I am so lucky to be part of such a large creative community which is slowly making waves in food industry.
By the time hangover of
IFBM2014
was over, I realized I am already too late to dispatch Rakhi parcels to my brothers, who are living in almost every corner of India. In a rush bought handcrafted envelopes, Rakhi, asked each one of them for updated postal address because every year one of them changes job and moves to a new city. You must be wandering how many brothers do I have, so let me frame it this way biologically I have only one sibling – a younger brother but if we follow Hindu Family tradition then I have eight cousins, so in total I had to dispatch nine different parcels, each with a customized message of love, because with each one of them I share different equation.
I am the eldest one in the family so literally I have seen each one of my brothers growing up, when they were born I held them in my arms, shared their secrets during teenage years, met their girlfriends so somehow that all makes me feel very nostalgic about this festival. While I was done with wrapping up Rakhi parcels, I decided to make Gulab Jamuns to let my emotions a way out through this simple yet delicious age old dessert, which each of my brother relishes, while I was making Gulab Jamun in my mind I was getting flashes of sweet childhood memories.
By the time I was clicking photographs of Gulab Jamun, my brother called up and then I totally forgot about the whole set up for shoot, we talked for an hour mostly gossiping about our lives, family matters, annoying relatives and last but not the least food, then after putting down the phone I messaged him picture of Gulab Jamun, despite of the fact he couldn't taste them he praised my love for cooking. Once he signed off I got back to my photo shoot and those styled Gulab Jamuns waiting for me to be clicked. Here is the recipe of
Paneer Gulab Jamun
, I made last year for Raksha Bandhan.
Happy Raksha Bandhan to all the brothers and sisters!!!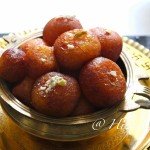 Gulab Jamun Recipe
2015-07-10 12:21:02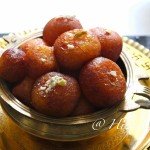 Gulab Jamun is an Indian sweet, round golf ball size evaporated milk dumplings soaked in sugar syrup and served warm as a dessert.
For Gulab Jamun
200g khova/khoya grated
80g rava/sooji
10g paneer
¼ tsp baking soda
¼ cup water
Oil for deep frying
For Sugar Syrup
2 Cup sugar
2 Cup water
2 – 3 cardamom pods, crushed
2 – 3 strands of saffron
Instructions
Grate khova in a clean bowl and mix in baking soda. Please note that for soft Gulab Jamuns it is necessary to grate khova and not to crumble it with fingers. Set aside.
In a separate bowl add sooji and sprinkle enough water over it to moisten and soften sooji. Set aside for 5 – 10 minutes so that water is absorbed by sooji. This helps in mixing it well in the dough. Do not get carried away and add too much water.
Now mix paneer and sooji nicely.
To make dough, combine grated khova and sooji mixture together, knead well for 5 minutes or until smooth, soft and firm dough is formed.
Let it rest for 5 – 10 minutes while you heat oil for deep frying.
To shape Gulab Jamun, pinch small balls out of the dough and shape it round rolling between your palms. Similar way make balls of the remaining dough. After deep frying the size of Gulab Jamun is increased so adjust the size of balls accordingly.
Deep fry the Gulab Jamun in hot oil until dark brown on both sides. Keep the flame medium while deep frying.
Drain on a kitchen towel while you prepare sugar syrup.
To make sugar syrup, to boiling water add sugar, cardamom pods and saffron. Let it simmer until sugar is dissolved and one thread consistency of syrup is achieved.
Add the Gulab Jamuns to the sugar syrup. Let the Gulab Jamun soak sugar syrup, for that reason let it sit in sugar syrup for atleast 1- 2 hour before serving.
Serve Gulab Jamun hot.
Fun FOOD and Frolic http://www.funfoodfrolic.com/