Punjabi Arbi Masala is cooked with a range of homespun spices. A staple in Punjabi household Arbi Masala Fry is the delicious, crisp Colocasia roots dry preparation. The little fuzzy not so good looking tubers, also known as Colocasia Roots are given an inviting makeover. From chopping the Arbi into equal size matchsticks to shallow frying them till perfection, the technique behind making Arbi Masala is not so straightforward. The juliennes of Arbi are dressed in turmeric and red chili powder, then shallow fried in hot oil at the right temperature. While shallow frying make sure, the Arbi strips do not turn overly crisp. We need just a little chomp in the Arbi and not a wafer-like crunch. The way to achieve this is not to wash the Colocasia Roots once they are chopped. After peeling the skin from Arbi, run them under running water, pat dry and then only chop.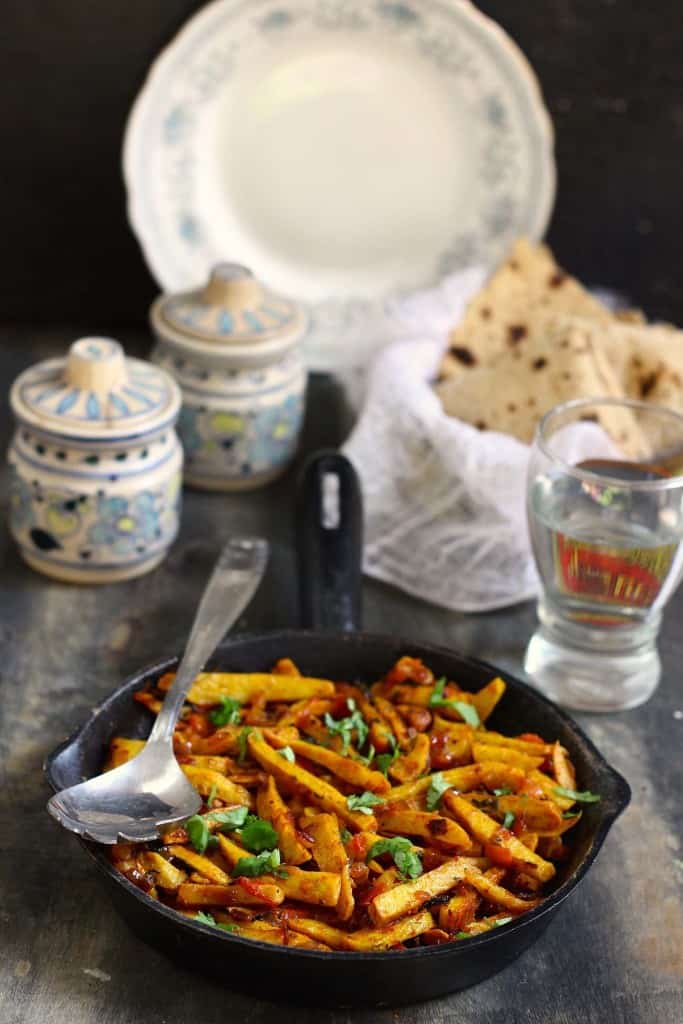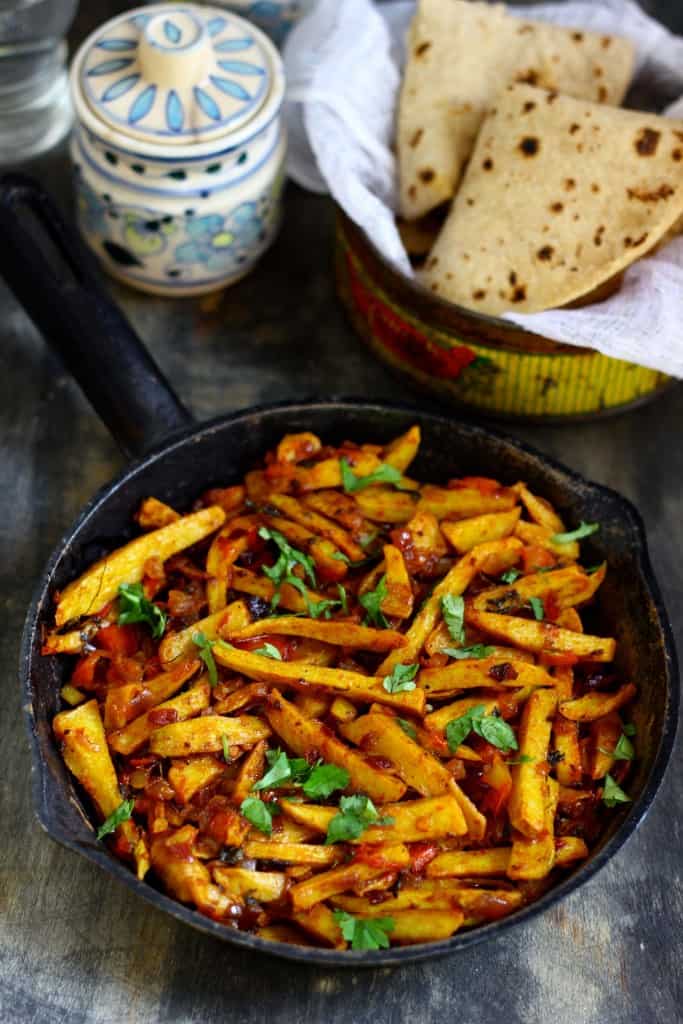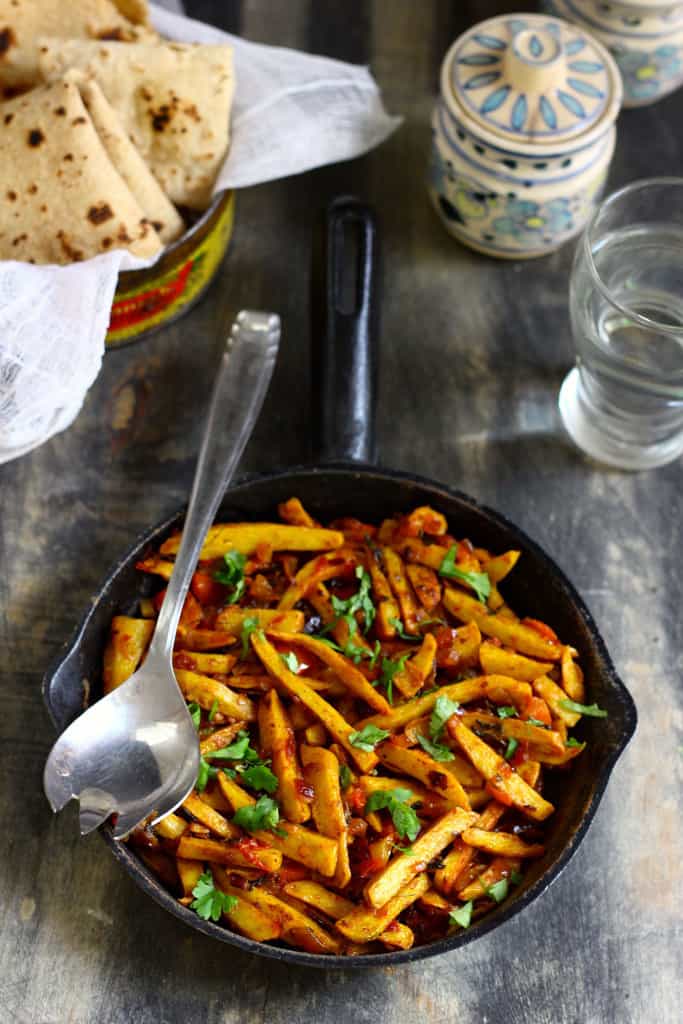 The Punjabi Arbi Masala Recipe has been long due. It is a hot favorite at home and quite a regular lunch affair along with flavorsome Raita.The humble and subtle flavors in the dish are competitively enticing. But whether to share the recipe or not was a long-lasting debate. As such traditional recipes are never a viral hit among the readers of the blog. Reason being, recipes like Punjabi Arbi Masala are not so easily spotted in the menu of any Dhaba or Indian restaurant. Neither they are much talked about in the cookbooks or cookery shows. And so they have a limited niche audience for them. These are the recipes which never make it to the commercial spotlight. In the conventional home kitchens, they are quietly passed on from one generation of house ladies to another. These lost recipes are the family treasures, which might not have a presidential connection but worth preserving for the forthcoming generations. They are precious to anyone in the family who knows the memories and stories attached with these recipes. Hence, I decided in the favor of sharing Punjabi Arbi Masala Recipe on the blog.
Learn how to make Punjabi Arbi Masala in few simple steps: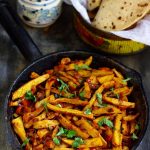 Punjabi Arbi Masala Recipe
2016-02-22 03:10:28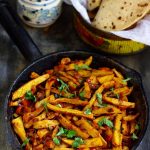 Serves 4
Ingredients
250 gram small size arbi (colocassia roots)
1 large-size onion fine chopped
1 small-size tomato fine chopped
1 tsp ginger - garlic paste
Salt to taste
1 tsp turmeric powder
1 tsp red chili powder
1 tsp mango powder (amchur)
1 tsp coriander powder
1 tsp Garam Masala Powder ( see recipe here )
Mustard oil to shallow fry the arbi
Fresh coriander leaves to garnish
Instructions
Peel and cut the Colocassia Roots (arbi) in equal size thin strips.
Sprinkle a teaspoon of turmeric and a pinch of salt over the arbi. Mix well.
Heat mustard oil in a frying-pan over medium heat.
Shallow fry arbi till light brown in color and crisp from outside. Drain on absorbent paper.
In the same pan heat a teaspoon of mustard oil over medium heat.
Add onions and cook further till onions become translucent.
Add tomatoes, cook till the tomatoes turn soft and the mixture comes together.
Add spices and salt, mix well and cook for two to three minutes.
Add the fried arbi and mix well. Stir to combine.
Cover the pan with a lid and cook arbi for 2 - 3 minutes. Turn off the heat.
Serve Punjabi Arbi Masala warm garnished with coriander leaves.
Fun FOOD and Frolic http://www.funfoodfrolic.com/