Potato and Red Beans Chinese Stir Fry
is an easy to make an oriental inspired stir-fried appetizer, the addition of red kidney beans provide a healthy dimension to this dish. During weekdays when house help takes a day off such easy to make appetizing dishes make my quick weeknight meal. This stir-fry is a one pot meal in itself, can be enjoyed as a snack as well, both the ways it is quite fulfilling and fits perfectly well in the criteria of wholesome supper.Once again, another monthly theme of
#thekitchendiavs
(endeavor to create a collection of recipes of Indian Cuisine in collaboration with a few bloggers who share the same passion for cooking) comes to an end. As a reader of the blog you might have noticed an array of Indian-Chinese recipes one after the other on the blog, it was all a conscious effort to create delectable popular recipes from one of its's kind cuisines in India – Indo-Chinese, which has made a distinguish place for itself among the food lovers. Here is the last recipe in the series – Potato and Red Beans Chinese Stir Fry.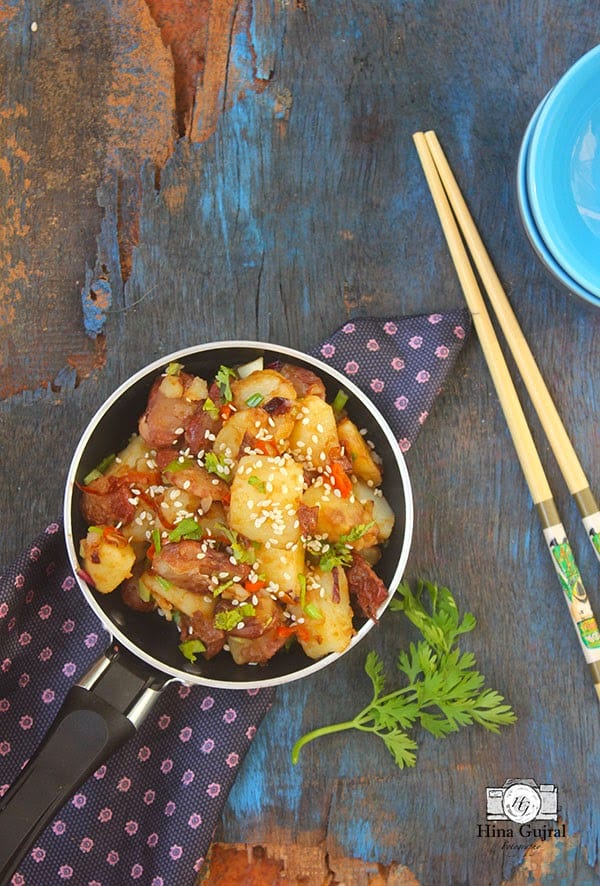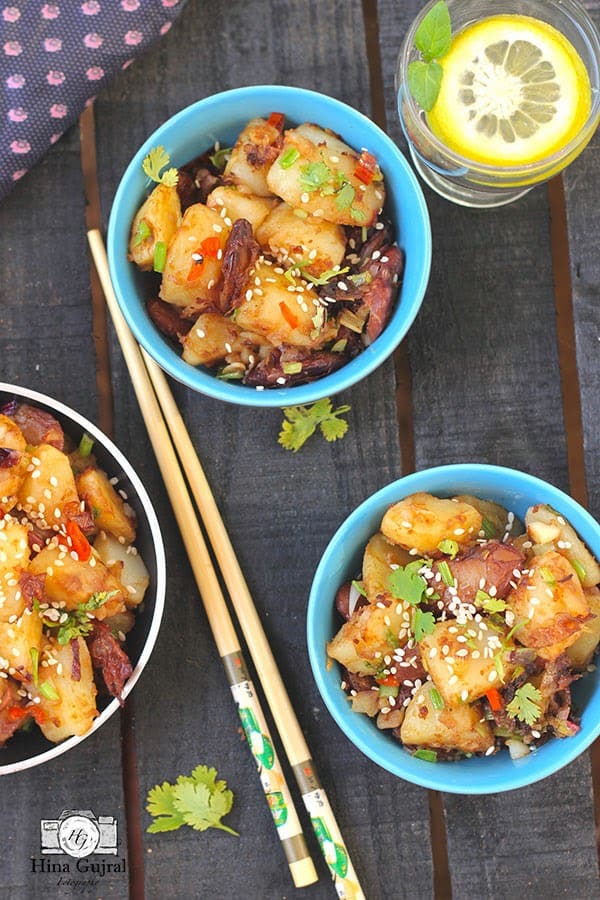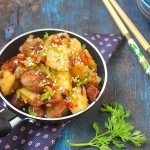 Potato and Red Beans Chinese Stir Fry
2015-04-17 12:11:04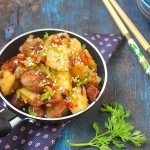 Serves 3
Potato and Red Beans Chinese Stir Fry is an easy to make oriental inspired stir-fried appetizer, addition of red kidney beans provide a healthy dimension to this dish.
Ingredients
4 potatoes, boiled firm
1/3 cup red kidney beans, soaked overnight
1 large red chili seeded, finely chopped
2- 3 cloves of garlic, grated
3 spring onion whites, finely chopped
2 tbsp dark soya sauce
1 tbsp tomato sauce (ketchup)
salt and black pepper to taste
2 tbsp sesame oil
1 tbsp sesame seeds
Juice from one lemon
Instructions
To make Potato and Red Beans Chinese Stir Fry Recipe, first boil the potatoes and beans until they are tender and yet firm in a large saucepan. Since we are making a stir fry, potatoes should not be mushy and too soft that it will crumble.
Potatoes and beans can be boiled in the pressure cooker as well
Drain the excess water from the beans and potatoes. Peel the skin of boiled potatoes and cut them into big chunks. Keep aside until required.
In a large wok heat sesame oil over medium-high heat; add in the spring onion whites, the red chili, and stir-fry for about 1 minute. Next add the garlic and saute for a few more seconds.
Add potato chunks and red beans along with soya sauce, tomato sauce, salt and the pepper.
Stir-fry for 2 – 3 minutes more until beans and potatoes coated well with sauces and seasoning. Turn off the heat and the Potato and Red Beans Chinese Stir Fry is ready.
Sprinkle sesame seeds before serving over the stir fry. Drizzle lemon juice and serve hot.
Fun FOOD and Frolic http://www.funfoodfrolic.com/