With Bangalore weather finally back to its original awesomeness I am back in the kitchen to satisfy my greed for some spicy food to compliment the weather. Once again, the house is filled with the regular noise of stirring ladle and noisy vessels, the quietness of the spring is been broken by the thundering storms and tapping raindrops. That cool pleasant breeze with the sprinkles of raindrops touch my face whenever I peep out of my window, which is far better than the scorching sun, and dry air. And hence, that explains the spicy, flavorsome Pad Thai Noodles for the dinner menu.
So now FIFA 2014 is over "He" is back to his demanding list about the meals, on his demand only for the FIFA Finals I made this Pad Thai Noodles along with some Thai Red Chili Dip (
see recipe here
) and our favorite Momo not our pet "
Momo
" but the Tibetan dumplings called momo, though it is true we have named him after those Tibetan dumplings only, because momo is one of my favorite dishes and also over a bowl of hot steaming momos we decided to get home a dog.
These Pad Thai Noodles is a fusion of Chinese and Thai flavors creating dynamic flavors and brilliant color. This recipe is simple, quick and totally exotic, which is a refreshing change from regular stir-fried noodles, which I am quite bored now. Don't be scared by the number of red chilies used, as the heat of the chilies is been mellowed down by the brown sugar and lemon juice, still if you are making it for the kids reduce the number of red chilies.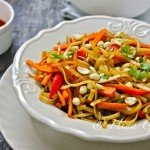 Pad Thai (Flat Noodles with Vegetables)
2015-10-06 06:06:32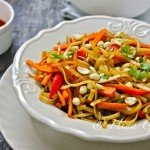 Serves 4
Ingredients
200g flat noodles, boiled
1 large carrot cut into thin strips
1 red bell pepper cut into thin strips
1 yellow pepper cut into thin strips
1 onion, thinly sliced
5 – 6 garlic cloves, finely chopped
Salt, as per taste
2 tbsp lemon juice
1 tsp light brown sugar
2 tsp light soya sauce
1 tsp fish sauce
Oil for cooking
Ingredients for red chili paste
3 – 4 dry red chili
¼ Cup warm water
To serve
4 tbsp roasted peanuts
chopped spring onion greens or coriander
Instructions
Boil noodles as per the instructions given in the package. Drain and keep aside in a strainer.
To make red chili paste, soak red chilies in warm water for 5 minutes to hydrate and then grind to paste using the same water.
Heat oil in a non stick wok, add chopped garlic. Stir until the aroma of garlic is released add red chili paste and stir-fry for another 1 minute.
Add sliced onion and fry until onion turns translucent. Keep the gas flame from medium – high.
Add remaining vegetable and stir-fry for another 2 – 3 minutes.
Sprinkle brown sugar and stir nicely.
Add boiled noodles, soy sauce, fish sauce, salt and lemon juice. Reduce the heat and mix nicely using two spoons.
Serve Pad Thai warm sprinkled with roasted peanuts and spring onion greens.
Fun FOOD and Frolic http://www.funfoodfrolic.com/