Those tiny saplings blooming from the seeds and cute little bugs are back in the garden…. yes it is thespring time, North has finally bid goodbye to super chilling winter of this year and South has already welcomed the scorching sun and here in Bangalore this is the summer time and we are waiting eagerly for the local shower to make the weather pleasant again. I love the summer afternoon quietness, it is so dull yet so inspiring and fills me with so many beautiful thoughts, it seems it has become my favorite hour of the day and I love to spend time on my workstation especially during this hour of the day away from disturbing doorbells and buzzing ringtones, totally absorbed in my own creative world.
In the kitchen and the fridge lot of reshuffling going on as cabinets are now full of juices, fresh fruits, aerated drinks and flavored syrups…. this year I am shaking up lot of fruit based drinks and to my surprise they are ultra refreshing and super energizing, you must be thinking I am using all these exaggerated words to describe my summer drinks but trust me they the best thirst quenchers. Last year a friend of mine from Hong Kong got a packet of Chinese tea leaves called "Poli", I am not a tea lover so never used it but few days while reshuffling all those kitchen cabinets I saw that tea leaves packet lying all alone in one dark corner, and so this how it came into use, I guess this the reason I love culinary souvenirs and never say "no" for them as they always add value to your repertoire.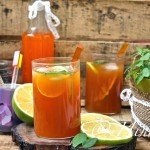 Orange Iced Tea with Mint and Lime
2017-03-01 10:17:20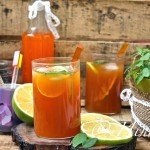 Serves 4
Ingredients
3 tsp good quality tea leaves
3 Cups of water
2 Cup sweetened orange juice
Mint leaves, to garnish
Sweet Lime slices, to garnish
Instructions
Place the tea leaves in a large bowl. Heat water in a pan and bring to a boil.
Pour the hot water over the tea leaves and cover it with a lid and set aside for 5 minutes. Strain the tea in a jar, keeping the liquid and discarding the leaves.
Stir in the orange juice and sugar syrup if required. Stir. Let sit in the fridge until served.
Serve Orange Iced Tea chilled garnished with a lemon slice and a sprig of mint.
Fun FOOD and Frolic http://www.funfoodfrolic.com/