Moong Dal Mini Samosas are perfect little bites for the festive season. These samosas are made from the packaged Moong Dal Namkeen with the addition of a few spices to add to the flavors of this quick samosa. During Diwali, Mini Samosa can be prepared well in advance and stored in an airtight container at room temperature. Moong Dal Mini Samosa Recipe is dedicated to my childhood memories of festive snacks and food. I am born and brought up in a small town of Uttarakhand, which was part of Uttar Pradesh earlier, where every lady expertise in making tea-time snacks, chips, sweets at home. As a kid, I use to help my mom in making all these Holi and Diwali Snacks, which I use to hate at that moment of time. Gradually with each year passing by, I become more and more accustomed to making these snacks at home.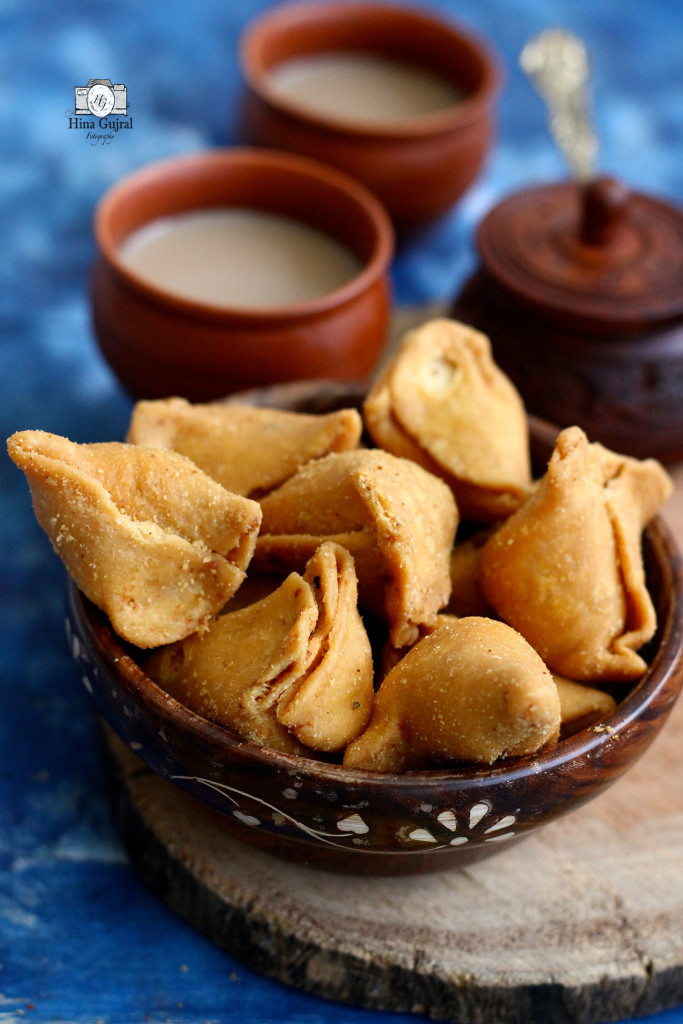 Needless to say today every snack is available in readymade packages and some consider, making snacks at home sheer wastage of time and tiring process but for me it is just the opposite, reason – first my delicate palate does not like over – powering flavors of readymade snacks and secondly I am assured about the quality of food my family is eating. I usually prefer not to make all snacks and sweets in just one day, that is a bit too tiring and entire day you are confined to the kitchen rather I do savory snacks on one day, sweets the other day and then dips and chutneys, this way it is not stressful and everything can be finished beforehand.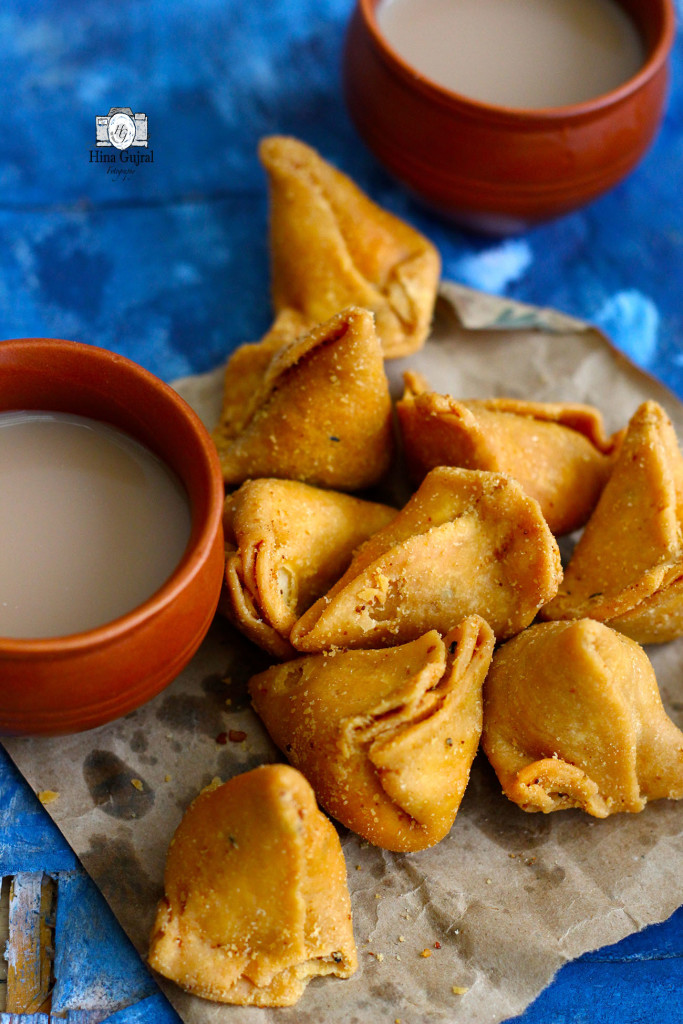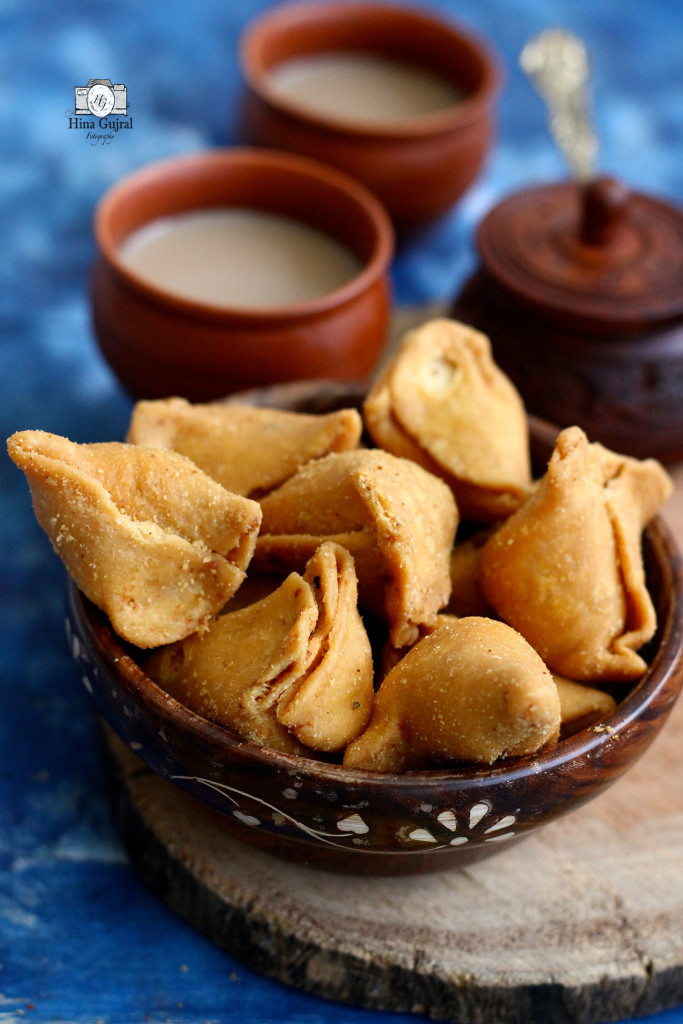 Recently I get to know that to make samosa readymade pastry is available, just prepare the filling, wrap it in readymade pastry and deep fry though result is equal sized pretty looking samosas but I am not huge fan of those pastries because the pastry has no flavor and also folding each samosa in that pastry is bit tricky and time taking, which is simply test of my patience. Many recipes talk about using fresh moong dal for the filling, soak the moong dal then drain and grind with masalas but I have never tried it, being a lazy cook I rather opt for cheat method by using readymade Moong Dal Namkeen, this way there is no risk of filling going for a toss and in no way outer covering can get wet or soggy because of the filling.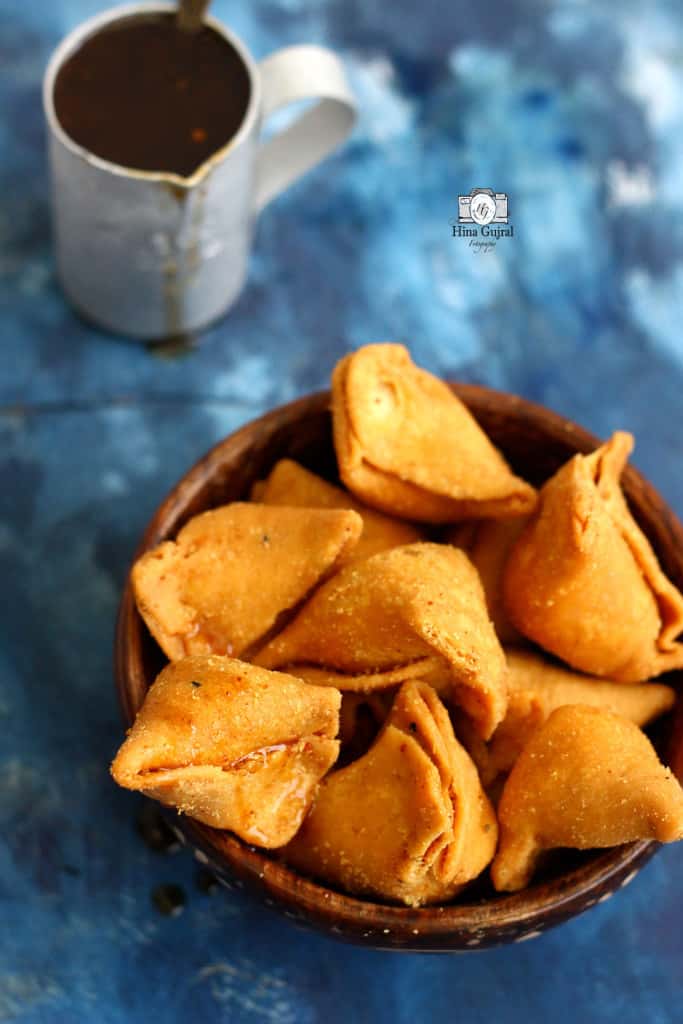 Moong Dal Mini Samosa Recipe
2015-10-29 01:31:15
Ingredients for the outer layer
1 ¼ Cup All purpose flour (Maida)
¼ Cup Ghee/Refined Oil
Salt, as per taste
2 tbsp Kasuri Methi
2 tsp Carom Seeds (Ajwain)
Lukewarm water to bind dough
Ingredients for the filling
½ Cup packaged Moong Dal Namkeen
1 tsp Asafoetida
2 tsp Each (Cumin Powder, Coriander Powder, Red Chilly Powder, Mango Powder, Fennel Powder, Pomegranate Seeds Powder, Chaat Masala)
Oil for deep frying
2 tsp Corn Flour/Maida Dissolved in 2 tbsp water, for sticking Samosas
Instructions
Sieve flour and rub in oil with your fingers into the flour. Mix in other ingredients for the dough. Knead the flour with lukewarm water. Cover the dough with the moist muslin cloth and keep it aside for 1/2 hour.. Dough is ready.
To prepare the filling, crush Moong Dal Namkeen in a blender to a coarse powder.
In a pan dry roast all the masalas for filling and mix nicely with crushed namkeen, adjust salt and seasoning as per taste.
To make Samosa, heat oil for deep frying in a heavy bottomed pan.
Make small sized balls (like Poori) of the entire dough.
Grease rolling pin with little oil and roll out each ball into small size circular shape like Chapati or Poori.
Cut the disc into 2 equal parts with the knife in the shape of half moon.
Take one part and stick it from the corners with the help of water and cornflour mix forming a cone shape. Fill this cone with 1 teaspoon of moong dal filling.
After filling the cone with the mixture, apply cornflour mix with fingers on the edges and seal both the corners. Press the corners with hands gently and close the corners.
Prepare all the other samosas in the same manner and keep them on a plate.
To test, if the oil is hot enough add one samosa first, if it comes to the surface and starts turning golden, oil is ready, also you can be assured about the sealing of the samosa.
Put 10-12 samosas into the hot oil and fry the samosas on the medium flame till they turn brown in colour. Take them out of the pan and keep them on the plate. Fry all the other samosas in the same manner.
To increase the shelf life store in a clean airtight container at room temperature.
Fun FOOD and Frolic http://www.funfoodfrolic.com/