Mint and Pomegranate Raita is a delicious combination of mint, coriander, and pomegranate pearls. The freshness of mint and coriander definitely make this raita a summer favorite packed with the goodness of pomegranate. The red in those pomegranates just make me feel bright and energized. Loaded with pomegranate pearls, mint, coriander, yogurt, green chilies, garlic and spices, it is my favorite raita I've made ever.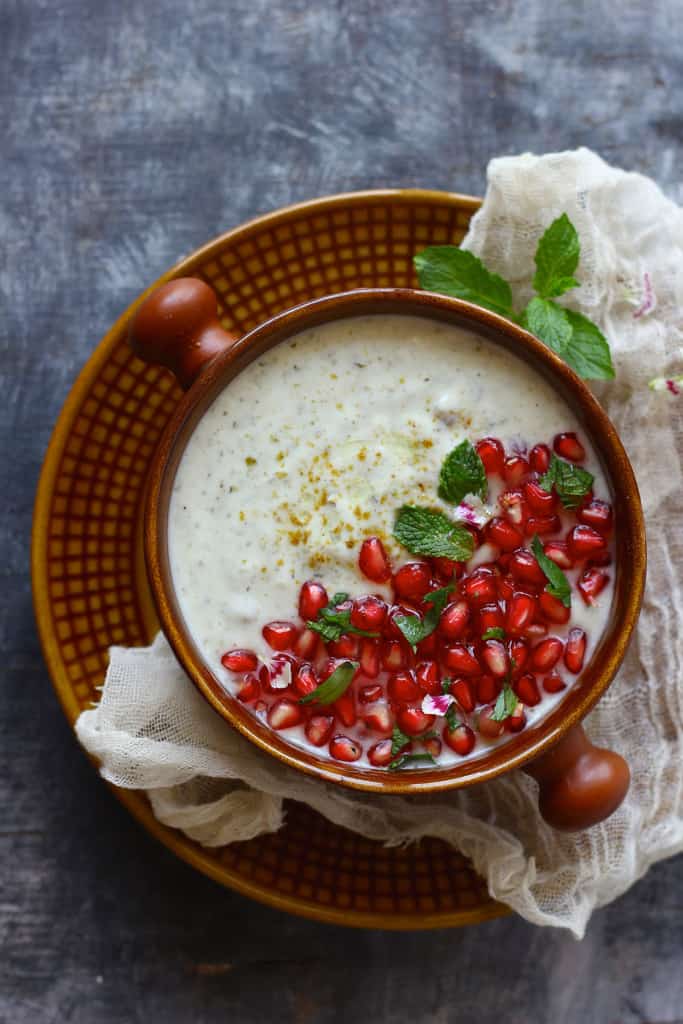 It's reminiscent of fresh summer flavors, the mint, the coriander, and the yogurt makes it perfect summer dish. Curries, paratha, or fritter, you can serve it with just anything, literally anything. We love the addition of green color in the raita, something similar we tried with the Bathua Raita during the winters and now this Mint and Pomegranate Raita once again is a big shout out to the combination of greens and yogurt.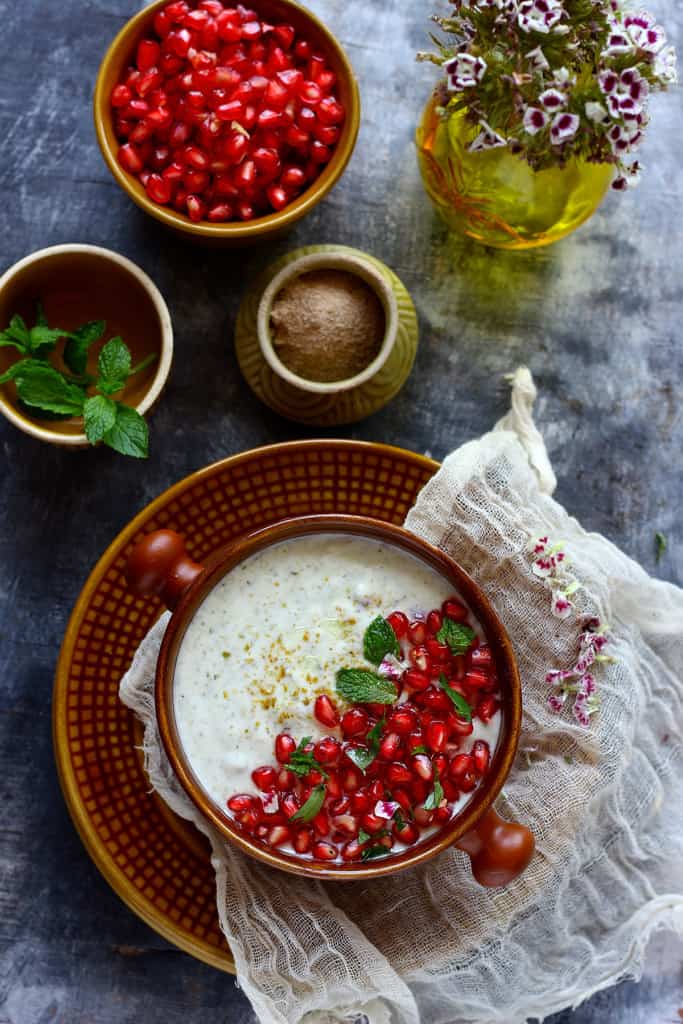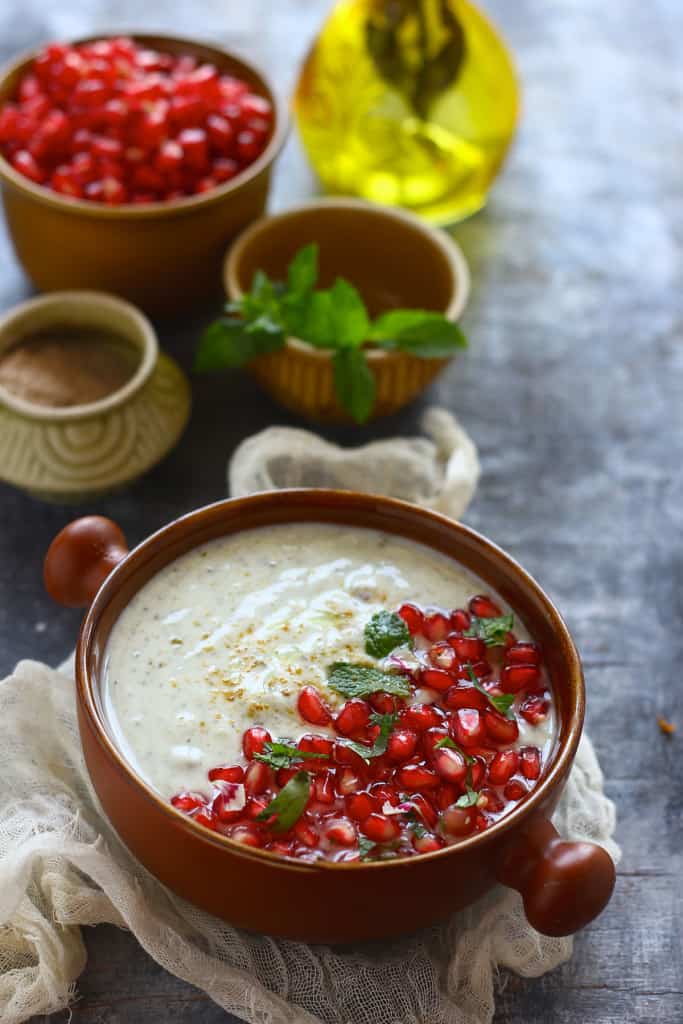 This Anar ka Raita is an adaptable, quick, extremely delicious, pomegranate dip recipe. And the recipes is proudly inherited from the ladies of my family. It has me licking out every last corner of my food processor and then sheepishly licking the fingers as well. For the person who is addicted to garlic, Mint and Pomegranate Raita is a must try a recipe. It's totally by accident that this Pomegranate Raita is vegan and gluten-free too, but I'd say that's a pretty happy accident. The refreshing flavor of textured herbs, juiciness of pomegranate pearls with the creamy yogurt and the punchy garlic and the sugar and spices, obviously, a hit of salt, a bowl packed with bursting flavors.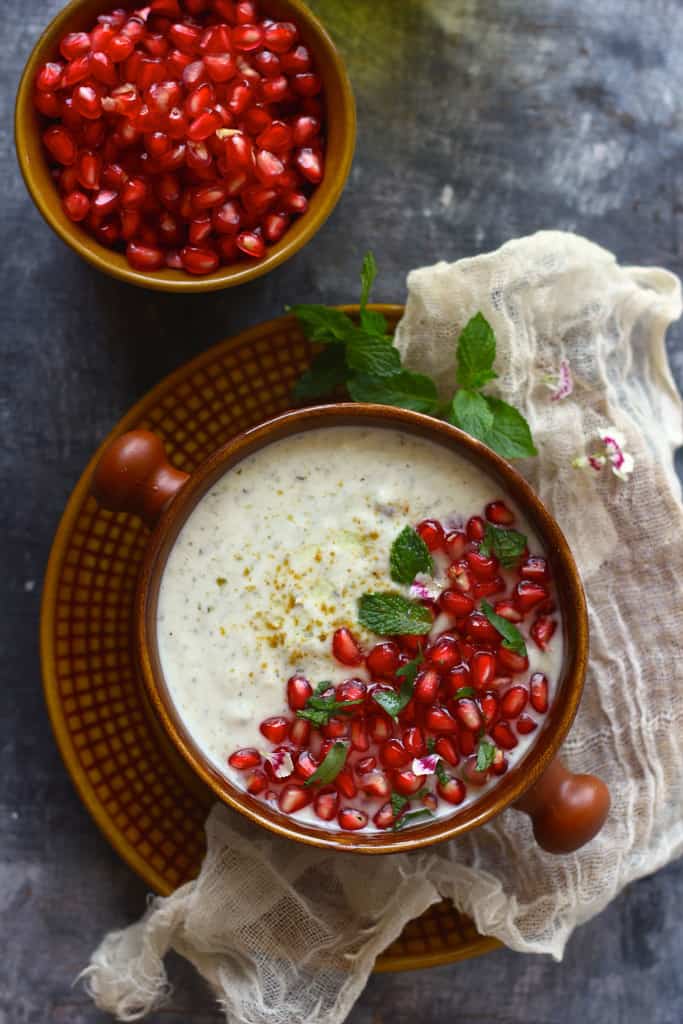 If you are not too keen on churning mint, coriander and green chili for this recipe than directly add green chutney in the yogurt. Last month we shared dependable and the best Mint and Coriander Chutney Recipe, you can use it for this recipe. If you thinking of skipping garlic in the recipe, please go ahead, it's just that garlic provides a brand new dimension to the flavor of the raita.
Learn how to make Mint and Pomegranate Raita in few simple steps. And don't forget to follow our Pinterest Board to get the collection of Summer Recipes.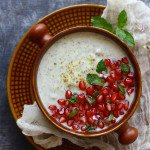 Mint and Pomegranate Raita
2016-04-11 04:56:34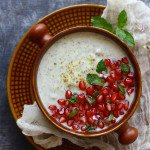 Serves 4
Ingredients
2 Cup thick yogurt
1 Cup pomegranate pearls
1/4 cup mint leaves
1/4 cup coriander leaves
3-4 cloves of garlic
2 green chillies
Salt to taste
1 tbsp sugar
1 tsp chaat masala
1 tsp cumin powder
Salt to taste
Instructions
Blend together the mint, coriander, garlic and green chillies in a mixer using a tablespoon or so of water, into a chutney like paste. Transfer the paste to a bowl and set this aside.
In another bowl, whisk the curd using a wire whisk ( buy it here ), add 1/4 cup or so of water to get the desired consistency. Whisk the curd well to ensure that no thick lumps remain.
Next, add the salt, cumin powder, chaat masala and sugar in the yogurt, and whisk it all together until well combined.
Then, add the mint paste in the yogurt. Stir gently, to combine.
Taste and adjust the seasoning accordingly.
When ready to serve the raita, add the pomegranate pearls and stir to evenly combine.
Serve Mint And Pomegranate Raita chilled or at room temperature.
Fun FOOD and Frolic http://www.funfoodfrolic.com/