Medu Vada is a classic South Indian delicacy. Or I should say an indispensable South Indian breakfast staple. It is crisp, crunchy, fluffy and full of flavors. You surely cannot stop at one vada. The soul-satisfying piping hot medu vada dipped in sambar with coconut chutney is totally an irresistible breakfast combination. Other than Idlis and Dosas, medu vada is perhaps the most sought-after dish for lovers of South Indian food. I have a large, soft corner in my heart for the typical South Indian breakfast. And no South Indie breakfast mornings at home are concluded without medu vada.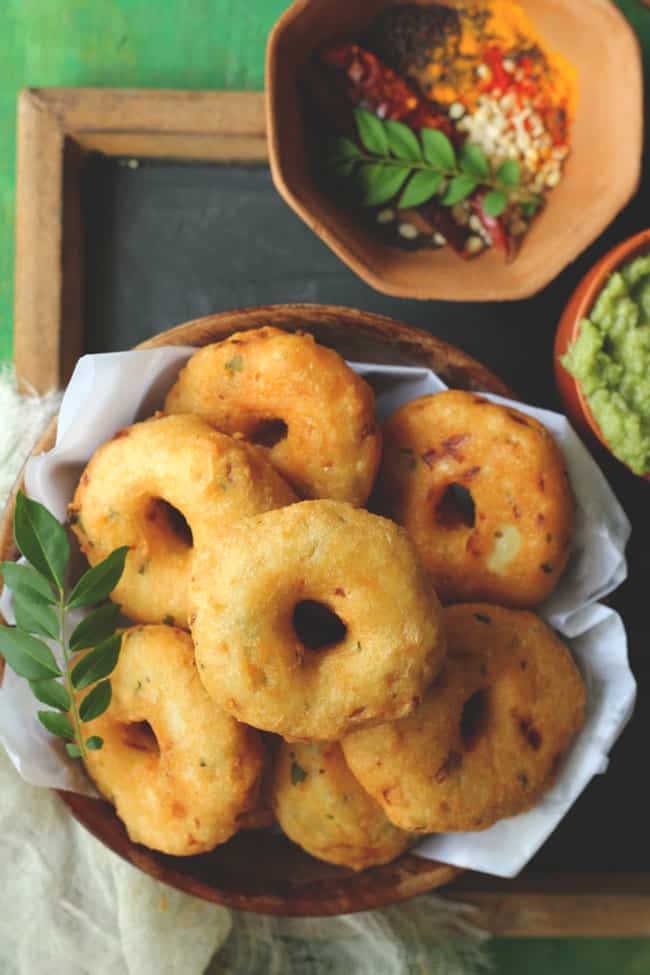 You might confuse medu vada with maddur vada . These two are entirely different versions of a vada and has a distinct preparation process. Medu vada, it is the big, airy, crispy dal vada with the hole. So next time, while sitting in a South Indian breakfast joint, when somebody says vada, it means the medu vada.
Now let's talk about making of Medu Vada.
How to Make Perfect Medu Vada?
One, there is no shortcut to making a perfect medu vada at home.
Grinding the dal to the perfection is the key to making a delicious medu vada.
Use as little water as possible while grinding the dal. If the batter seems thick add a tablespoon of water at a time. Too much water in the batter makes it difficult to shape the vada.
Post grinding, whisk the dal for at least 5 – 10 minutes. I use my electric hand mixer for the purpose. It does the job excellently. And please make sure NOT to add salt while whisking the batter.
And at last, be patient while shaping the vada. It requires a bit of practice. Nowadays, a small vada maker is also available. You can give it a try as well.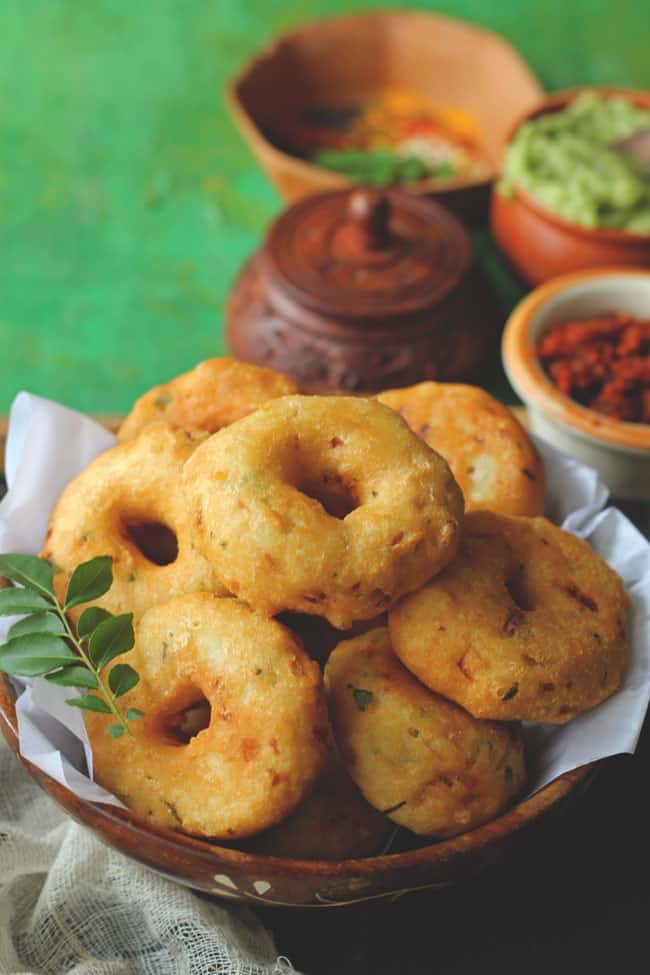 How to Serve Medu Vada?
For an authentic South Indian breakfast at home, prepare – Rava Idli, Medu Vada, Sambar, Coconut Chutney and Filter Coffee. It will be a blissful Sunday morning breakfast. While most people choose to have medu vada in the morning, many love to binge on it as snacks in the evening. Traditionally, it is teamed up with sambhar and coconut chutney; however, you can also choose to savor it with a dash of slightly sweet, whipped curd or only with coconut chutney.
There are many ways to relish a medu vada. And all of them are equally delicious and add a layer of deliciousness to the vada. Hope you like this gluten-free, vegan Indian savory donut aka medu vada recipe would give it a try.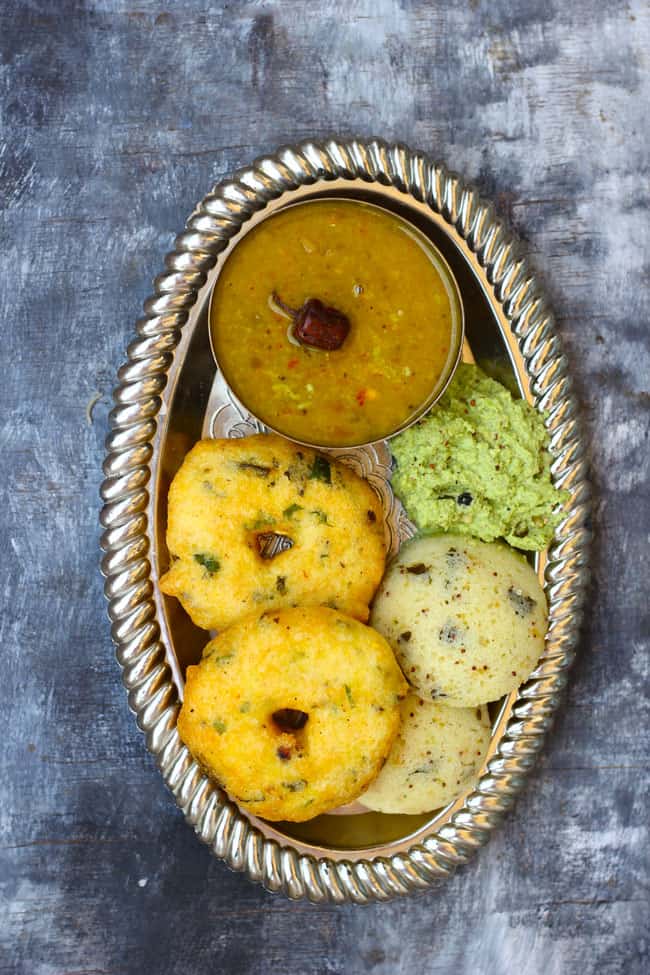 For more such fun recipes in your life, follow along on Facebook, Instagram, or subscribe to our Youtube Channel.
Medu Vada Recipe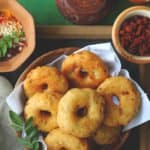 Print This
Ingredients
1 cup urad dal (dhuli urad)
1 small-size onion fine chopped (optional)
1 teaspoon roughly chopped green chillies
1 teaspoon black peppercorns (sabut kalimirch) roughly crushed
8 to 10 curry leaves (kadi patta)
1 teaspoon chopped ginger
Salt to taste
1 teaspoon turmeric powder
Oil for deep-frying
Method
Rinse and soak dal in water for 4 – 5 hours or overnight.
Next day, drain the water from the urad dal and let it sit in the strainer for 5 minutes
Now grind the dal in the mixer. Make sure not to use any water while grinding the dal.
To get the smooth paste you need to stir the dal few times while grinding. Grind, turn off the mixer, stir and then grind. Repeat the process till you get thick, smooth dal paste. Use one tablespoon of water at a time to grind the dal.
Transfer the dal paste to a clean, large bowl. The trick to make crisp, fluffy vada is to whisk the dal till it is light and airy.
You can whisk the dal using an electric hand blender or manually. A continuous whisking of 10 – 15 is good enough to incorporate air in the dal.
Add 2 – 3 tablespoon of water if the batter is too thick and then whisk.
Add salt, chopped green chilli, onion, ginger, curry leaves, black pepper and spices in the dal. Mix nicely.
Heat oil in a wide deep frying pan.
To shape the vada, keep water in a small bowl next to the dal paste.
Soak your fingers of both the hands in water and pinch a lemon size portion of dal paste. Hold it over your one hand fingers and flatten it using the other hand wet fingers.
Make a hole in the centre of the flattened vada using your finger.
Gently slip it on to the pan of hot oil to deep fry. For safety reasons, it is best to slide the shaped vada from the sides of the pan.
Deep fry the vada over medium high heat till deep golden, crisp from both the sides.
Transfer to a plate lined with kitchen towel. Serve Medu Vada warm with coconut chutney and sambar.