Puri does not need any introduction, it seems it is the most common Indian bread, been made and eaten in the Indian subcontinent since ages. Puri is usually served as breakfast along with some spicy curries or sometimes it is relished even during lunch time, there is no right time to relish puri, it can be enjoyed during any given hour of the day, at least this theory applies to me.
Traditional puri is made with whole wheat flour and little seasoning like salt, ajwain (carom seeds) is used to provide subtle flavor to the bread but today cooking masters have come up with lot of different variety and flavors of puri – Spinach Puri (see recipe here), Bhatura, Stuffed Puri and so on.
But this recipe of
Masala Cheese Puri
is a perfect example of the influence of western spices in an Indian kitchen. The flavor of cheese and herbs have given a new dimension to the Indian bread and I am totally in love with this new avataar of Puri and so does "He". I serve it with
Sweet and Savory Lemon Pickle
, made by my MIL, pickles is yet one unknown horizon for me so I rely on her for my yearly supply of variety of pickles. If you are not too fond of pickles then this could be served with Strawberry/ Pineapple Raita, Savory Chutney and Jam as well or even
Italian Herb Potatoes
(
see recipe here
) as well.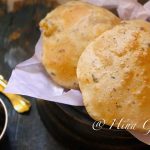 Masala Cheese Puri Recipe
2015-06-26 13:02:17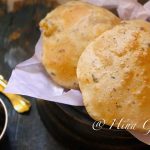 Masala Cheese Puri is perfect example of influence of western spices in Indian kitchen, the flavor of cheese and herbs have given new dimension to Indian bread.
Ingredients
1 Cup all purpose flour (maida)
¼ Cup whole wheat flour
½ Cup grated processed cheese
½ Cup paneer (cottage cheese), grated
2 tsp garlic powder
2 tsp each dried oregano, red chili flakes
1 tsp dried mint powder
2 tsp olive oil
Olive oil for deep frying
Salt and black pepper, as per taste
Lukewarm water to bind dough
Instructions
Sift both the flour in a bowl, mix in cheese, paneer, garlic powder and remaining herbs and spices.
Rub the mixture in between your palms to get bread crumb like texture.
Using little lukewarm water bind soft and smooth dough, dough should be moist, firm but not sticky.
Apply 2 tbsp olive oil on dough and rest the dough for 10 – 15 minutes.
Heat oil in a heavy pan for deep frying pooris.
Meanwhile make small even sized balls out of the dough. With the rolling pin using few drops of oil shape dough balls into circles which are not very thin.
When the oil is sufficiently hot, then drop a small dough ball into oil. if the dough ball rises steadily & briskly to the top, then the oil is sufficiently hot to fry the pooris, else wait till the oil becomes hot before frying the pooris.
Add one poori at a time, it will puff up soon.
Once the bottom side is golden, then turn over the poori and fry gently pressing down with the frying spoon or slotted spoon in a circular motion, fry the poori till golden brown all over
Remove the poori into paper napkins to remove excess oil, fry all pooris this way.
Serve Masala Cheese Puri hot with pickles, chutneys or dips.
Fun FOOD and Frolic http://www.funfoodfrolic.com/