When I first tried infusing plums into Kulfi (
see recipe here
) I was delighted with the end results and thought that will be my only experiment with Plums. Then the other day I created plum chicken (
see recipe here
) which was again my first trial with the plums in the chicken. I got so overwhelmed with the results that now I am addicted to this plum experimentation thing. And low-fat plum brownies is the result of the same plum cooking spree.
From last few weeks "he" is craving for brownies and I am trying my best to make him forget about his cravings because I am not very keen on baking something with too much butter especially when we both are trying to shed down few kilos. But then I found out his chocolate craving has made him snack on chocolate bars all round the day so I had no choice but to bake brownies.
I searched for some low calorie recipe of brownie and end up with this Low Fat version, with some plums in hand and frozen cranberries I got excited about adding a splash of red with plums and cranberries in my brownie, with this Plum Brownie I think I should end my Plum experiments until next season of stone fruits, I don't want my readers to come back and complain about my obsession with Plums.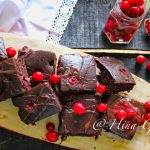 Low Fat Plum Brownies Recipe
2015-10-10 07:20:31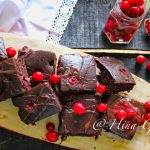 Low Fat Plum Brownie Recipe is delicious brownie recipe with the healthy twist of stone fruits.
Ingredients
1/2 Cup all purpose flour (maida)
3 tbsp cocoa powder
1/3 Cup plum puree (see recipe here)
¼ Cup cranberries
2 egg whites
¼ Cup skimmed milk
⅓ Cup castor sugar
1 ½ tbsp olive oil
1 tsp vanilla essence
1 tsp chocolate essence
½ tsp baking powder
½ tsp baking soda
For serving
Plum puree
Chocolate ganache
Instructions
Sift the flour, cocoa powder, baking soda, baking powder together in a bowl. Stir in the sugar and chopped cranberries.
In another bowl beat egg whites, milk, oil, vanilla, chocolate essence, plum puree.
Pour the liquid into the dry ingredients and mix until combined well.
Preheat the oven at 180-degree celsius. Line an 8-inch square cake tin with parchment paper.
Pour the brownie batter into the prepared tin.
Bake for 25 minutes or until the toothpick inserted comes out with little crumbs.
Remove from the oven and cool on a wire rack.
Cut into squares and serve with a drizzle of chocolate ganache and plum puree.
Fun FOOD and Frolic http://www.funfoodfrolic.com/