When we talk about one-pot rice meals, lemon rice is one of our favorite ones. Needless, to say we have been introduced to this delicious rice casserole during our stay in South India. And ever since then, it is a regular repeat in our weekly lunch menu and in his office lunchbox. I don't even bother to learn the right way to serve lemon rice. For the love of a good elumichai sadam, I can enjoy it during any hour of the day with a bowl of chilled raita. If I am not too lazy, will serve quick potato roast with the lemon rice. Else, for me, it is good to go on its own.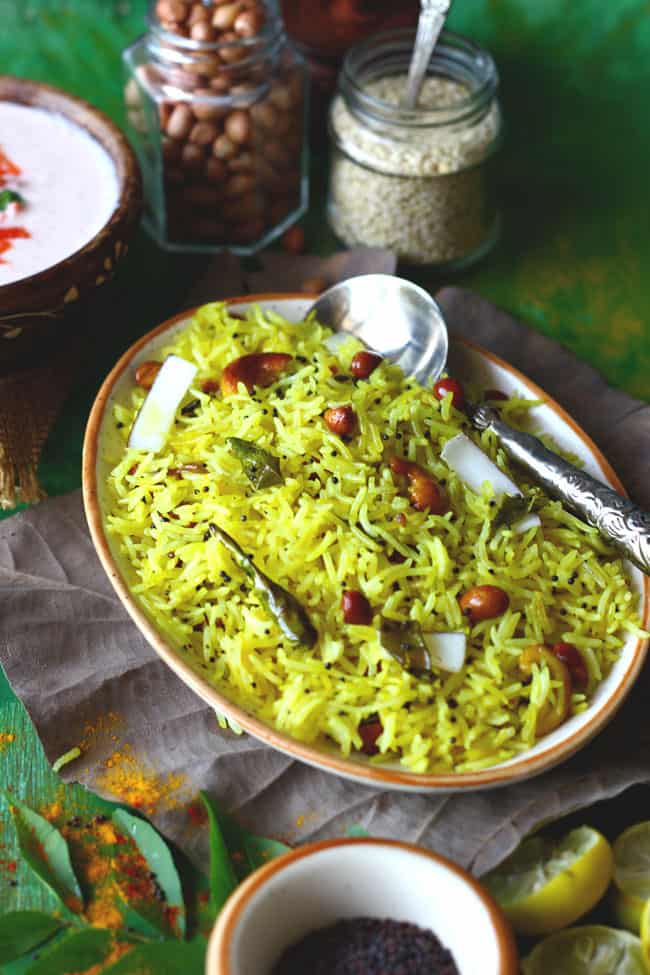 Lemon and summer have some secret connection. The tangy, citrusy flavor soothe your taste buds during the hot summer days. Whether it be a drink, cake or a main-course dish, lemon is the flavor of the season. Cooking rice in this way transforms plain rice into a flavored dish that is tasty enough to eat on its own. In fact, lemon rice is the best way to use all the leftover steamed rice sitting in the fridge. And it is one of the quickest rice recipes as well.
Stupid easy and bursting with the flavors of summer, this lemon rice makes all your one-pot meals dreams come true. It has the nuttiness of peanuts, cashews, the spiciness of chilies and the bursting tartness of lemon. And all these flavors are well absorbed by the plain rice. It is purely delicious. Even my little niece loves this dish for her school lunchbox.
While many lemon rice recipes suggest adding the lemon juice in the beginning. My preference is to stir the lemon juice towards the end once the rice is ready to be served. I find that the lemon flavour is fresher, and also I stir it through while the rice is hot so it sucks in all that fresh flavour. During one of the lemon rice trials, I added the lemon juice to the tempering itself, turned off the heat and mixed cooked rice in the tempering. That was also a good lemon rice. But due to some strange reason, I stick to adding lemon juice towards the end.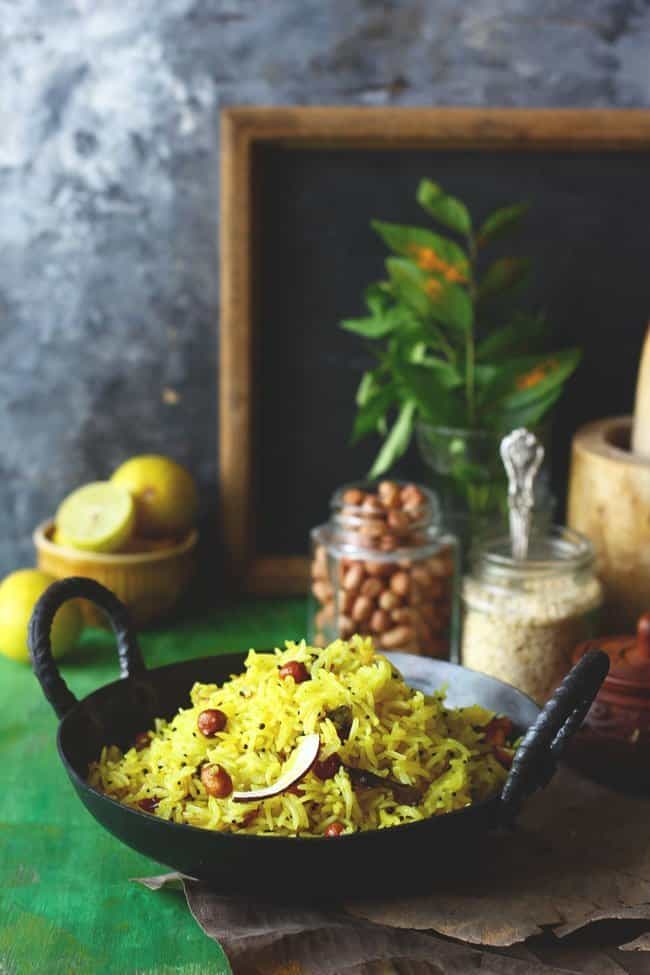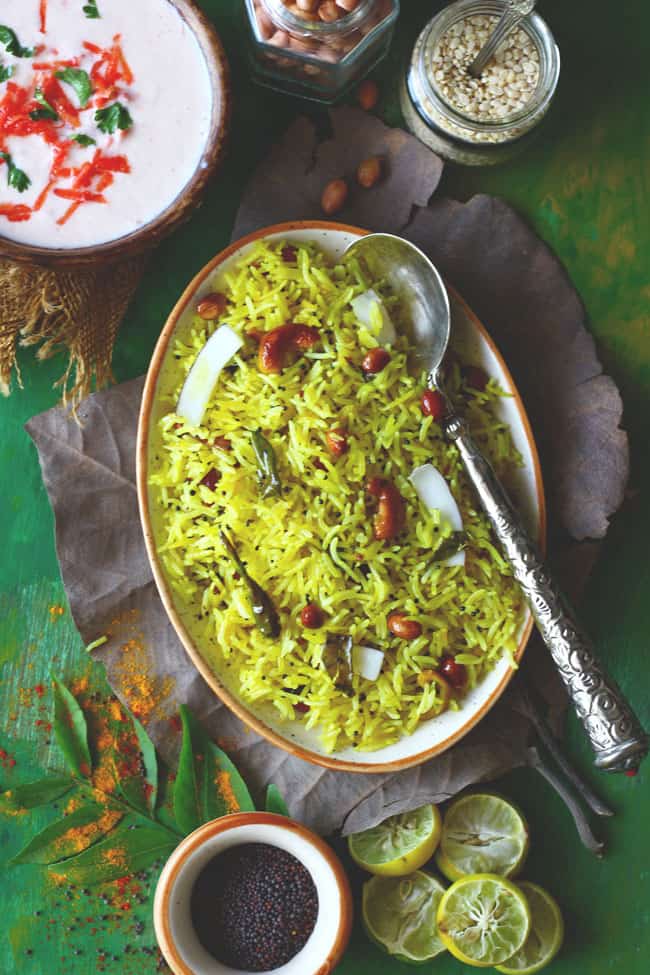 Talking, about the cooking oil used in the making of lemon rice. On multiple occasions, I have tried cooking lemon rice in different oils. One of them being the classic way with sesame oil, then with the mustard oil and also, with the ghee. The lemon rice cooked in either sesame oil or mustard oil is my personal favorite. For some reason, the sweetness of ghee does not work very well for this lemon rice recipe. It requires strong, flavorsome oil to enhance the flavor of the ingredients.
If you make this lemon rice, I'd love to see! Tag me on Instagram @funfoodandfrolic and
#funfoodfrolic

.
For more such fun recipes in your life, follow along on Facebook, Instagram, or subscribe to our Youtube Channel.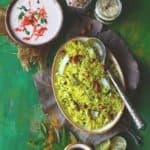 Lemon Rice Recipe
2017-04-10 11:05:23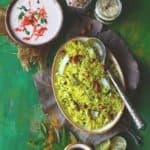 Serves 2
When we talk about one-pot rice meals, lemon rice is one of our favorite ones.
Ingredients
1 Cup rice
Juice of 3 lemon
Salt to taste
2 tsp mustrad seeds (rai)
1 tsp dhuli urad dal
2 tbsp peanuts
1 tbsp cashew nuts, sliced
a pinch of asafoetida (hing)
2 whole green chilies slit
1 sprig of curry leaves (kari patta)
Salt to taste
1 tsp turmeric powder
Salt to taste
2 tbsp mustard oil/sesame oil
Instructions
Wash rice few times or until the water runs clear. Soak for at least 15 minutes in water.
Boil 4 cups of water in a saucepan with a pinch of salt.
Drain water from the soaked rice. Add rice in the boiling water saucepan.
Cook the rice till 80% cooked. Make sure rice does not turn mushy.
As soon the rice is cooked transfer it to a metal colander
For this recipe you can use leftover rice as well.
Heat oil in a kadhai ( buy it here ) over high flame.
Once the oil starts fuming, reduce the heat to low.
Add mustard seeds and allow to splutter.
Next add urad dal and hing. Fry till dal turn light golden in color.
Add peanuts, cashews, curry leaves and green chilies. Fry till cashews turn golden in color.
Add turmeric powder, mix and turn off the heat.
Now add rice, salt and lemon. Stir to combine.
Rice should get coated with the seasoning nicely.
Cover the pan with the lid and allow the rice to absorb the flavors for 5 - 10 minutes.
Serve lemon rice warm with chilled raita and roasted potato.
Fun FOOD and Frolic http://www.funfoodfrolic.com/