Thandai or Sardai is one of my favorite Indian drinks, the word Thandai/Sardai refers to cooling drink, as the name suggests Thandai is relished during summers reason being most of the ingredients in Thandai are natural cooling agents like fennel seeds, khus khus, melon seeds and all these ingredients together create Thandai which is embedded with the festival of Holi and Indian summer. There is no hard and fast rule that Thandai can be relished only on Holi, but since ages, it has become a tradition that Thandai is relished on the day of Holi. The quantity mentioned in the recipe below makes around 250 gram of Thandai Masala, which can be stored in a bottle to be used later or if you want you can grind fresh masala every time you make Thandai.
With summer already started in South India, I have lost my appetite for heavy meals and desserts, it's time to give my oven little break from baking pies and pastries while I am whisking up some frozen desserts, puddings, and trifles. Sometimes, I think as the weather changes our taste buds craving also changes, like these days I have fallen for lemon cake, angel food cake or a light victoria sponge, in between I don't mind a bowl of ice cream every alternate night after dinner.
Saffron and pistachio is a match made in heaven, I think this duo can bring best out of any dish and this combination is so versatile that it can be used in drinks, deserts, sauces, cakes, lately I have been obsessed with saffron and pistachio, first it was
Kesar Ghujia
, now kesar thandai and also stirred up some Kesar Pista Kulfi.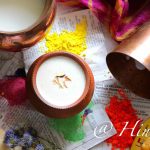 Kesar Pista Thandai with Homemade Thandai Masala
2016-03-18 02:44:41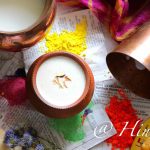 Ingredients
Ingredients for Thandai Masala
⅓ Cup Almonds
2 Tbsp Cashews
1 Tbsp Poppy Seeds (khus khus)
2 Tbsp Melon Seeds
1 Tsp Fennel Seeds
4 – 5 Green Cardamom Pods
2/4 Tsp Black Peppercorns
For Sugar Syrup
1 Cup Water
¼ Cup Sugar
Ingredients for Thandai
1 litre milk
½ Tsp Rose essence
Sugar as per taste
A pinch of saffron
A fistful of pistachio, chopped
Instructions
Soak almonds, melon and poppy seeds in water for 2 hours minimum or overnight in separate bowls.
Drain almonds and peel skin. Drain melon and poppy seeds as well and set aside.
Meanwhile boil sugar and water until sugar is dissolved and syrup turns slightly thick. Turn of the gas and set aside to cool down.
Once syrup cools down, grind almonds, soaked seeds, cashew, fennel, peppercorns and cardamom pods to a smooth paste using half of sugar syrup.
Strain the thandai mixture through the fine strainer or cheesecloth in a clean bowl. Return the leftover ground paste to the blender with rest of the sugar syrup and grind again, extract the liquid once more.
At this stage thandai masala is ready and it can be stored in bottle in fridge to be used later.
To make thandai, add the ground paste to the boiling milk- sugar mixture and mix well. Once thandai masala is dissolved turn of the gas and leave aside for 15 minutes.
Add saffron strands, rose essence and chopped pistachios to the milk thandai mixture.
Chill in the refrigerator for at least 3 hours.
At the time of serving, pour into serving glasses. Top with crushed pistachios, slivered almonds and one or two saffron strands or rose petals.
Serve Kesar Pista Thandai chilled. Happy Holi!!!
Fun FOOD and Frolic http://www.funfoodfrolic.com/