Kathal (Jackfruit) Ki Sabzi Recipe is a succulent dry preparation of unripe jackfruit cooked with plenty of red onions and spices. The dish has a fibrous texture and delicious taste to it, hence it can be labeled as mock meat also. The term vegetarian prompt a train of thoughts about my mother, who is a devoted herbivore. She only introduced us (me and my brother) to the variety of vegetarian delights. And that instilled in me a kind of soft spot for lustrous greens, juicy fruits and all that with oozing natural flavors. Recently, when we switched gear from an urban lifestyle to a quite countryside home, cooking with more of locavore became a routine affair in my kitchen.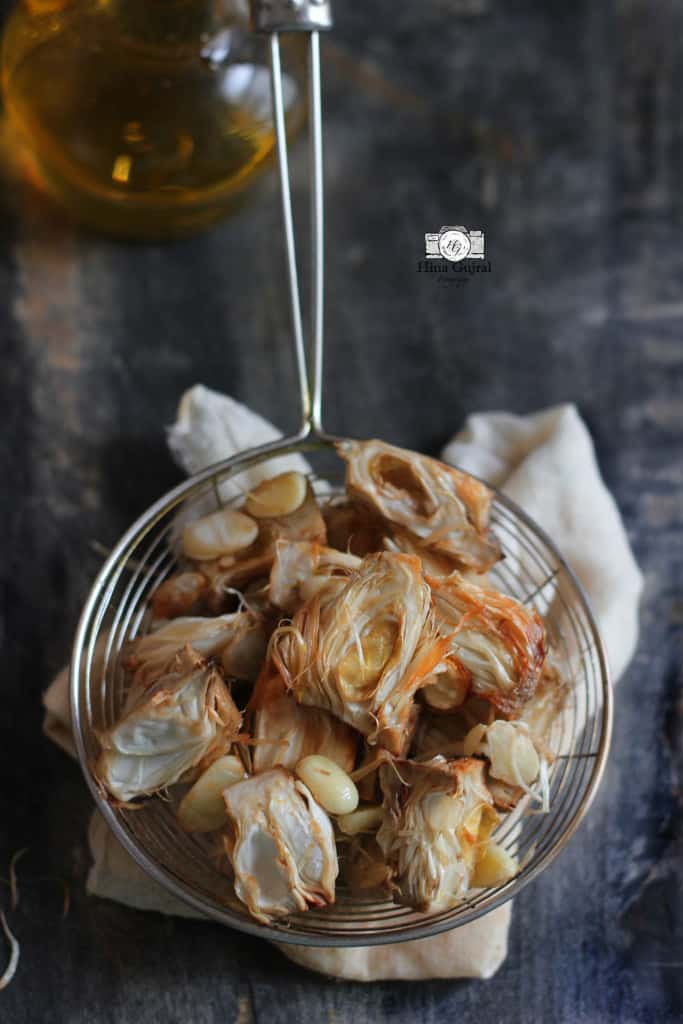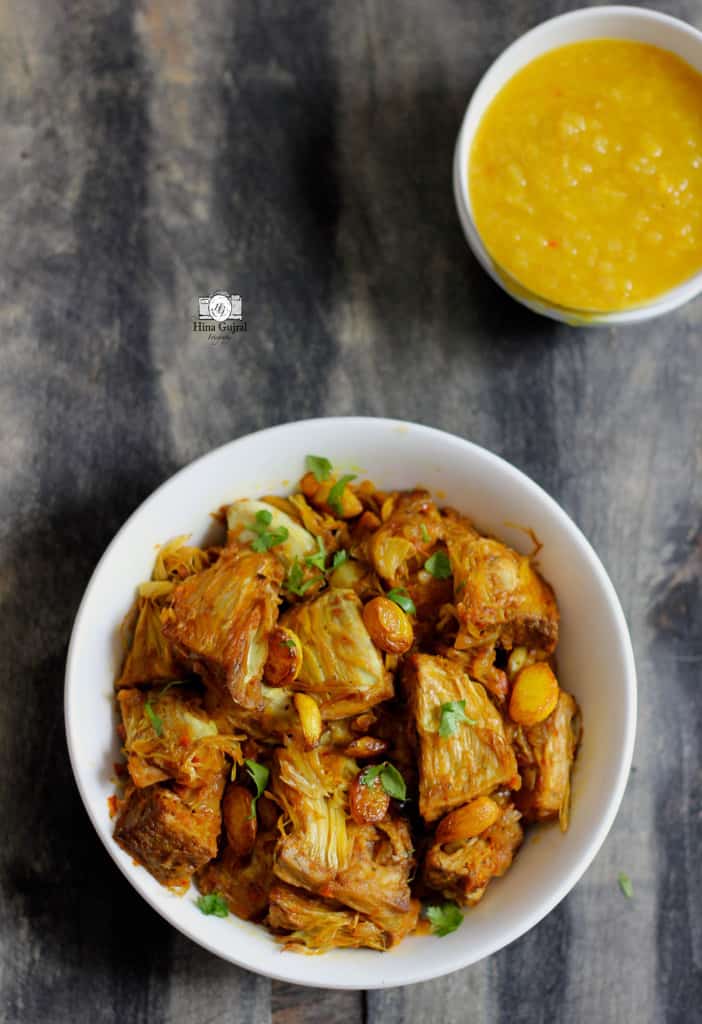 Our eating preferences transformed from the gourmet elaborate spread to humble meals. Although in the past we had always relied on home cooked meals even on busy weekdays but now even the everyday simple meals taste more delicious and satiating. Instead of buying expensive imported food items we decided to dwell on fresh and lush green vegetable supply. The whole escapade thankfully, is rewarding and purifying in sense of love for food. And the most inspiring thing is the perennial flora, which never fail to surprise me with its taste and beautiful texture. During all these years of burghal living I never thought of exploring recipes with unusual ingredient like jackfruit, but now in this serene habitat it is hard to give gorgeous fresh green grocery amiss. Maybe the most startling revelation that living in the countryside has brought out is the closeness with the nature.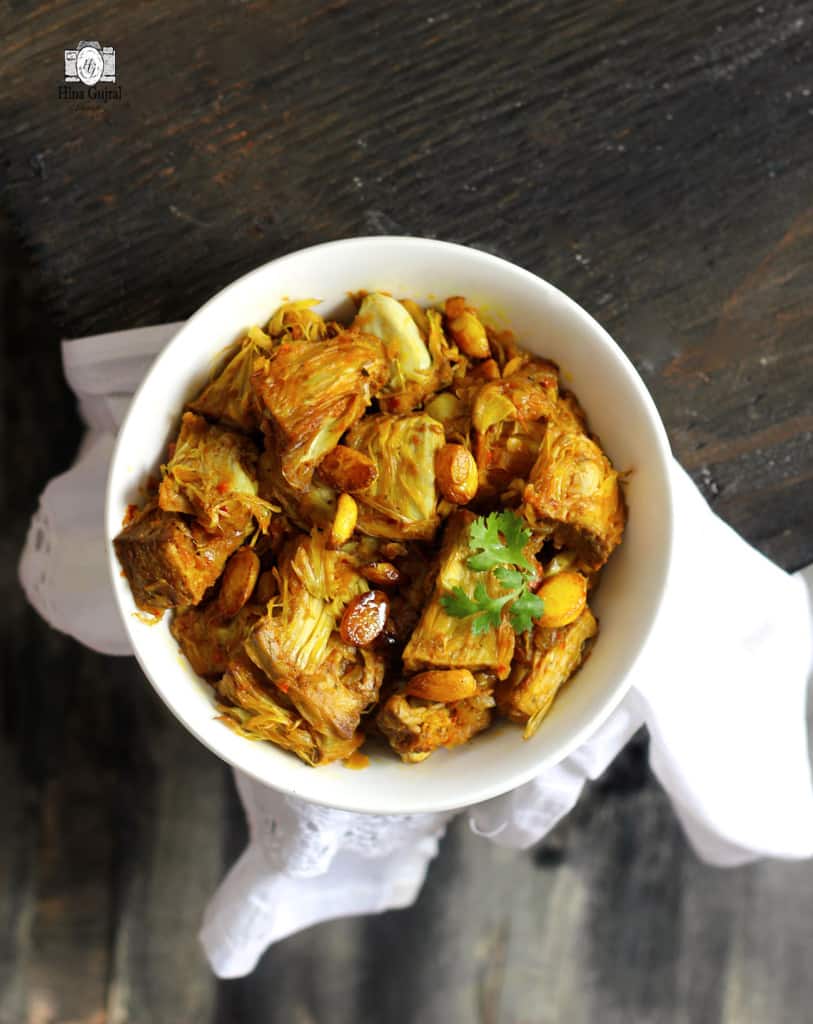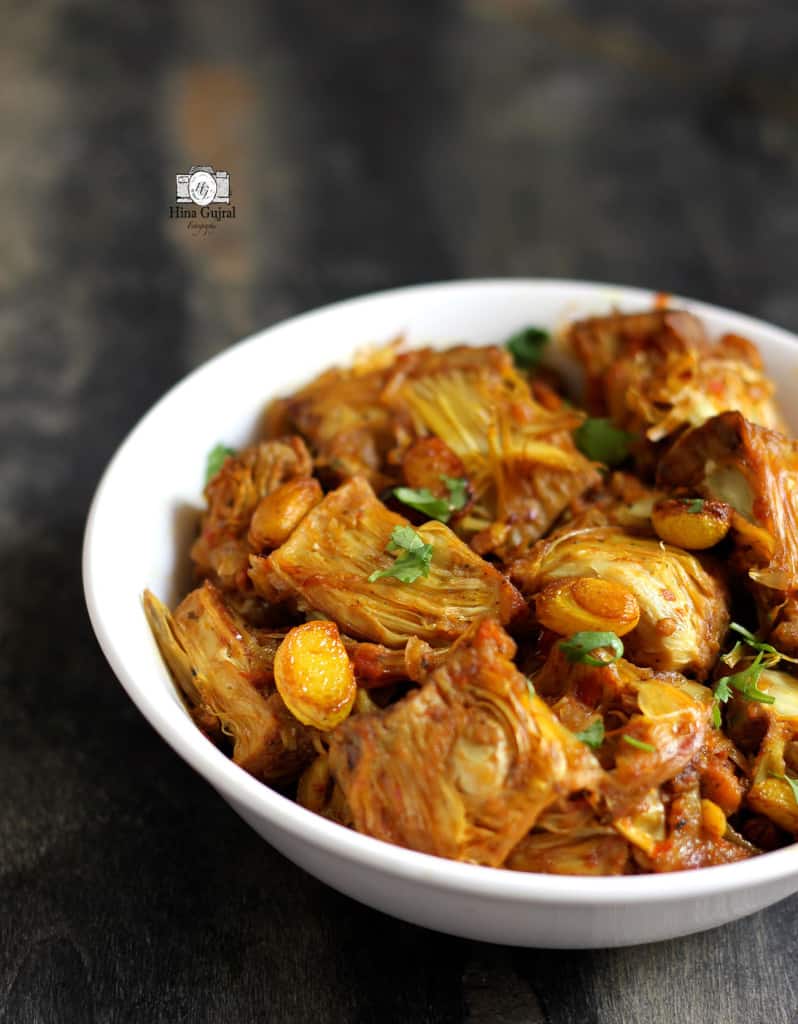 Here is the recipe of how to make Kathal (Jackfruit) Ki Sabzi: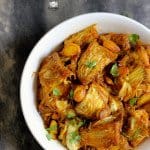 Kathal (Jackfruit) Ki Sabzi Recipe
Kathal Ki Sabzi Recipe is a succulent dry preparation of unripe jackfruit cooked with plenty of red onions.
Ingredients
500

gram

unripe jackfruit

oil for deep frying

3 - 4

large size onion

roughly chopped

an inch piece of ginger

peeled

3 - 4

cloves

of garlic

2 - 3

medium size tomato

2

tsp

coriander powder

salt to taste

1

tsp

chilli powder

2

tsp

turmeric powder

1

tsp

garam masala

see recipe here
Instructions
To peel the jackfruit, first grease your fingers well with mustard oil. Place a bowl of mustard oil next to you while cutting the jackfruit, as you will need to smear your palms with oil from time to time. Oil prevents jackfruit fibre from sticking in your hand.

With a sharp knife remove the skin of the jackfruit. Cut the inner white colored fibrous part into big chunks. Remove any thick stem in the centre, before cutting big chunks into smaller pieces.

Do not wash the jackfruit after cutting into small pieces. Wipe off the dirt, if there any with a clean kitchen towel. The tender seeds inside the jackfruit can also be added in the sabzi, remove the seed skin if you prefer so.

Now heat oil in a deep frying pan (

buy it here

) over medium heat. In small batches deep fry the jackfruit pieces till light brown in color. Drain in an oil absorbing paper and keep aside

To prepare the Kathal Ki Sabzi, first pulse the chopped tomato along with ginger, garlic in mixer (

buy it here

) to make paste using little water.

Heat 2 tablespoon of oil in a heavy bottom kadhai (

buy it here

) over medium heat. Add the chopped onion and saute over medium heat till onion turn light brown in color.

Next add the tomato paste and once again saute till oil separates from the masala.

Add salt, chilli powder, turmeric, garam masala, stir to combine and saute for few more minutes.

Add the deep fried jackfruit in the kadhai, stir to combine so that jackfruit pieces are evenly coated with the spice mix. Cover with a lid and let the sabzi cook over low heat for 15 - 20 minutes, stirring occasionally in between. During this time the jackfruit pieces absorb the flavor of the spices. Check for doneness and turn off the heat.

Serve Kathal Ki Sabzi hot, garnished with coriander leaves.