Garam Masala Powder is a blend of ground spices common in North India and other South Asian cuisines. The word garam refers to intensity of the spices rather than capsaicin content. In North Indian cuisine Garam Masala is one ingredient common in most of the non-veg recipes or spicy curries. In fact Garam Masala is quite popular among chefs across all over the globe. Garam Masala has in it some 10 – 13 spices, which are quite strong and empowering in flavour and aroma. Garam Masala is an essential spice mix for everyday Indian cooking and somehow I feel in the modern day cooking it makes task simpler, rather than adding an array of different whole spices, a teaspoon of Garam Masala is enough to brighten up the curries.
I tried readymade Garam Masala of almost all the brands available in market, some are either too hot and some are just mere brown powder with no aroma. In some special recipes like Lahori Murg or Hyderabadi Biryani where freshly grounded Garam masala is added, you can feel the difference in taste, texture and aroma of the dish. Also, I have noticed that just teaspoon of homemade Garam Masala is enough to bring out right flavours in the dish unlike readymade ones, of which full tablespoon also is not enough. Grinding Garam Masala Powder at home is no tedious task, it is a bi-monthly routine in my kitchen which involves less than 30 minutes from the routine schedule. Considering the recent controversies and updates about the adulteration in the different spice mix, I would prefer to rely on few homemade spice powder that can be prepared easily and are guranteed unadulterated.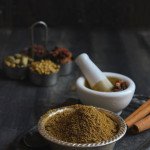 Homemade Garam Masala Recipe
2015-06-02 08:52:41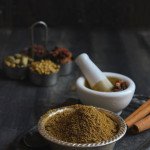 Garam masala is a blend of ground spices common in North India and other South Asian cuisines.