Gobi aur Soya Keema is grated cauliflower vegetarian dish cooked with soya granule, potato and peas. The word Keema is usually referred as Lamb Mince Curry but Gobi and Soya Keema is a vegetarian version of the same dish with a healthy twist of soya granule. This recipe comes from my mother's kitchen, who was a meat lover eventually turned into a vegetarian. In her daily cooking she always try to create versatile menu out of humble vegetables and basic ingredients, Gobi and Soya Keema is one of her such signature dishes which always top the charts of the dinner parties at our house.
These days my recipes are from the "back to basics" school of cooking, or you could say from the family journal of food memories. Gobi aur Soya Keema or
Sooji Ka Halwa
is the kind of food I have grown up eating, there were no fancy cheese or imported vegetables around, still everyday our dinner plate was loaded with an array of mouth watering dishes. If you ask me, I still find comfort in mopping steamed rice with Dal Tadka and pickle using my fingers. As a cook I find more thrill in churning
Kulfi
than whisking the eggs for meringues. And to discover more about the roots which inbuilt in me the love for good food, bidding adieu to the jazzed up metro life and relocating to the place where I truly belong, is the first stepping-stone in that direction. Like a circus animal newly shifted to the forest, adjustment with slow paced small town life initially will be a challenge, but soon my kitchen and blog will blend well with the provincial colors. Till the next post where I will share more about my experiments in the new kitchen, here is simple Gobi and Soya Keema Recipe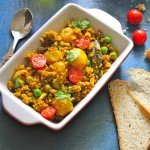 Gobi aur Soya Keema
2015-04-15 01:06:19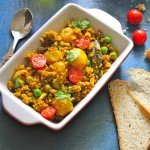 Serves 3
Gobi aur Soya Keema is grated cauliflower vegetarian dish cooked with soya granule, potato and peas.
Ingredients
500 grams cauliflower, grated
1 cup soya granule
6 baby potatoes, peeled and cut into half
1/2 cup peas
1 medium onion, roughly chopped
1 green chili, chopped
1 tsp ginger garlic paste
Salt, as per taste
2 tbsp ghee
1 tsp red chili powder
2 tsp Garam Masala (see recipe here)
1 tsp turmeric powder
1 tsp coriander powder
1 bay leaf
a small bunch of fresh coriander leaves, roughly chopped
juice from 1 lemon
Instructions
To prepare for Gobi and Soya Keema Recipe, first clean, wash and pat dry cauliflower. Remove the green stem with knife and cut cauliflower into three parts. Small size pieces make grating much easier.
Now grate the cauliflower either in food processor or hand held grater.
Meanwhile in a pan boil 1 Cup of water, once water comes to boil add soya granule. Let it boil in water for 1 – 2 minutes. Switch off the flame and drain on a colander. keep aside until required.
In a heavy bottomed saucepan heat ghee over medium heat now add bay leaf and once the aroma of bay leaf starts releasing add chopped onion. Saute over medium heat until onion turn light brown in color.
Once onion turn brown in color add chopped green chili and ginger garlic paste with 1/4 Cup water to avoid masala sticking to the pan. Saute over medium heat for 2 – 3 minutes.
After 2 – 3 minutes add baby potatoes, peas, salt, turmeric powder, red chili powder, coriander powder and give it a nice stir. Saute for 5 minutes over medium heat.
Now add grated cauliflower, boiled soya granule and garam masala. Give it a nice mix, reduce the flame to low, cover the pan with a lid and let it cook over low heat for 10 – 15 minutes or until vegetables are cooked through especially potatoes.
Just before serving drizzle lemon juice on top.Garnish with chopped coriander leaves.
Serve the Gobi and Soya Keema hot with Naan (see recipe here).
Fun FOOD and Frolic http://www.funfoodfrolic.com/
The "
Gobi aur Soya Keema
" is part of an endeavor to create a collection of recipes of Indian Cuisine in collaboration with a few bloggers who share the same passion of cooking. Here is the
Pinterest Board
collection of recipes.
You can read more traditional
Awadhi Recipes
by
#thekitchendivas
:
Tahari by Saffron Trail (
http://saffrontrail.blogspot.in
)