With too much of plum recipe posts, I finally managed to share something not using plums, still, there is so much to do before Indian Food Bloggers Meet and I am way far behind in meeting deadlines. I was not sure whether I will be able to share some dessert for Eid but somehow managed. Even while making Sheer Khurma my mind was continuously planning out a strategy to wind up the pending work. In a haste, I was about to add salt instead of sugar but luckily realized before messing it up.
I have grown up in a small town where I had close friends from almost all religions and communities, with whom I have shared my projects, teenage secrets and more importantly a true friendship, a friendship that is not affected by the change in our lives or time period. We had this ritual in our group we used to invite each other for the festivals we celebrate like I use to invite all of them for Diwali, my other friend she uses to invite us to dig into Christmas Cake and Donuts while one of my Muslim friends invited us for Eid. There at her home, I had the first taste of Muslim delicacies like Sheer Khurma, Meethi Seviyan, Biryani, Murg Korma and I still remember that rich taste in my memory. Every year we use to wait eagerly for her invitation so that we can get to taste all that delicious festive spread prepared by her mom and sister.
Sheer Khurma/Kurma is a Persian term for Milk with Dates or I should say it's an Urdu term, from my friend only I get to know the importance of Dates in the holy month of Ramzan and it is really auspicious to make Sheer Khurma on the day of Eid. But I love this dessert because of its simplicity and delicate taste, there is no complicated process to prepare it yet it has that perfect Indian Dessert taste.
Eid Mubarak to all my readers!!! I wish this Eid might bring peace and love to the countries burning in hatred.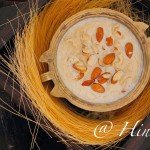 Sheer Khurma Recipe (Sweet Vermicelli Pudding)
2015-10-12 00:13:38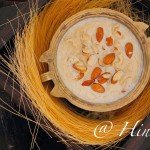 Serves 4
Ingredients
1 litre full cream milk
2 tbsp ghee
½ Cup sugar or as per taste
200gm seviyan
A pinch of saffron dissolved in 2 tbsp milk
4 – 5 dates, chopped
7-8 cashews, chopped
8-9 almonds, sliced
4 cardamoms, crushed to a powder in a mortar-pestle.
1 tbsp golden raisins
Instructions
Roast the seviyan in 1 tbsp ghee till golden and keep aside.
In the same pan heat remaining ghee and add chopped dry fruits and saute for 3-4 minute. Set aside.
Heat milk in a heavy bottomed saucepan along with crushed cardamom and chopped dates. Let it come to a boil, lower the flame and simmer stirring frequently.
When milk is simmering add sugar and saffron. Stir nicely to mix.
Add the roasted seviyan to the milk and simmer till the seviyan are cooked and have become soft for about 8-10 minutes on a low flame and the milk is thickened little bit.
Add the roasted dry fruit mixture. Switch off the flame and stir.
Serve hot/chilled as per liking garnished with loads of dry fruits.
Fun FOOD and Frolic http://www.funfoodfrolic.com/