This Egg Curry is simple, quick to prepare and requires few basic ingredients. It is an everyday comfort food. On certain busy weekdays, the manageable egg curry and the paratha to accompany the spicy, soupy gravy masala sounds like a nice idea. Egg Curry is on our weekly menu whenever we are short of vegetables/lentils/chicken or there is nothing planned for the dinner. I like to call such dinners as egg curry night. When there is nothing fancy on the menu just the everyday egg curry with crisp, flaky paratha. For me, the plain, steamed basmati rice is also a good choice of side dish to be served with egg curry.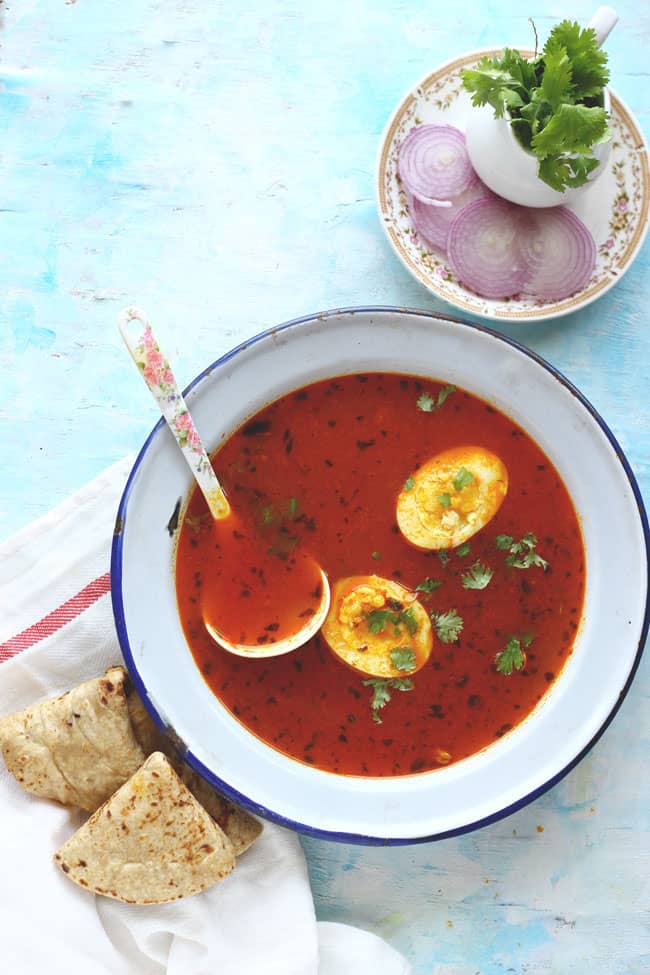 There can be many versions of everyday egg curry recipe. Mine is way too fuss-free. Just the simple masala of onion and tomato, roasted till perfection, seasoned with garam masala and few other spices. That's it. I don't believe in frying egg for the egg curry. In fact, I hate fried egg in an egg curry. So in my egg curry recipe, that step is skipped too. But if you prefer, shallow fry the boiled eggs before adding into the curry.
I am in love with the bright red color of this egg curry. And that is purely by the fresh, ripe tomatoes and the Kashmiri red chili powder. These two key ingredients always do the magic for my egg curry or any other curry recipe such as Matar Paneer or Mushroom Masala. The color of the tomatoes and their juiciness play a key role in defining the flavor profile of a curry. That is the reason I insist on using fresh tomatoes for the recipe rather than canned or tinned puree. For this egg curry, I have simply puree the fresh tomato in a blender to prepare the base for the gravy. And the end result is so much satisfying and of course, vibrant.
For more such fun recipes in your life, follow along on Facebook, Instagram, or subscribe to our Youtube Channel.
Follow our Pinterest Board to get the collection of Gluten Free Indian Recipes.
How to make Egg Curry in few simple steps: