This One-Pot Cheesy Pumpkin Pasta is perfect for the upcoming fall season. It has a beautiful orange color that just blends with the mood of the season. This is the first time I have tried pumpkin sauce in a pasta and I must confess, it tastes super delicious. Now I regret, waiting for so long to give this pumpkin pasta bake recipe a try. If you too have not yet tried the pumpkin sauce in a pasta then this is an excellent time to give it a try and celebrate the season of harvest.
In India too we get those gorgeous yellow pumpkins and apart from making side-dishes like Khatta Meetha Kaddu you can turn them into delicious curried soup and pasta sauces. The tender pumpkin flesh is just ideal for roasting and quickly turns into a creamy goodness. With a drizzle of olive oil and a dash of garlic the mundane pumpkin transforms to a bowl of fulfilling deliciousness. I usually prepare one large batch of pumpkin puree and use it in my soups, sauces, dips and at times, in curries too.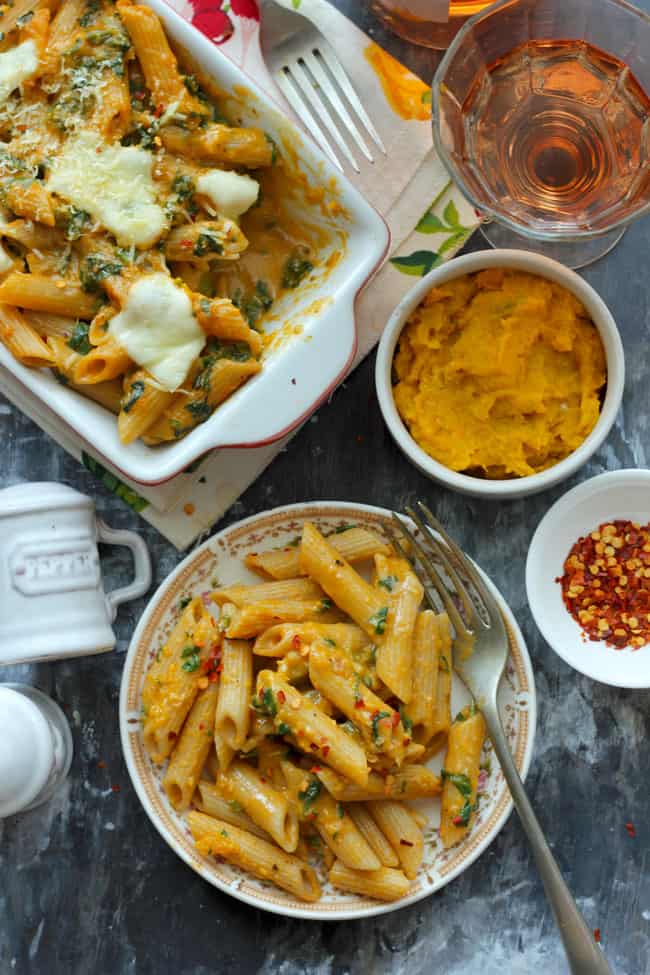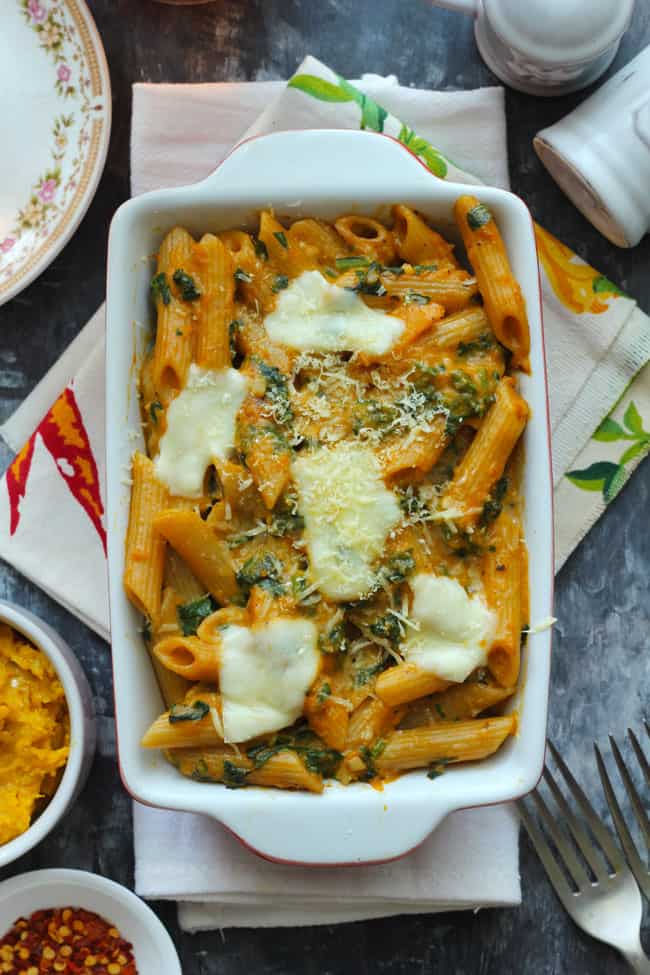 How To Make Pumpkin Puree?
Method 1:
Preheat oven to 180 degrees C.
Cut the pumpkin in half. Remove the seeds and stringy fibers with a metal spoon.
Cut the pumpkin into semi-circle wedges. Remove the skin of each slice.
Place them on a large baking tray. Drizzle a tablespoon or so of olive oil.
Bake in the oven until the flesh is tender when pierced with a knife. This takes approximately 50 minutes.
When tender, remove the pumpkin halves from the oven and place on a flat surface to cool.
Once cool enough to handle, blend them in a mixer to make a smooth paste.
Store in the fridge in a clean, dry container.
You can roast the pumpkin slices on a grill pan also over a gas stove.
Method 2:
Bring a large pot of lightly salted water to a boil.
Cut the pumpkin in half. Remove the seeds and stringy fibers with a metal spoon.
Cut the pumpkin into evenly-sized smaller pieces and remove the skin.
Add to the boiling water and cook for about 25 minutes or until the flesh is tender when pierced with a knife.
Puree the pumpkin in a food processor.
Next, heat a frying pan and saute the pumpkin puree until all the moisture is evaporated.
Allow it to cool, and later store in the fridge.
If not storing in the fridge, then you can use this puree right after blending no need to saute.
This Pumpkin Pasta Bake has 'autumn' written all over it.It has all the best things that the season right now has to offer – pumpkin, spinach, and a lot of cheese. This cheesy pasta casserole is perfect for this time of year, whether you need comfort or not. If you are in a hurry then I have another cheat trick to make this cheesy pumpkin pasta real quick. Combine the cheese and pasta while simmering the sauce. Cook for few minutes and serve. Make this pumpkin pasta, either way, it tastes delicious both ways.
For more such fun recipes in your life, follow along on Facebook, Instagram, or subscribe to our Youtube Channel.
Cheesy Pumpkin Pasta Bake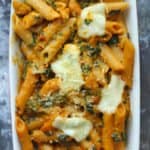 Print This
Ingredients
200-grams penne pasta
1 cup pumpkin puree (see instructions above)
2 tablespoon pizza/pasta sauce (see recipe here)
half a bunch of spinach chopped
2 cloves of garlic chopped
Salt to taste
2 tablespoon olive oil
1/2 teaspoon red chili flakes
1/2 teaspoon mixed Italian seasoning
1/4 Cup grated Parmesan cheese
1/4 Cup pizza cheese (mozzarella cheese) sliced
Method
Cook pasta in boiling salted water with a dash of salt. Once it is cooked as per your preference, strain it and set aside. Reserve 1/4 Cup of boiled pasta water.
Reserve 1/4 Cup of boiled pasta water. Set aside to use later.
Heat olive oil in a large saucepan.
Saute garlic and red chili flakes for a minute.
Add the pumpkin puree, pasta sauce, seasoning, salt and the reserved boiled pasta water. Stir to combine.
Allow the sauce to simmer over low heat for 5 minutes before adding the pasta.
Meanwhile, preheat the oven to 180 degrees C. Grease a 9-inch square/rectangle baking dish with a tablespoon of oil.
Add the boiled pasta in the sauce. Mix nicely to evenly coat the pasta with the sauce.
Transfer the pasta to the greased baking dish. Cover it with grated cheese and pizza cheese slices.
Bake in the oven for 10 minutes or till cheese melts and form a crust on top of the pasta.
Serve Pumpkin Pasta warm with the toasted bread slice.