With the name Railway Tomato Soup, memories of all those childhood years come back when this use to be the most popular soup in most of the Indian kitchens, I still remember when my mother use to stir up this soup we literally lick our bowls. This is not the only recipe but there are many other recipes in Rushina's book that will make you feel nostalgic and will bring back those sweet memories of food.
A Pinch of This, A Handful of That
is a collection of Rushina's recipes that are related to her journey of life so far, different home or professional cooks who has influenced her cooking style and the memories she has with each recipe.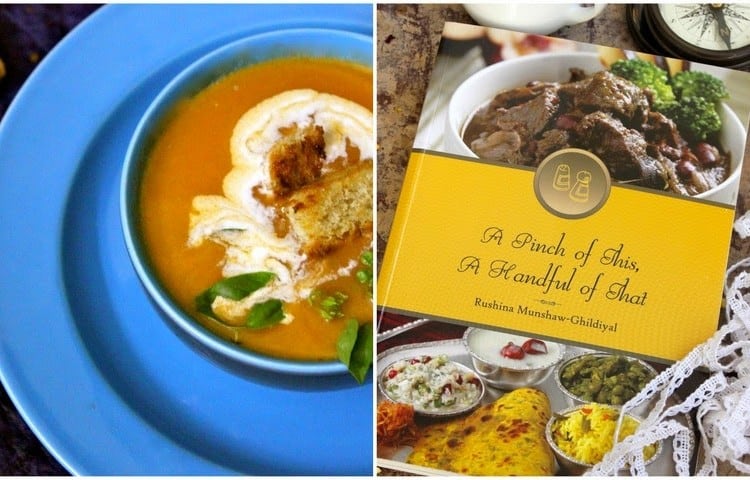 Celebrity Chef Ritu Dalmia does not need any introduction, she is the diva of fusion cooking, I still remember when I first watched her show Traveling Diva aired on NDTV Good Times, I was so impressed with her take on Italian cuisine but that time I never even imagined in my wildest dreams that one day I will have autographed copy of her cookbook. For that I must thank Archana for hosting

Cooking In A Hurry Contest

at her website (

Archana's Kitchen

) and taddaaa!!! I won Ritu Dalmia's latest cookbook –

Diva Green

.
Diva Green is the Pandora Box of vegetarian recipes, simple and humble vegetables turned into gourmet dishes just with the Midas touch by Ritu. The book has whole range of starters, soups, entrees and deserts create out of routine vegetables like eggplant, potato, carrot, beetroot, greens and mushroom. Each recipe has a small story or incident narrated by Ritu, which makes each recipe more interesting and worth trying out.
In my cooking so far I have not experimented much with eggplants and with Diva Green sharing so many fabulous recipes created using eggplant like Chilled Eggplant Gazpacho, Marinated Eggplant Sandwich, Melanzane Sotto'olio or Mrs. M's Baby Eggplants, Mrs. M is a kannada married to a Sindhi, and her food has slight influences of both the cultures, this fact is quite close to my cooking skills too as I am also married into a different community and after marriage my cooking is very much influenced by best of both the cultures.
Recipe: Mrs M's Divine Baby Eggplants
55g small round eggplants, slit lengthwise
A handful of curry leaves, deep fried
Deep fry the eggplants in small batches. Transfer them onto a paper towel to drain the excess oil. Season with salt and keep aside.
In a wok, add both type of lentils, cumin seeds, mango powder, salt and dry red chillies. Dry roast the mixture over medium heat for a few minutes till it becomes a nice brown colour.
Whiz the mixture in the grinder for a few seconds till it becomes a coarse powder.
In the same wok, arrange fried eggplants, flesh side down, and add the spice powder till all the pieces are nicely coated on the skin side.
Cover the wok, reduce the heat and cook the eggplant for few minutes.
Remove the cover, sprinkle it with little water, mix it well and cover again.
Repeat this one more time. The total cooking time of eggplant and spices should be around 10 minutes.
serve with fried curry leaves and a generous sprinkling of chopped coriander leaves.