With the name Railway Tomato Soup, memories of all those childhood years come back when this use to be the most popular soup in most of the Indian kitchens, I still remember when my mother use to stir up this soup we literally lick our bowls. This is not the only recipe but there are many other recipes in Rushina's book that will make you feel nostalgic and will bring back those sweet memories of food.
A Pinch of This, A Handful of That
is a collection of Rushina's recipes that are related to her journey of life so far, different home or professional cooks who has influenced her cooking style and the memories she has with each recipe.
RushinaMunshaw Ghildiyal
does not need any introduction, she in fact is among the India's pioneering food bloggers, with her popular blog
A Perfect Bite
, a food blogger, gastronomy writer, food stylist, author and consultant but currently she is well known for her
APB Cook Studio
, India's first state of the art home kitchen studio.
At launch of the book in Bangalore other than very versatile Rushina, we had celebrity
Chef Manu Chandra
, as the evening unfolded they both shared their connection with food in their early years, while Rushina created some of her favorite recipes from the book.
The book is divided into thirteen different sections and each section has an interesting name like, "Chak Chak", "Maharaj", "Kuch Meetha Ho Jaye", each section has an interesting story to share regarding food and the particular time frame in Rushina's life. One of my favorite section is "Culinary Souvenirs", where she has beautifully described how to discover a new place through it's food and her experience of food during her holidays.
Once I read Rushina's article in a magazine where she wrote about the memories of her late father's cooking skills and his house famous burnt fried rice, since then I am so impressed by her writing skills and the way she has associated food with the people in her life, this can be seen all through her book where she has not only thanked each and every person in her life but also given credit to the people for sharing their recipes, which I really appreciate.
The book is now available at all the nearest book stores as well as on all the online book selling portals …so grab your copy now and start creating you own Culinary Souvenirs!!!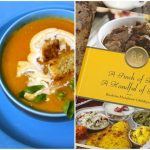 Railway Tomato Soup Recipe
2015-10-07 02:07:44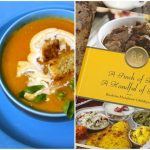 Serves 4
Ingredients
1 kg tomatoes, chopped
1 small carrot, chopped
1 turnip, chopped
2 onions, chopped
2 tsp salt
1 tsp sugar
1 tsp freshly ground pepper
For garnish
2 slices bread cubed
oil for deep frying
3 tbsp cream
Instructions
Put all the vegetables in a pan with salt and 1 cup water on high heat. Cover partially and bring to boil.
Reduce the heat and simmer, till the vegetables, are completely cooked through. Remove and set aside, till cool enough to handle.
Pass the vegetables through a soup strainer or blend in a blender and then strain into a fresh pan.
Add enough water to make 41/2 cups of liquid.
Put the pan on high heat and bring to boil.
Bring to boil and add the sugar and pepper. Simmer for about 10 minutes.
To make croutons, heat the oil in a small frying pan and fry the bread crumbs till brown and crisp.
Remove and drain on kitchen paper.
Serve the hot soup garnished with swirls of cream and the croutons on the side.
Fun FOOD and Frolic http://www.funfoodfrolic.com/