Making iced tea is easy, and endlessly adaptable: you can brew it light or strong, drink it unsweetened or sweetened. Once you've got the basic iced tea perfect, you can start getting creative. And make your iced tea more interesting with added flavor of fruits, juices, and nectarines. During the summer season, there is nothing more refreshing than a chilled glass of homemade iced tea. What I like most about the iced tea prepared at home is you can control the amount of sweetness. Unlike the packaged one which is loaded with preservatives and artificial sweetener. It is always best to brew your own iced tea at home. It is fun and an absolute thirst quencher.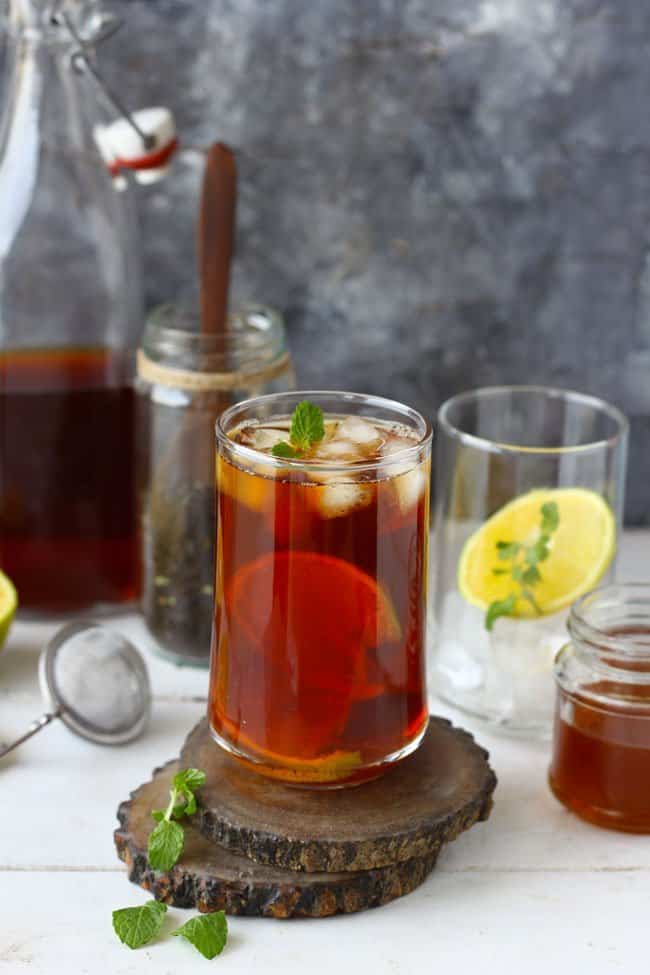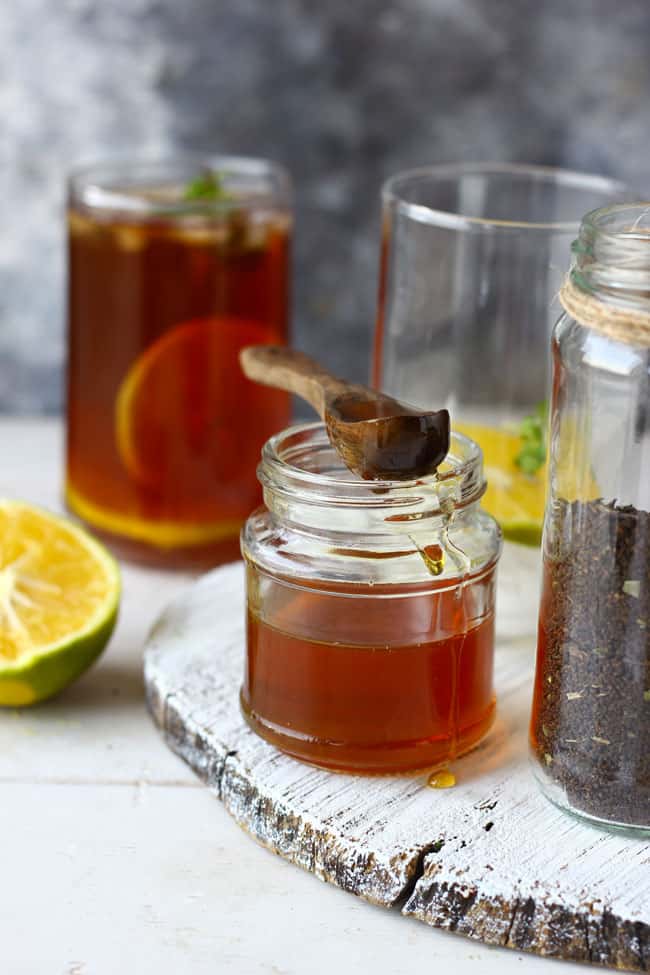 I am nearly obsessed with the iced tea. Durin the season, a pitcher full of this goodness is always sitting in my fridge. And I prefer my iced tea plain. Without any infused flavors or fruits. Just perfectly brewed tea decoction with a drizzle of honey and lemon juice. An occasional flavored orange iced tea is always an exception to the rule for my family. But on a routine basis, it always has to be basic iced tea for my evening refreshment. I love to sip that golden-colored hue while watching the sunset and smearing almost similar colors all over the horizon.
For those who think making iced tea at home is utterly complex – let me prove you wrong. It requires less than 20 minutes to prepare basic iced tea to the perfection. And don't worry about the steeping process it is stupidly simple and requires minimal time near the gas stove. There is only one thing that can go wrong while making an iced tea – steeping the tea for too long. Anywhere between 5 – 6 minutes is a good enough time to steep a strong iced tea. Never, ever boil the tea leaves in water. For the perfect color and taste, all you need to do is steep the tea leaves in the warm water. If you want a less strong iced tea, then keep the brew time around 3 – 5 minutes.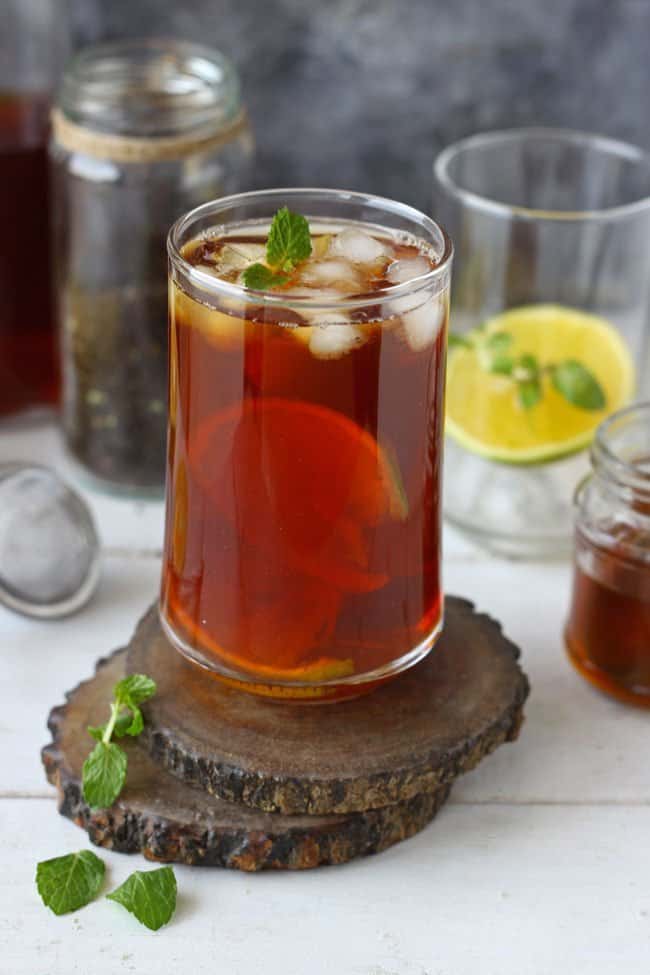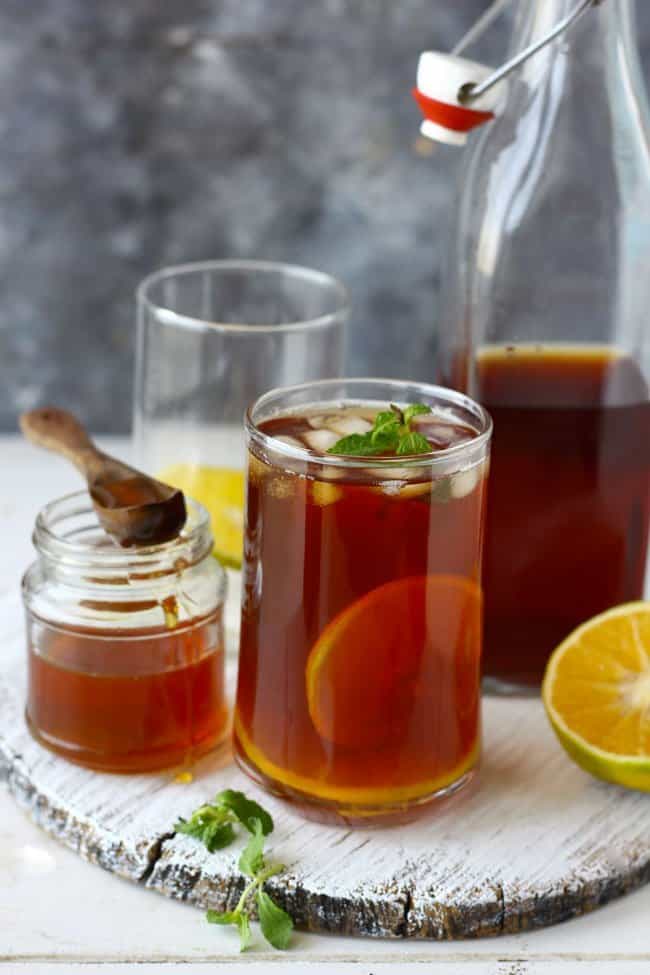 Simple and hassle-free being our watchwords for the summer, iced teas can easily be produced in big batches for friends, for parties, or simply to last you for the week. They also look really attractive (as well as tickling the taste buds!). Use good organic honey to sweeten your iced tea. Or if you don't bother about the calories then use sugar syrup. You can totally customize it as per your preference. And that is one fun fact about this homemade basic iced tea.
For more such fun recipes in your life, follow along on Facebook, Instagram, or subscribe to our Youtube Channel.
How to make basic iced tea in less than 20 minutes:
Basic Iced Tea Recipe
2017-05-22 12:55:36
Serves 2
Making perfect iced tea is easy, and endlessly adaptable.
Ingredients
2 heaped tsp loose leaf tea (chai patti)
or
2 tea bags
4 Cups of water
Juice of one lemon
Honey/sugar as per taste
Instructions
Boil four cups of water in a saucepan. Turn off the heat.
Add the loose tea leaves or the tea bags. Cover the pan with a lid.
Allow the tea to steep for 5 - 6 minutes. Not more than that.
Remove the teabags or sieve the liquid.
Allow the liquid to cool down.
Add the lemon juice and sweeten the iced tea using honey/sugar to your taste.
Stir in the ice cubes. Add freshly cut lemon slices and mint leaves for some fresh flavor.
Serve iced tea chilled.
Fun FOOD and Frolic http://www.funfoodfrolic.com/