Roasted Mushroom and Vegetable Burger Recipe
is my attempt to make vegetarian burger tastes delicious and look glamorous. Though most of the die-hard burger lovers always criticize the vegetarian counterpart I think vegetable burger can be made more appealing rather than simply stuffing potato cutlet between buns. This is not the first time I have experimented with the vegetarian burger last year I tried
Red Beans and Oats Burger
, which was loved by him and was a weekend staple for quite a few months.
As I predicted at the end of September that October going to be a busy month and there is not a single day passed yet which has proved me wrong. Last week went in Navratri and Dusshera celebration and then my college friend came to visit us with her family, and now the coming week is again tightly scheduled with client meetings, review invitees, camera service and the list is endless. And in the midst of all this chaos when demand comes for special weeknight meals one really need to think of some less time taking a meal, so I decided to cut down the Monday blues with a burger.
But there are always last minute muddling up in the plans, and this time it was no chicken available by evening due to Eid, I could not take the chances of making his Monday more blue by crushing his dreams of eating burger for dinner, little change in the recipe happened and vegetable patty replaced the chicken one, and I am sure neither the buns nor him objected to the change. The patty got very well synced with the mayo, salad and the cheese and his taste buds accepted this new synchronization of flavors whole-heartedly.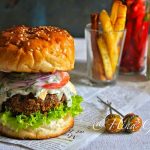 Roasted Mushroom and Vegetable Burger
2015-07-27 12:27:56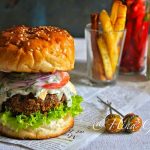 Roasted Mushroom and Vegetable Burger Recipe is my attempt to make vegetarian burger tastes delicious and look glamorous.
Ingredients
1 Cup button mushrooms, roasted/grilled
1 Cup peas, boiled and drained
2 potatoes, boiled
¼ Cup breakfast oats, powdered
1 tsp garam masala (see recipe here)
1 tsp smoked paprika
1 tsp cumin powder
1 tsp ginger garlic paste
salt, as per taste
1/4 Cup dried bread crumbs for coating patty
Oil for greasing and cooking
For the minty mayo
2 tbsp mayonnaise
1 tbsp fresh cream
1 tbsp chopped mint
2 tbsp chopped coriander
Salt and pepper, as per taste
Juice of ½ lemon
To serve
4 medium burger buns
4 fresh lettuce, leaves washed and spun dry
2 tomatoes, sliced
1 onion, sliced
a few pickled cucumber *(see notes below)
4 slices of cheddar burger cheese
For the vegetable patty
To roast mushrooms in the oven (buy it here), clean, wash and dry mushroom. Arrange in a tray, drizzle olive oil, salt and pepper. Roast at 200 degree celsius, stirring a few times, until tender and browned, for about 30 – 35 minutes.
In food processor (buy it here) make smooth paste of mushrooms and peas without using any water.
Mash the potatoes using a potato masher and keep aside.
Combine all the ingredients, except bread crumbs in a deep bowl and mix well.
Divide the mixture into 4 equal portions and shape each portion into thick round patty.
Roll each patty in the bread crumbs till they are evenly coated from both the sides.
Heat the griddle pan (buy it here), grease it using a little oil.
Cook each patty on a medium flame, using a little oil, till they turn golden brown in colour from both the sides. Keep aside.
For the minty mayo, mix in all the ingredients together and beat with a wire whisk until all combined well. Keep in fridge until required.
To assemble the burgers, cut each bun horizontally into half and slightly heat the buns in the oven/pan.
Place lettuce leaf, patty, cheese slice and then slices of tomato, onion and pickled cucumber.
Drizzle spoonful of minty mayo and cover with an upper half of the bun and press it lightly.
Serve Roasted Vegetable and Mushroom Burger hot with french fries or potato wedges.
Notes
To pickle cucumber, slice english cucumber diagonally and arrange in a jar. Heat a cup of vinegar and add a tsp of mustard seeds, black peppercorn, salt and sugar. Once cool to room temperature pour into the jar of cucumber. Seal and keep in fridge until required.
Fun FOOD and Frolic http://www.funfoodfrolic.com/